Ah, my first bike. After I got out of the military I decided I wanted a motorcycle the only problem being my folks forbid it, but I figured I'd work on that little problem after I bought the bike, arrived home (maybe they wouldn't notice it!) and then tell them when it's too late.

(what a cunning plan!).
So, I picked up a 1984 Honda Magna V30 in 1993. (funny fact: After 13 years it's still the newest bike I've owned).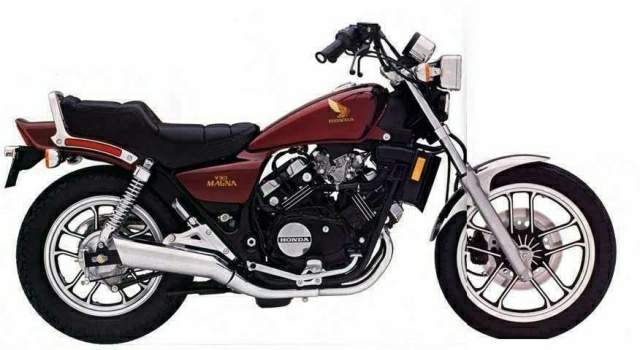 Attachment:
Pretty sweet bike. I feel in love with the rear tail and the fact it could out accelerate a corvette.

(ya, I was a budding squid and didn't know it!).
Sadly, the cunning plan didn't work out and sooner than you could say "shazam!" I had no choice but to resell the bike.

The only cruiser I owned but what a cruiser.

Mike.
_________________
2017 Motorcycle Model Guides
2016 Motorcycle Model Guides
Total Motorcycle is official Media/Press for Aprilia, Benelli, Beta, Bimota, BMW, Brammo, Buell, Can-Am, CCW, Ducati, EBR, Harley-Davidson, Honda, Husqvarna, Husaberg, Hyosung, Indian, Kawasaki, KTM, KYMCO, Moto Guzzi, Moto Morini, MV Agusta, Norton, Phantom, Piaggio, Polaris, Ridley, Roehr, Royal Enfield, Suzuki, Triumph, Ural, Vespa, Victory, Yamaha and Zero.