Referendum Result of the UK's membership in the EU and Motorcycles
If you have turned on the TV in the past week, you heard about the Brexit vote. After 33.5 million votes, the UK has decided to leave the EU. If you live outside of the UK, you might wonder what this means for you and how it could be a good thing for motorcycling.
While a very complex and complicated subject, the high-level view is UK was a strong part of the EU economically, it is the financial heart of Europe and because the UK had its own currency the Great British Pound (GBP) and didn't adopt the Euro currency, there was a gap between the exchange rates. The GBP has always been stronger than the Euro, and under EU rules, an EU citizen could live in any member country. Thus, as the UK was economically stronger (jobs) and their currency was worth more, immigration exploded causing adverse affects to the UK. But it wasn't all about immigration, it was also about the UK being it's own sovereign country under it's own laws.
With the creation of the UKIP (UK Independence Party) a few years ago and their gaining support, David Cameron of the governing government (GOP) offered up a referendum on the subject if the UK should remain part of the EU.
The British people have had quite the time deciding on which way to vote. It wasn't a decision to take lightly.
In the end, UK will survive and thrive, Europe will survive and thrive. The EU may or may not break up but in the end, change can be good for everyone and this isn't WWI/II or The Plague or the Great London Fire.
Ok, so that's great and all, but what does it mean for the average motorcyclists and you?
Well, the GBP is currently at its lowest levels (value) in almost 30 years! That's GREAT news for British manufacturers and exporters as their goods are now much more competitive to buy with non-GBP currency. Also with the GBP down, it is a great time to buy GBP and visit an affordable Britain, something which hasn't been said to be "affordable" for many decades! So go out and see the UK on a bike.

Also, Britain has a couple big motorcycle manufacturers, namely, Triumph and Norton who motorcycle export prices may soon change in your favor! Norton especially as it builds all of it's bikes in the UK.
USD to GBP is currently at 1.365, yesterday, it was 1.486 means you now get an extra $1,210 in spending power per $10k USD.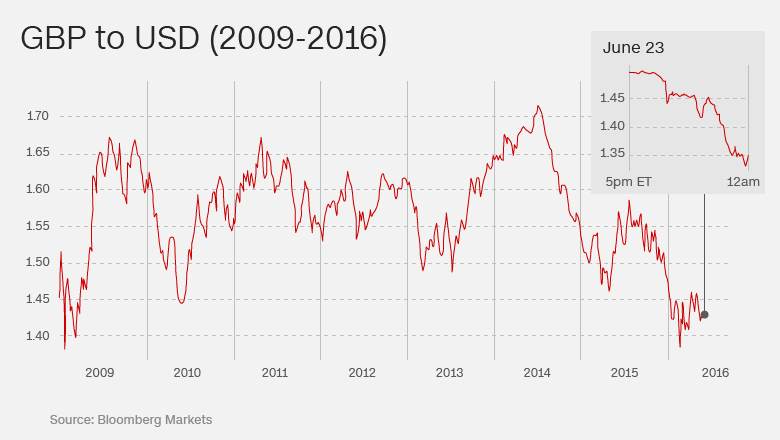 (Quoted from The Telegraph.co.uk from Ben Riley-Smith, July 20th)

IMMIGRATION

Leave: Britain can never control immigration until it leaves the European Union, because freedom of movement gives other EU citizens an automatic right to live here.

Stay: Leaving will not solve the migration crisis but bring it to Britain's doorstep because border controls from the Continent will move from Calais in France to Dover in UK.


CRIME

Leave: The European Arrest Warrant allows British citizens to be sent abroad and charged for crimes in foreign courts, often for minor offences. Exit would stop this.

Stay: Rapists, murders and other serious criminals who convict offences in Britain can only be returned once fleeing abroad thanks to the European Arrest Warrant. Exit would stop justice being done.





TRADE

Leave: Britain's links with the EU are holding back its focus on emerging markets – there is no major trade deal with China or India, for example. Leaving would allow the UK to diversify its international links.

Stay: 44 per cent of Britain's exports go to other EU countries. Putting up barriers with the countries that Britain trades with most would be counterproductive.




LAW

Leave: Too many of Britain's laws are made overseas by dictates passed down from Brussels and rulings upheld by the European Court of Justice. UK courts must become sovereign again.

Stay: The exit campaign has over-exaggerated how many laws are determined by the European Commission. It is better to shape EU-wide laws from the inside rather than walking away.




JOBS

Leave: The danger to jobs has been over-exaggerated. By incentivizing investment through low corporation tax and other perks Britain can flourish like the Scandinavian countries outside the EU.

Stay: Around three million jobs are linked to the EU and will be plunged into uncertainty if voters plump for exit, as businesses would be less likely to invest if the country was outside Europe.




CLOUT

Leave: Britain does not need the EU to prosper internationally. By re-engaging with the Commonwealth the UK can have just as much clout as it does from inside the EU.

Stay: Britain will be "drifting off into the mid-Atlantic" if it leaves the EU, as Nick Clegg likes to say. In a globalising world the UK's interests are best protected by remaining part of the EU block, with American and Chinese leaders indicating as much.


FINANCE

Leave: Talk of capital flight is nonsense. London will remain a leading financial centre outside the EU and banks will still want to be headquartered in Britain due to low tax rates.

Stay: Banks will flee the UK and the City of London collapse if Britain votes for exit, because the trading advantages of being inside the EU help boost banks' profits.



SOVEREIGNTY

Leave: The British Parliament is no longer sovereign. With the EU hell-bent on "ever closer union" and further economic integration likely after the euro crisis, it is best to call it quits before ties deepen.

Stay: In a globalised world, every country must work closer with others if the want to flourish economically. A Little Englander desire for isolation will undermine the UK, plus the PM might have won an opt-out to "ever closer union" come the referendum.


DEFENCE

Leave: Britain could soon be asked to contribute to a EU Army, with reports suggesting Angela Merkel may demand the Prime Minister's approval in return for other concessions. That would erode the UK's independent military force and should be opposed.

Stay: European countries together are facing the threats from Isil and a resurgent Russia. Working together to combat these challenges is best – an effort that would be undermined if Britain turns its back on the EU.
I lived in the London, UK (Hillingdon, Middlesex) for 3.5 years (2009-2012) so for me, the UK will always occupy a part of my heart as the people, history and culture, to me, was amazing.