March, 15, 2005
Okay. My f650CS is in the shop Bob's BMW for warranty work (fork seal leak) until Wednesday. I rode home Friday on the available service loaner: a lowered f650GS... fun, but TOO SHORT (i've got a 34" inseam).
So, Saturday, I stopped back by the dealership to see, first, when MY bike would be ready, and second, whether I could "finagle" a bigger loaner bike. Since I'm on BMWBMW club's Board of Directors, I needed to be at the Sunday meeting in Fredericksburg, VA at Morton's BMW.
"Hmmm," says the service chief. "Ask the sales mgr if he's got a demo to loan."
So I ask.
"Hmmm," says the sales manager, after I tell him WHERE the meeting is, "We happen to have a Rockster demo with 1100 miles on it that you could take. We want to get some more miles on the odometer (I heard 1500 mentioned). You'll park it out front, right?"
"Of course." says I.
So they make a copy of my license, I give proof of insurance, sign a piece of paper, and off I ride on a sweet BMW Rockster (R1150R engine) for a long term loan.
Too COOL!!
First, being a smart rider, I spend 10 minutes putting around the industrial-plex across the road getting the feel of the ABS brakes, the weight, etc. then I'm off. Nice ride! I really like the fact that it handles much like the CS with a similarly low center of gravity, but it just feels 'meatier.' Its got pull in all gears at all RPMs, no 'grunting' at the low end like the poor thumper. Though this bike weighs about 140 pounds more than the CS it really didn't feel that much heavier. My one other complaint is that the Rockster has no windscreen. I tried to finagle one as a loan, but no dice. Ah well.
I get on I-95 north and find that passing 18 wheelers don't buffet this bike around the lane. All around, it just feels more secure going down the road. I take 100 west to 29 then I-70 W to Marriottsville Rd. An easy ride, with less traffic and familiar path for this unfamiliar bike. Plus fun "baby" twisties to try! Man, she's sweet in turns! And no diving front end when I brake.
When I pulled up front of the house, Chaz (hubby) was in the yard. He laughed out loud and immediately asked if he could ride it (Of course) His test ride was far longer than his go round on the GS was, and his comment when he got home was "I would get myself in serious trouble if I got one of those now... need another season on the SV."
I loved our son's comment when he got home from skateboarding, "WOW! Is that a Rockster in the garage?!"
For the meeting, Sunday, I put in 380 miles.
I left home at about 7 am (after some stupid confusion with the kickstand 'safety' feature). I made it to Fredericksburg for the club meeting by 9:30. After the meeting, some of my usual ride pals were "heading west" on a "100 mile loop" with plans to find something to eat in Sperryville, VA. At the time, I had no REAL idea how far away Sperryville was in relation to Fredericksburg OR more importantly, to Reisterstown.
Okay, I'll bite. I really didn't want to just go back home. This bike is too much fun, and I didn't have our GPS on board, so I was leery of venturing far on my own.
About 10 of us headed out. We rode through the valleys and hills of the lower Shenandoah. Through Civil War battlefields and past beautiful farms and fields. We cruised along two lanes. My 650CS is usually left behind when the others pass cars because the single cylinder just hasn't got quite the Oomph. It'll keep up, but the acceleration just can't match the 1100s and 1150s that I usually end up riding with. The Rockster was right there every time I twisted my wrist.
We travelled up and over the mountains past Luray, VA on 211. The last section was along winding climbing steeps, reminiscent of my motorcycle crash in July '04. These were both a thrill and a terror to execute successfully. I initially thought to keep up with the others, but quickly realized that was a sure path to disaster.
So I eased off, took a breath to focus, and started concentrating on carving the turns. Ah, here was sheer power and elegance! Climbing: look-lean-rollonthrottle-carve, ease off, lookleancarve. Descending: lookleancarve, straighten and brake just a bit, then, lookleancarve. It was more like flying than being earthbound. The motorcyle's engine growled purposefully and comfortingly through all of it.
With the farthest distance of any, to travel back home, I knew I was in trouble as we kept getting closer and closer to Charlottesville, VA - down to 22 miles before we cut away northwest. The thing was, I would no sooner catch up to the group at a stop, and gather my thoughts, when they'd head off again: I didn't want to just disappear and have everybody worry about me, so I stayed with them.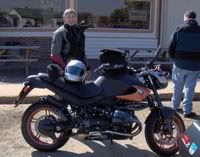 At last, we stopped and had a light dinner in Sperryville, VA at about 4:30pm. I realized that I would be far later returning home than I ever planned. When I tried to phone home, I had no cell service. Ah well. Make the best of it. I pulled out my map and got guidance from the others back to 340N. I had to cross the mountain on 211 again. Yikes! At least it was still daylight. I'd take it slow, as I was somewhat concerned at how fatigue would effect my riding.
Once again, I made it over the mountain safely. And again I delighted at the secure power and easy handling of the Rockster. I turned north on 340 toward Front Royal, where I stopped at a minimart for gas and a bottle of water. I tried my cell phone once more. SERVICE at last! Checked in with Chaz and said I was on my way, taking my time. As I stood drinking my water, an unbelievable 3 wheel contraption motored up to the gas pumps. The guy driving(?) was wearing a beanie helmet and chaps. I commented on his rig and he commented that it was easier to get down the road when things were slick. It seemed to have a VW engine driving it.
From Front Royal, the Rockster continued to eat highway miles effortlessly. As it grew dark, I cruised at 70-75 mph. My lower back was growing tired and stiff from pushing my torso against the windblast.
I stopped again in Frederick, MD, for a snack and to warm up. Checked in with home again. Then the final leg home. I got home at almost 9pm. A long but rewarding day. The Rockster handled 70-80mph with no problems. Rock solid power and handling. It is hard to put precise words to what feels 'better' about the Rockster over the CS. The CS has done everything I ask smoothly. It's a delight to ride. But it is just 'littler.' If I never planned on going beyond the Baltimore area, I'd be happy to keep the CS forever. But I have in mind to do some serious touring. And I just like the meatier feel of the R1150R.
Monday, I laid it down. Well actually, I SET her down. I was going out of the parking lot from work. The plan was to do a 'California roll-through,' but at the last minute I realized a car was coming. I grabbed a handful of brake with the bars not QUITE straight: "Ohno-OhCRAP!" over she went, ever so GENTLY (Okay, as gently as a person can lower a 550 pound bike to the ground) onto the right cylinder head. The ABS made a screeching sound and I turned the key off. Got her up on the second try, by myself.
Only damage is the 'sacrificial' plastic cyclinder guard. Whew!!
Hope to put on some more miles tomorrow.
_______________________
I was smitten. A couple weeks later, there was this magnificent WHITE and black bike parked in the showroom of Bob's BMW. I was talking to Ashton, the sales manager about loving the Rockster, but really hating the color options of copper or lime. Ashton pointed to the black and white bike.
"Its a Rockster" says he.
"No way!" says I.
"Yes, way! Its an 80th Anniversary Limited Edition Rockster" says he.
Oh oh oh. It has a windshield! I'm dooooomed. Its beautiful! I've got to have it. No, cannot buy it, must have it, cannot have it, MUST HAVE IT!!!! Well, BMW's .09% financing AND 5 free payments offer meant that it was only 2 more weeks before I did buy it.
Here's me on "Delivery Day" of my new Rockster.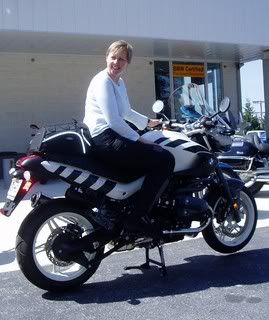 This week (4/2/06) the odometer will tickover 12,000 miles on my almost 1 year old Rockster. Its been a great time, with more on the horizon.
P