What's up with the "laying down"?
Went for a group ride last weekend and had two more bikes go down. The first got cut off by another rider at an intersection (cut off by his son no less) and spiked his front brake causing him to lay over. He tried to hold it up but, didn't have the strength. It was too far over. Just hurt his pride and a minor scratch on the engine guard and mirror. The second bike was a brand new, less than 200 miles on it, Streetglide. Husband and wife were riding two-up. We were in a parking lot getting ready to leave and all of a sudden they were down. We think he may have leaned to sharply and caught the running board. Again, nobody hurt and only minor damage.
It's just starting to freak me out! The last 3 group rides someone has gone down. Told the group I'm going to quit carrying my first aid kit since that's when the mishaps starting happening.

I've also decided to buy a pair of chaps for a couple reasons. First, to fit in. Even the "Wingers" in my group wear them...

Second, to keep me dryer. My rain pants soaked through during a long ride a couple weeks ago so, I went out and bought a new pair. I should have bought motorcycle specific. These were more like golf windbreaker type things. They're worse than my old ones. They soaked through faster and all over instead of just the legs. The new ones soaked through the butt and crotch area. The ride is no longer fun when "the boys" are cold and wet.

Planning on attending a bike night on Thursday and maybe doing a dice run on Sunday. Never been to either so, it should be interesting. I'll try and take pics at the bike night. Not sure I'm going to bike night. It'll depend on how long my wife wants to drive around in her new car.
We bought a 2007 Dodge Caliber and we're picking it up Thursday morning. Here's what it'll look like....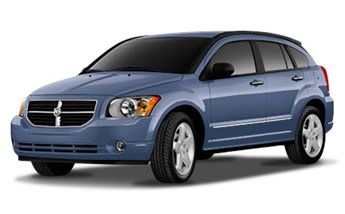 We got the R/T AWD with heated seats, daytime running lights, driver convenience group that includes tire pressure monitor, a trailer hitch and the fancier wheels (just because the one they found has them).
Have Fun and Stay Safe Out There!