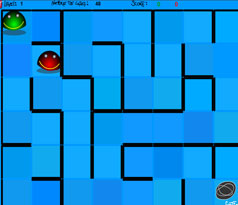 Page 1 – Page 2 – Page 3– Page 4 – Page 5
– Page 6 – Page 7 – Page 8
Dedal Labyrinth – Strategy

1 or 2 Player Game. Work your way around the maze to find the finish, all while racing your opponent to beat them there!
On the Edge – Strategy

Wickedly fun strategy game where you must plan your next moves carefully to comeplete the level and move on.
Chess for 1 or 2 players – Strategy

Classic chess, for 1 or 2 against another human opponent or a computer one (fast or slow). Classic strategy.
The Mathematics – Strategy

Test your bain, challenge yourself, beat your record! If you view a brain challenge as fun, then this is F-U-N. Try it, you might like it..
Just Click – Strategy

Click on the object with the big numbers starting from the smallest to the the biggest number as fast as you can before times out.
Drop Block – Strategy

Remove all of the squars on the screen by touching them with your mouse before the time is up. Watch out! The squares will come back again so you have to hurry.
Bow Chief – Strategy

1 or 2 Players – Choose your power and angle wisely young squire to hit your opponent, as he is doing the same to you!
Robin Hood Adventures Bow Shot – Strategy

Can you beat Robin Hood at his own game? Are you good enough of a shot to win?
On-Line Strategy Games 7
Page 1 – Page 2 – Page 3– Page 4 – Page 5
– Page 6 – Page 7 – Page 8