You are here: Home — Interviews — 2005 Victory Motorcycle Canada Interview

Total Motorcycle Interviews

2005 Victory Motorcycle Canada Interview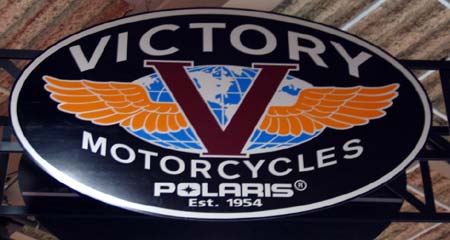 Total Motorcycle's interview with Victory Motorcycle Canada
by Mike & Andrea Le Pard.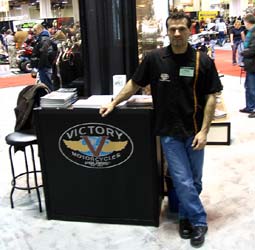 Polaris, the company that owns Victory, has been in business for over 50 years. It's motorcycle division Victory is now in its 6th year of production. Isn't it amazing how time files when Victory is having fun!

Total Motorcycle interviewed Rene St. Croix Canadian Sales Specialist for Victory Motorcycles at the 2005 Calgary Motorcycle Show. Rene is the man to talk to if you want the inside lane on what's happening at Victory, and he is a super friendly guy to talk to as well.

TMW: Rene, what sets Victory apart for the rest of the competition?
Rene: At Victory we aim for the perfect mix of power, handling and breaking. Victory is successful in achieving its goals because we use only use high quality and high technology components in all our motorcycles. A motorcycle that handles great, has good power, and stops well is very important to us.

We at Victory also listen very closely to our customer's needs and wants. When they speak, we listen. An excellent example is that the customers voiced that they wanted a lower priced cruiser, thus for 2005 we have introduced the 2005 Victory 8-Ball based on their feedback.

It is interesting to mention that in Canada the "All-American" built motorcycle seems not to mean as much as it does in the USA, but it still carries across the message of "Quality Construction."
TMW: What were Victory's most successful models for 2004?

Rene: This is easy to answer for me, as our Victory Vegas and Victory Kingpin was by far our most successful motorcycle models for 2004. From naked to fully loaded, our costumers loved the Vegas and Kingpin style.
TMW: Out of all Victory's 2005 models, which ones are Victory most excited about and why?

Rene: We at Victory are very excited about the brand new 2005 Victory 8-Ball and 2005 Victory Hammer models. These two models were made based on customer feedback and customers are very excited about these two bikes. With the 2005 Victory Hammer we have already oversold the model. It seems that customers just cannot get enough of the Victory Hammer. The Hammer features great custom looks, a very powerful engine and the largest rear tire of any mass-produced motorcycle today. The 2005 Victory 8-Ball is just the right bike to get a person introduced to the Victory lifestyle. The 8-Ball is a bike that is built to be affordable but still great looking while still offering the same power and chassis as our more expensive Vegas model. As with all of our Victory motorcycles, the 8-Ball offers excellent power and handling even though it is the least expensive model we currently offer. The 8-Ball features many more blacked out parts and less factory chrome, therefore saving cost and allowing the customer to customize their 8-Ball to their liking.
TMW: What is Victory currently focusing on in the market and why?

Rene: Victory is very much focused on listening to our customers. It is very important to us to make a product that the customer wants and loves rather than something that we think they want. Thanks to that connection with their customers, Victory has pioneered a lot of new roads such as custom motorcycle ordering and creating new motorcycle models based on customer feedback. Custom motorcycle ordering will be available from July to October 2005 allowing customers to order and design a motorcycle directly from the factory, just as you can from most car manufacturers. This new program will offer a huge array of parts, paint schemes and more. Even though Victory is only 6-7 years old, we have made a large impact in the motorcycle industry by offering things other manufacturers have yet to offer. Victory's goal is to be a leader in the motorcycle industry and not just a follower.

TMW: What things might we expect to see in the future from Victory?

Rene: Victory will be introducing 1-2 new motorcycles per year for some time to come. We have quite a few new products in the works to be introduced so it is a very exciting time for Victory. Our company is the new growth engine of Polaris Industries and we see steady growth in our Motorcycle division for the future. Polaris has also exited the personal watercraft market, thus allowing the company to concentrate more resources on creating, designing and producing Victory motorcycles.

TMW: Are there any future models in the works?

Rene: Yes, Victory does have some models, designs and ideas in the works. It is important to stress that we value our customers and their feedback. They play a critical role in helping us design and bring a specific motorcycle model to market. We currently have had the Victory Touring Cruiser for many years now, but we know that the customer now wants a new touring bike…therefore, you will see a new touring bike from Victory soon! We are also developing a smaller engine sized motorcycle with a completely new engine (no smaller than 800cc, but around that mark). This engine "might not be" a V-Twin design but could possibly be something entirely new in our line up like a Parallel Twin. Victory is open to any engine design and not stuck on only having V-Twin engine for all their motorcycles. Victory is about a unique image and lifestyle that we believe is not only centered on a great V-Twin engine. Also look out for even more customizing options for our motorcycles.

TMW: Is there anything else you would like to share with Total Motorcycle readers?

Rene: Victory really enjoys pioneering new roads in the industry. We are very proud of our Signature Series, Limited Edition motorcycles. For 2005 we had Arlen and Cory Ness design our Signature Series, Limited Edition Victory Vegas and Kingpin. There will only be 12 Vegas' and 14 Kingpin's available for sale in Canada.

This concludes our 2005 Interview with Victory Motorcycles. We would like to thank Victory Canada and Rene St. Croix for allowing us to interview them and for their time. We look forward to our next interview with them.

---
Unbiased, helpful, personal, friendly and useful motorcycle resource