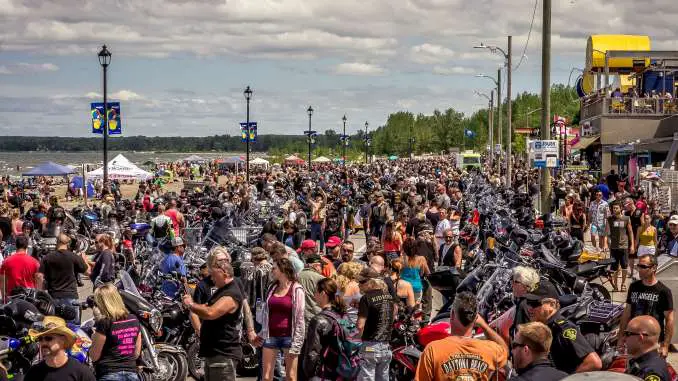 Great Weekend for Riding, Rallying, and Beach Concerts!
WHAT: 2017 WASAGA BEACH MOTORCYCLE RALLY
Check out awesome bikes, including Yamaha's all-new 2018 Star Venture TC!
Get your bike sparkling with the return of The Ride & Shine.
Join the ride! Various expeditions including the VIP Ride, Mystery Rides, and the Veteran's Ride.
WHEN: FRIDAY, JULY 14, 2017 – SUNDAY JULY 16, 2017
FRIDAY, JULY 14: 12 PM – 8 PM
SATURDAY, JULY 15: 8 AM – 8 PM
SUNDAY, JULY 16: 9 PM – 2 PM
WHERE: VENDOR VILLAGE, WASAGA BEACH, ON
LOCATED OFF OF MAIN STREET 13 First Street North, Wasaga Beach, Ontario L9Z 2K2
(Psst! Find the Yamaha Motor Canada booth. We're giving away FREE swag!)
July 2017 is shaping up to be a great weekend of riding, rallying and Beach Concerts.
The Veterans Ride replaces the Mayor's Ride and registration is sold out and ride tickets sent out. Thank you to Wrangler Jeans, Parts Canada and Barrie Harley-Davidson for your support of this great ride. The ride this year takes us through Muskoka including Southwood Rd.
My goal is to make the Wasaga Beach Rally unique. Not just a stop to buy a t-shirt and an expensive hot dog and go home. 2017 will see the most requested bands on the beach, the return of the Ride & Shine competition, an interactive tree cutting competition, a manufacturers display, oil changes and installation garage.
Riders Plus Insurance has come on as a title sponsor. What a great company to have as the anchor sponsor of year 3. The owners of Riders Plus Insurance were in attendance on Saturday and advised on the spot they wanted to be a big supporter of this event. Lucas Oil Canada and Troy's Toys are back again and recent sponsors include Stihl Canada and Maclean's Ales.