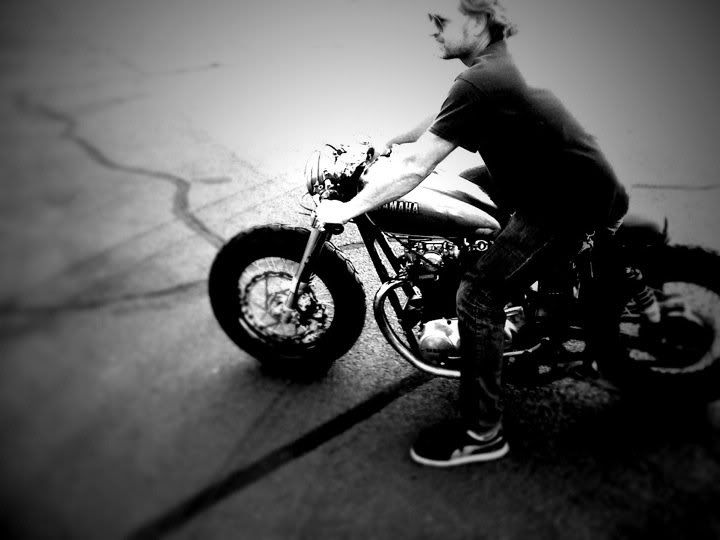 Richmond, VA. In a garage. In a quiet West End neighborhood:
After 10 pm I try to keep my grinds and cuts really short and quick. I've heard how those screeches sound in the dead of night. Like banshees. I ease up the garage door to let the welding smoke out -- as quietly as possible, but I'm sure I've already woken somebody up.
My neighbors are awesome, but still, I cringe at the noise.
I think I'm looked at as the guy with the compulsion. The guy who can't be helped. I'm sure an intervention is being planned.
I'm very new to the motorcycle culture, and I can't decide whether I regret not discovering it sooner. After all, if I'd known what I know now all my life, maybe it'd be old hat at this point. Instead, it's given me some kind of unreasonable enthusiasm and a sense that anything is possible.
The topic of this blog is enthusiasm, I suppose.
My Classified Moto blog is
http://www.johnryland.posterous.com
. (I think it's okay to post that link here, if not, somebody will let me know). It talks about the stuff I'm working — the stuff that generates smoke and sparks and dust.
But this thread will be less about the machines themselves and more about what's possible when you get a bunch of enthusiastic people together to do something moto-related.
I've already met so many great people through motorbikes, and have conversations that always lead to something cool and unexpected.
I'll try to get them down here. I'll keep it positive, and try to do the same if you chime in.
Stay tuned, and thanks for looking!
John Ryland
Richmond, VA