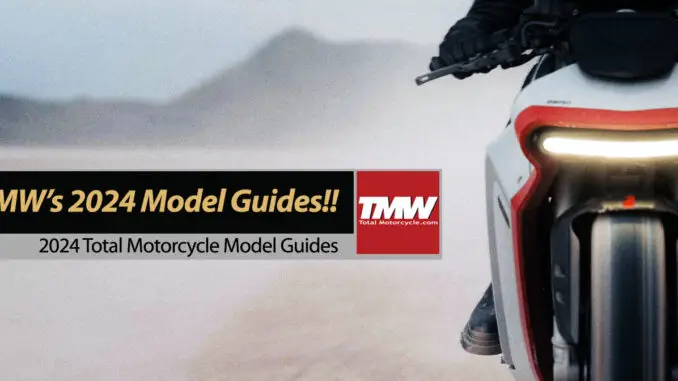 Welcome to the 2024 Motorcycle Model Guides on Total Motorcycle!


North America's top destination for motorcycling news, bike reviews and motorcycle guides.

Introducing the new 2024 Motorcycle Model Guides.
New Bike Reviews, Huge Photos, Full Specifications. Get it all at Total Motorcycle.
2023 Motorcycle Year recap: 2023 was another great year for riders with more models and more choice than ever before. While the pandemic put a damper on supply chains, production and availability, each and every motorbike that was made was sold just as quickly. We also saw the introduction of even more electric eBikes into the mix as well as, gasp, bicycles from most of the manufacturers, including Harley-Davidson, Triumph, Ducati and more. While eBikes and electric bikes are not everyone's cup of tea, at least it will get more new riders into our sport (watch Zero and LiveWire as only electric bikes) and we will see more of these in 2024 and I'm sadly expecting gas engine motorcycles to be almost gone by 2035. So buy that new gas bike this year!
On the value/price/rip-off front, we saw prices all over the map. The most affordable motorcycles arrived from Aprilia and Moto Guzzi, while Suzuki, Kawasaki, Yamaha and even surprisingly Honda were quite affordable. Indian Motorcycle even offered up very affordable select models which were affordably priced but higher quality. On the other end of the spectrum, Harley-Davidson's removed many affordable models so the average H-D price moved up quite a bit making Harley a less affordable option than Indian and the worst offender was Ducati with the most expensive, less affordable bikes with bikes over $80k and even their eBike bicycles are $10k! I feel bad for Ducati showrooms in 2024.
With Total Motorcycle's 2023 Motorcycle Model Guides complete with over 700 new bikes, 2665 photos from 22 major manufacturers across the globe it's one of our biggest and most successful years. Our Total Motorcycle's 2024 Motorcycle Model Guides are poised to offer the same incredible and unique information you can't and won't find anywhere else, all for free, all in one spot. We put the TOTAL in Motorcycle; your one stop shop for everything motorcycle, bike, eBike, gas, electric and anything on 2 (and sometimes 3 wheels) related! You won't find a bigger resource anywhere else, we guarantee it. With over 54 years of motorcycle model guides and 90 years (yes, NINTY YEARS!) of motorcycle model year information you have arrived. Thank you for choosing Total Motorcycle!
Looking for the newest 2024 sportbikes, standards, cruisers, touring, adventure, dual sport, supermoto, motocross and offroad bikes? You have come to the right place. At Total Motorcycle our 2024 Motorcycle Model Guides are built just for you, the riders.
Here at Total Motorcycle, we take a lot of pride in what we do and we do our very best to offer the worlds best motorcycle model guides for you. Our massive guide to 2024 motorcycle models is no exception. We post full media information with attention to details, key highlights, features, specifications and MSRP on each and every model, plus, the best high definition photos found anywhere. From the USA, Canada, Europe, UK and Australia we cover it all.
Looking for older motorcycle models? TMW has you covered! From 1970 to 2024, we have over 54 years of models, that's tens of thousands of models, chock full of information goodness! Rare photos, multi-country features, full specifications even MSRP for what that bike launched for. And we have a incredible fuel economy guide as well, used not only by riders but educational institutions and even the US Government as well from 1930 to 2017, it's incredible. Let's be honest, you can't and won't find this information elsewhere, it is our dedication to motorcyclists and motorcycling that brings millions back each month. Thank you for supporting us!
Enjoy the 2024 Motorcycles right here on Total Motorcycle.
2024 Motorbikes
Thank you for making Total Motorcycle your virtual motorcycle destination!
Specifications, appearance, and price of product are subject to change without notice.
Total Motorcycle is official media/press for the following motorcycle manufacturers: Aprilia, Benelli, Beta, Bimota, BMW, Buell, Cagiva, Can-Am, Ducati, EBR (Erik Buell Racing), Harley-Davidson, Honda, Husaberg, Husqvarna, Hyosung, Indian, Kawasaki, KTM, KYMCO, LiveWire, Moto Guzzi, Moto Morini, MV Agusta, Norton, Phantom, Piaggio, Ridley, Roehr, Royal Enfield, Suzuki, Triumph, Ural, Vespa, Victory, Yamaha and Zero motorcycles.