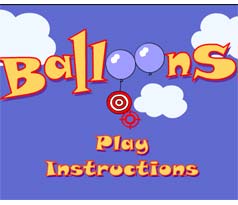 Page 1 – Page 2 – Page 3 – Page 4 – Page 5
Page 6 – Page 7 – Page 8
Shoot Those Balloons!

– Action

BANG! Shoot the ballons as fast as you can, score points, advance levels… POP!

Xiao Xiao 9 – Action

You are the greatest stick fighter that has ever lived! Your challenge is to defeat the boss man. But first you have to get by all his hired help… now get out there and kick some $tick!

BMX Tricks

– Action

Do crazy stunts on your BMW like Jumps, Grinds, Tailwhips and if you are good enough a superman for big points.

SWAT Target Shooter

– Action

Hone your sub machine gun shooting skills with some good target practice. The more accurate you are, the more points you score! Careful as you ammo and lime are limited.

Chopper

– Action

Chopper Challenge! Your chopper has been hit and you are the only one who can save it and your crew! Good luck pilot!

Elemigrante

– Action

So you want to cross an international guarded boarder illegally? Get on your trusty bicycle and evade the boarder police!

Sniper

– Action

When you need one man to go against the criminal world who do you call? The Sniper of course! You are the sniper in this exciting action game.

Kore Karts

– Action

Go Carts of the future racing game! Try to best your opponents by racing around different tracks on different worlds!

Ant City

– Action

You have stolen a gigantic magnifing glass, luckily a weird science experiment has turned you into a giant! Here is your chance to play with the city population.

SSG Platinum 2 – Action

Weird game name, but that's ok as this game is a great side scrolling space shooter!
On-Line Action Games Page 3
Page 1 – Page 2 – Page 3 – Page 4 – Page 5
Page 6 – Page 7 – Page 8