A comprehensive list of all the world's motorcycle manufacturers. From the very first steam powered two wheeled machine of the late 1800's, throughout the 20th century and up to the new bikes of today. The Complete Motorcycle Compendium!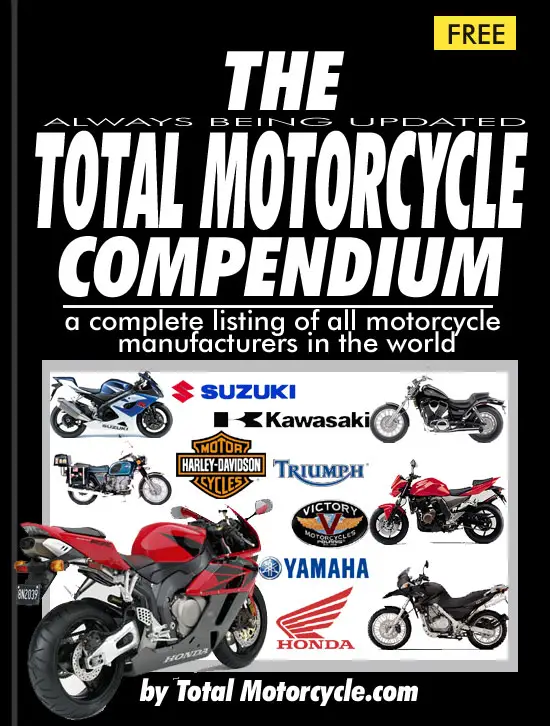 *Even though there are 1,000's of motorcycle manufacturers and their history listed please do not consider this to be a 100% complete list as it will always grow. Enjoy discovering the rich history behind the motorcycle brands. Enjoy our The Complete Motorcycle Compendium!
Main Credit to: Coy Robbins – Flattracker for all his work, time and dedication to motorcycle manufacturer history.
Additional Credits : Ace Motor Corporation, Antique Literature Homepage Canadian Vintage Motorcycle Group National Page, Cotton Motorcycle Homepage, Ian Chadwicks Britsh Motorcycle History, The Panther Page, The Polish M/C Group, Vee Twin Interactive – Historical Background Directory, Vintage Dirtrack and Speedway Motorcycles, Wolverhampton History and Heritage, Allen Girdler, Marques of Distinction – John Carroll & Jim Glastonbury, Motorcycle City, The History of the Motorcycle – Hugo Wilson, RD Press., The Encyclopedia of Motorcycles – Roland Brown, The Ultimate Motorcycle Book – Hugo Wilson, The Motorcycle Industry In New York State – Geoffrey N. Stein – New York State Museum, The Encyclopedia of the Motorcycle – Hugo Wilson, Wheels and Wheeling – The Smithsonian Collection of Automobiles and Motorcycles. – S.M. Oliver & D.H. Berkebile.
---