Total Motorcycle Bike, Gear & Product Reviews
"Professional. Unbiased. Quality second to none. With 400 Million Readers and 24 years in online we have built a solid, trustworthy and dependable reputation. Total Motorcycle is your destination for bike, gear, products and accessory reviews, views and opinions. Total Motorcycle – Built by Riders for Riders."

Motorcycle Reviews
Indian Motorcycles
Kawasaki Motorcycles
Harley-Davidson Motorcycles
Polaris Slingshot
Kymco Motorcycles
---
Gear and Apparel Reviews
Helmets
Jackets, Pants, Jeans & Suits
Gloves
Boots & Shoes
Clothing
Bike Accessories
Video, Audio & Communication Devices
---
Maintenance Product Reviews
---
Show, Event and Rally Coverage
---
People and Team Interviews
---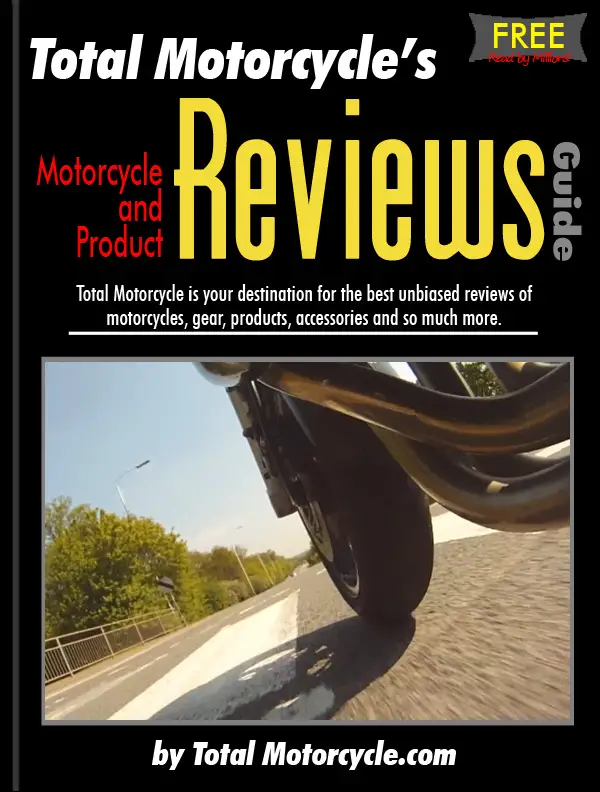 Frequently Asked Questions (FAQ)



What types of products, gear and motorcycles does Total Motorcycle review?

Total Motorcycle reviews all types of motorcycle related products, gear, accessories and motorcycles for our readers. If it can fit into the world of motorcycling we bring it to our readers.

 Much much does it cost to have Total Motorcycle review my product(s)?

There is no cost other than the cost of the product itself. Total Motorcycle believes in supporting motorcyclists and motorcycling worldwide, we want to support not only the riders but also the industry as we believe we are all interconnected. All reviews will be published not only on Total Motorcycle but to our 11 Social Media Channels as well. In addition, all reviews will also have a link to your product and/or your corporate website.

 What are Total Motorcycle's professional review standards?

Total Motorcycle's mantra has always been "Friendly, Helpful, Useful and Unbiased", we endeavor to take the time necessary to thoroughly review a product and/or motorcycle and deliver our reviews in the most professional and unbiased manner. This is why our reviews take a little longer, quality takes time. We will keep you updated along the way and make sure to ask you any questions we have about your product(s) so there is no guess work.

 Who reviews the products?

Total Motorcycle's review staff is made of not only of male reviews but female reviewers as well. Our worldwide professional review staff can cover the gamete of sport, adventure, cruiser, retro, scooter, and dirt styles from hot humid weather to cold dry conditions. Take a look at our completed reviews and you can see the difference quality makes.

 What about Motorcycle Shows, Motorcycle Events, Motorcycle Rallies?

If you have a Motorcycle Show, Motorcycle Event or Motorcycle Rally happening, let us know. Total Motorcycle will do our very best to cover it no matter where in the world it is. We require some heads up notice though as coverage of your event may require the booking of flights, hotels and rental cars.
How long does it take to have a review published?

Total Motorcycle is a professional site with experienced reviewers and we adhere to strict review timelines:

Once all products are received by the reviewer, the review will start.
4 weeks for review, evaluation and product testing and back and forth questions.
1 week to create and write the review including any video production.
1 week for final editing and review.
Review is posted live on our website, across our 11 social media channels and included in our RSS news feed.

All times are subject to weather, products currently in queue/under review and staff safety.

Who will read the review?

Total Motorcycle has over 300 million readers and has been online since 1999. We have 11 active Social Media Channels, 45,000 subscribers, an active forum and a daily updated website. In fact, we are older than Facebook and started when Google was just a Giggle! Our brand reputation is second to none and we have built loyalty and trust in our readers; they know if we recommend it, then it is good.

I would like to have my product(s) review by Total Motorcycle, how do I contact you?

Wonderful. We would love to hear from you and start the arrangements! Shoot us an email don't forget to include a subject or we won't know what it is for.