Total Motorcycle's Social Media Sites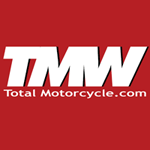 Subscribe to our Daily RSS News Feed 
Subscribe to our Daily RSS Forum Feed 
 Don't be just be a motorcycle fan, be a Total Motorcycle Fan! Come join us on all our social media pages too!
Add Total Motorcycle on all your social media pages!
Becoming a Total Motorcycle Fan shows your friends and the world that you think Total Motorcycle is something good on the internet. There are not a lot of great sites out there anymore dediced to just helping people (rather than just selling your information and making a profit from it). At Total Motorcycle we firmly believe in supporting motorcyclists and motorcycling first (and we never sell your information, ever) and try out best to provide a free, helpful, friendly and useful site for all riders. Help us out to help even more people like you, spread the word about us.
Social Media is a great way to Follow Total Motorcycle no matter if you live in the USA, Canada, Europe, UK, Australia or any part of the world. We keep all our social media pages and channels updated with useful, helpful and friendly information that's relevant to you. Motorcycle news, new motorcycle models, important announcements and more can be found there.
While social media sites play an important role to follow us at, Total Motorcycle will always have the latest information up so check our website daily to be up on the best motorcycle information on the internet. You can also Share any of our page and image content directly to your Social Media page too!
Don't be just be a motorcycle fan, be a Total Motorcycle Fan!
Thank you so much for your help and support! – Mike (founder of Total Motorcycle)

About Our Social Media Sites

Facebook – Facebook is a social networking website and service where users can post comments, share photographs and links to news or other interesting content on the Web.
Twitter – Twitter is a service for friends, family, and coworkers to communicate and stay connected through the exchange of quick, frequent messages. People post Tweets, which may contain photos, videos, links and up to 140 characters of text.
Google+ – Google Plus (stylized as Google+) is an internet based social network that is owned and operated by Google.
YouTube – YouTube is a video sharing service where users can create their own profile, upload videos, watch, like and comment on other videos.
Pinterest – Pinterest is a free website that requires registration to use. Users can upload, save, sort, and manage images—known as pins—and other media content (e.g., videos) through collections known as pinboards.
Instagram – Instagram is a social networking app made for sharing photos and videos from a smartphone. Similar to Facebook or Twitter, everyone who creates an Instagram account has a profile and a news feed.
Tumblr – Tumblr is a microblogging and social networking website founded in 2007. Tumblr allows users to post multimedia and other content to a short-form blog. Users can follow other users' blogs.
Linkedin – A LinkedIn Company Page helps others learn more about your business, brand, products and services, and job opportunities.
StockTwits – StockTwits is a social media platform designed for sharing ideas between investors, traders, and entrepreneurs.
Subscribe to our Daily RSS News Feed  – RSS (Rich Site Summary) is a format for delivering regularly changing web content. Our News RSS feed is updated immediately with every new post and news story we publish. No waiting for the latest new content!
Subscribe to our Daily RSS Forum Feed  – RSS (Rich Site Summary) is a format for delivering regularly changing web content. Our Forum RSS feed is updated immediately with every new forum post from our forum members.
Thanks for making Total Motorcycle your virtual motorcycle destination!
Total Motorcycle is official media/press for the following motorcycle manufacturers: Aprilia, Benelli, Beta, Bimota, BMW, Buell, Cagiva, Can-Am, Ducati, EBR (Erik Buell Racing), Harley-Davidson, Honda, Husaberg, Husqvarna, Hyosung, Indian, Kawasaki, KTM, KYMCO, Moto Guzzi, Moto Morini, MV Agusta, Norton, Phantom Manufacturing Co, Piaggio, Ridley, Roehr, Royal Enfield, Suzuki, Triumph, Ural, Vespa, Victory, Yamaha and Zero motorcycles.