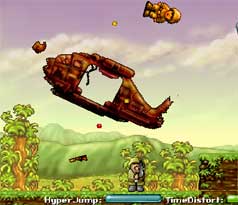 Page 1 – Page 2 – Page 3 – Page 4 – Page 5
Page 6 – Page 7 – Page 8
Heli Attack 2

– Action

Fight your way across the jungle. Blow stuff up, shoot your guns, get powerups and have fun!

Drag Racer 3

– Action

Strap yourself in and get ready for some drag racing action! Over 100 cars, 1000 custom accessories and more! Have fun.

2D Shootout

– Action

It's the old west and it seems like every bad guy just rolled into town. Unfortunately, you are the ONLY sherrif. Go get 'em tex.

Air Attack

– Action

I think it should of been called Pearl Harbour, but hey, I didn't make the game. Shoot down Japanese Zero's as they come in over the battleships.

Alien Hominid

– Action

Sci-Fi shooter with fast pace shoot-em-up action! You are the alien from Mars the govenment wants to stop. Lucky you.

Mars Massacre

– Action

Quick! Run to your gun! Mars is under attack and you are their only hope Luke…

Polar Rescue

– Action

Artic platform game. Jump, collect and shoot your way to freedom!

Sniper

– Action

You have been hired to be… The Sniper… because of your inhuman shooting accuracy it is your job to take out the terrorist threats. Good luck!

The Transporter

– Action

Just like the Movie "The Transporter". Race your super modified BMW to the Eiffel Tower in Paris, collecting cash along the way.

Aim and Fire!

– Action

Take careful aim for the selected targets. Each level more challenging than the last!
On-Line Action Games Page 6
Page 1 – Page 2 – Page 3 – Page 4 – Page 5
Page 6 – Page 7 – Page 8