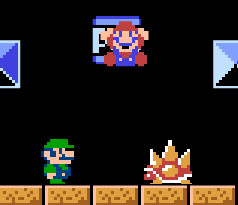 Page 1 – Page 2 – Page 3 – Page 4 – Page 5
– Page 6 – Page 7
Mario Brothers

– Classic

2 Players – Mario and Luigi need your help again in this classic 1983 game! Help them to investigate the sewers and don't forget to use the POW when you need it.

Jenga

– Classic

1 or 2 Players – Take a block from the bottom and put it on it, take a block form the middle and put it on top, once you start you just can't stop till you start all over putting blocks on top.

 

Snake

– Classic

Simple and fun. Race around the map, eat the food, grow longer and longer as you eat to complete the levels.

 
 
 
 
 
 
 
 
 
 
 
 
 
 
 
 
 
On-Line Classics 7