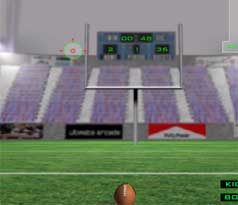 Page 1 – Page 2 – Page 3 – Page 4–
Page 5 – Page 6 – Page 7– Page 8
Field Goal Football

– Sports

Kick the football between the goal posts and score big time! Do you think you can set the world record?

Grand Prix Challenge 2 – Sports

Race your way to victory on different Grand Prix tracks! Watch out for opponents and careful not to damage your car too much.

Ultimate Dodge Ball

– Sports

Remeber playing Dodge Ball (sometimes called Murder Ball) in school? Well, here is your chance to kick some butt yet again… or get your butt kicked (depending on how good you are at it).

Unicorn Golf – Sports

A Classic golf game! Choose your club, aim carefully and play the 18 holes to fame and fortune!

Crab Volleyball

– Sports

Fun beach volleyball game! And who knows the beach better than a crab?

Galatic Shuffle Puck/Tennis – Sports

Is it Tennis or Shuffle Puck or a combination of both? Whatever it is, it sure is fun to play!

World Cup Soccer

– Sports

Out score the other team to win the World Cup of Soccer! Just like the real game, you even get to pick a country team to play.

Bomb Blast Billiards

– Sports

Playing Billiards can be quite Relaxing, but not this count down to detonation game! Hang on the edge of your chair as you try to put all the balls away before they blow up!

Ice Hockey

– Sports

He shoots he scores!! Test your skill against the goalie in this fun hockey game.

Canadian Curling

– Sports

Curling is a sport like no other. Try to get your rock down the ice sheet and land in the button. Simple terms: Aim for the bulls-eye at the other end of the rink, knock out your opponents rocks and keep your rocks in the bulls-eye to score. Closest wins.
On-Line Sport Games 3
Page 1 – Page 2 – Page 3 – Page 4–
Page 5 – Page 6 – Page 7– Page 8