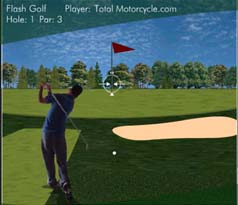 Page 1 – Page 2 – Page 3 – Page 4–
Page 5 – Page 6 – Page 7– Page 8
Flash Golf

– Sports

Quite a realistic and fun single player golfing game. Choose your club and power, point your guy in the right directions and hope for the best! Excellent golfing game (IMHO).

Kangaroo Boxing

– Sports

TWO PLAYER ONLY. But wow it is FUN! Try to knock your opponent out of the ring to win the match using a few different moves.

Motorcycle Turbo Sprint

– Sports

Very very very fun motorcycle racing game!! Race your motorcycle on the track, past the checkpoints, avoid crashing and you might just win!!

Ping Pong

– Sports

Ping pong, the classic game of knocking a little white ball over a little white net to land within a little zone on the opponents side and if they miss, you get a point! Don't worry it is easier to play.

PMG Racing

– Sports

Choose one of 4 different vehicles, each with its very own attributes and race!

Slapshot Hockey

– Sports

The ice is cold, but your hot as the croud cheers you on to beat the goalie and SCORE! Can you do it? Or is it time to go to the locker room?

Soccer Shootout Challenge

– Sports

They do not come much more classic than this. We are pleased to present this VERY rare game for you to enjoy. Try to catch the falling bombs on your platforms, miss and… Kaboom!

Stunt Guy

– Sports

Motorcycle stunting has never been this fun, or this safe! Make the crowd GO NUTS over your motorcycle stunting abilites or go home.

Super Free Kicks

– Sports

Some fans decided to stand in your way and block your winning goal. Maybe you have the skill to shoot around them? Or through them….

Table Nutball

– Sports

Your at the bar and your bored so you start playing with the peanuts… Then 3 hockey stars (squirls) show up to give you some fun! 🙂

Virtual Cricket

– Sports

If you love cricket, you will love this game. It bills itself as "The Most Comprehensive Online Cricket Game Ever Made". I think it lives up to that title, what about you?

Airhockey 2 – Sports

Play against the computer for the win! Use your paddle to smack the puck across the board! Get it past his paddle and you SCORE! Woohooo!

Tennis Ace

– Sports

Go for the Bronze, Silver or Gold Tennis Cup! Classic tennis versus the computer.

Snowboarding 2 Supreme

– Sports

Grab your board and get some snow! Race down the ski slopes and do some awesome stunts, flips, 360's, wheelies and more to score some cool points.
On-Line Sport Games 7
Page 1 – Page 2 – Page 3 – Page 4–
Page 5 – Page 6 – Page 7– Page 8