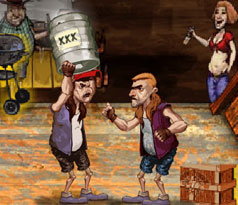 Page 1 – Page 2 – Page 3 – Page 4–
Page 5 – Page 6 – Page 7– Page 8
Backyard Boxing

– Sports

1 or 2 players – Pound at your neighbor for 10 rounds with whatever's available till he drops and stays down…

4×4 Jeep Hill Climbing Offroading

– Sports

The aim is to get over all the obstacles on a level in the fastest time possible. How can you not love a 4×4 Jeep with big nobbies?

One-on-One-Football Soccer

– Sports

1 or 2 players – Classic back and forth 1-on-1 soccer (or football). Challenge the computer or your friend to a match today!

Office Mini Golf

– Sports

1, 2, 3 or 4 players – Putt around at work on your office desks, watch out for those keyboards, envelops, post-it-notes, mice, cords, phones, pen hazzards and more!

Relax Darts

– Sports

1 or 2 players – Relax, sit back, have a proper pint, order some wings or bangers and mash and let the darts fly! Tea not included.

The Fast and the Phineas

– Sports

1 or 2 players – Build your racing car from scratch… pick your wheels, chassis, engine, body kit and decals (all which affect performance) and go, go….GO!

Ping Pong Ball

– Sports

1 or 2 players – Bounce, dodge and bump your way to score agaist your opponent! It's fun, it's crazy…it's just a little wacky.

Scooter Racer

– Sports

Fast and the Furious 4 meets scooters! Fast bends, top speeds and hair pin curves… will you come out ahead?
On-Line Sport Games 8
Page 1 – Page 2 – Page 3 – Page 4–
Page 5 – Page 6 – Page 7– Page 8