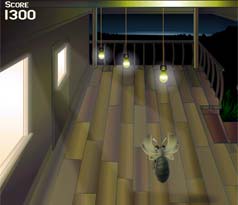 Page 1 – Page 2 – Page 3– Page 4 – Page 5
– Page 6 – Page 7 – Page 8
Moth

– Strategy

See what all the attraction is to lightbulbs! Be a moth and just give er! Fun.

Yahtzee

– Strategy

5 Dice, make the best score you can! Very classic strategy dise game.

Who wants to be a Millionaire

– Strategy

Same as the popular TV show, but you don't win any actual money. But you do have a lot of fun playing it.

Eat or be EATIN!

– Strategy

Your the small fry of the sea… They ALL want to eat YOU! But don't worry, eat the smaller guys and you will grow up to massive proportions where you can eat them all!! hahahaha..

Simone

– Strategy

Watch and remember Simone's dance moves as she busts a move! Follow the pattern of lights, dance moves and sounds for as long as you can remember them. Good luck!

Snack Attack!

– Strategy

Think your job is hard? Try the job of a stadium food server! Take food orders and try to deliver the food without dumping it all over yourself! Fun, challenging and addictive!

Pipes

– Strategy

Pipes sounds easy enough to play… connect the pipes, and the water will run through them to the destination… But it does get challenging and harder as you go…

Master Mind

– Strategy

Try to choose the correct 4 colour combination and win!

Chess

– Strategy

Time for a good game of chess? Well then you have come to the right place. A royal game for Kings, Queens and Pawns alike.

Ultimate Search a Word 2000

– Strategy

Need a nice relaxing game? Well get your pen out (er, I mean mouse out), choose a category and find those words! Please don't circle the words on your computer monitor. haha.
On-Line Strategy Games
Page 1 – Page 2 – Page 3– Page 4 – Page 5
– Page 6 – Page 7 – Page 8