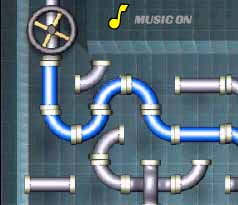 Page 1 – Page 2 – Page 3– Page 4 – Page 5
– Page 6 – Page 7 – Page 8
Plumber 2 – Strategy

Puzzle your way through 35 levels of fun as you try to get the water from point A to B.
Outerspace Escape – Strategy

Manuver your way back to the Space Shuttle and gain points along the way. Watch out for bombs, asteriods and more!
Quick Brick – Strategy

Very fun but takes a minute to get the hang of. Complete "lines" of 3 or more same coloured blocks touching each other to get points.
Equilibrium – Strategy

Think you have good balancing ability? Try your Equilibrium skills as you balance on a uni-cycle, on a type rope while jumping in the air to catch points!
Simon Rasta – Strategy

What if Simon was a Rasta Mon? Follow the drum pattern of sounds for as long as you can remember them. This game is 100% IRIE
J20 – Strategy (mature)

Mature – Hard to really explain this one, you just have to play it and laugh along with it! Play as a Male or Female.
Gold Miner – Strategy

Try to collect as much gold, diamonds and money bags each level to reach your goals. Buy power ups at the store to help you along. Another one of my personal favorites.
Chinese Checkers – Strategy

A strategy game that has been around for…. centuries! Jump each piece and try to leave as little on the board as possible.
Space Explorer – Strategy

Your job is to explore unknown and mysterious planets. But first you have to land without blowing yourself up.

Gandalf's Quest

– Action/Strategy

Help out Gandalf on his quest in The Lord of The Rings in this platform action game. Collect the coins avoid the monsters!
On-Line Strategy Games
Page 1 – Page 2 – Page 3– Page 4 – Page 5
– Page 6 – Page 7 – Page 8