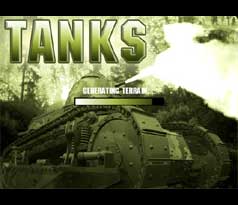 Page 1 – Page 2 – Page 3– Page 4 – Page 5
– Page 6 – Page 7 – Page 8
Tanks! – Strategy

A great action/strategy game for 1 to 5 players. Choose from dozens of different options, ammo and tank features. Try to knock each other out for end of round bonus points!
Pharaoh – Strategy

Laura Croft of Tomb Raider would be jealous of your treasure hunting skills in Pharaoh! Invade the egyptian tomb, grab the treasures and try to get out… alive.
Minesweeper 2 – Classic/Strategy

Yet another version of the classic (and highly addictive) Minesweeper is back! Try to clear the board by picking all the right squares.
Mah-Jongg – Strategy

Another super version of the age old strategy game Mahjong. Try to clear the board and be a Mahjong master.
Labyrinth – Classic/Strategy

Try to get your marble across the labyrinth using counter forces to push the ball the way you want it to go. Watch out for the holes. Just like the real game in the stores.
Memory Madness – Strategy

Do you find the game Simon a little too easy? Then get ready to try Memory Madness, it just like Simon but e
Beer Mat – Strategy

Try to catch the beer mat (coaster) in this rendition of the bar game of the same name. Miss it and take a drink!
Breakdown – Strategy

The game describes itself best with "Click on the contiguous colored blocks to remove them" to clear and finish each level.
Cyber Mouse Party – Strategy

Guide your mice to the cheese using obsticles to guide them. Sounds easy but it sure it fun and challenging.
Happy Pills – Strategy

Sometimes people just need to take a "Happy Pill" to cheer up! Well now you can give it to them! Warning… Too many happy pills can be dangerous!
On-Line Strategy Games
Page 1 – Page 2 – Page 3– Page 4 – Page 5
– Page 6 – Page 7 – Page 8