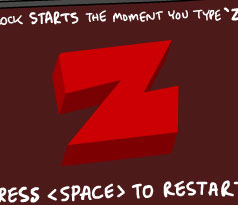 Page 1 – Page 2 – Page 3– Page 4 – Page 5
– Page 6 – Page 7 – Page 8
Fastest Finger – Strategy

How fast can you type the alphabet backwards? Can you be the fastest finger?
On the Edge – Strategy

Wickedly fun strategy game where you must plan your next moves carefully to comeplete the level and move on.
Pillars – Strategy

1 or 2 Players – Advance from planet to planet, weave around the obsticles and race to the goal for maximum points!
Kingdom Bow – Strategy

1 or 2 Players – INCOMING ARROWS! Defend yourself archer! Solo or Multiplayer
Ancient Jewels – Strategy

If you collect 3 or more figures of the same color in the lines they disapear. Click your way to fame and fortune!
Silent Hill Final Redemption – Strategy

A very suspenseful game. Explore your way around to discover the mystery and horror of the small town Silent Hill… or die trying.
 
Plinko – Strategy

Plinko is by far the most celebrated and enjoyed pricing game ever played on The Price is Right. Drop the disc and get it into the slots to win cash.
 
On-Line Strategy Games 8
Page 1 – Page 2 – Page 3– Page 4 – Page 5
– Page 6 – Page 7 – Page 8