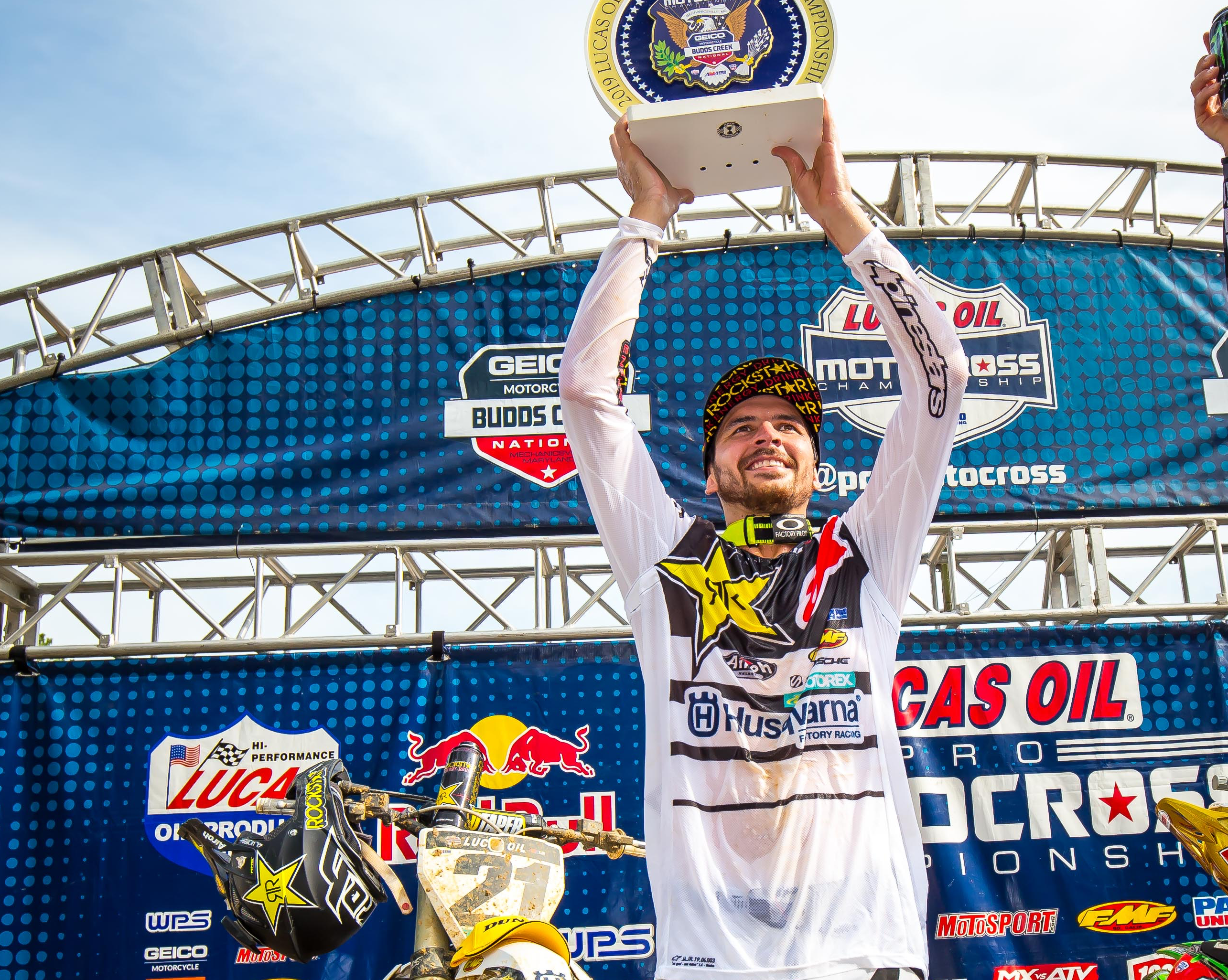 Rockstar Energy Husqvarna Factory Racing Team's Jason Anderson returned to the podium on Saturday with a runner-up finish at the penultimate round of the 2019 AMA Pro Motocross Championship at Budds Creek Motocross Park in Mechanicsville, Maryland. His teammate, Zach Osborne, rounded out the top-five in the 450MX class with a solid fifth overall on the day.
In Moto 1, Anderson had a great jump off the line but he got pinched off and began the opening lap in eighth. He set out on a charge early on, climbing his way up to fourth by lap 10 and that's where he finished in Moto 1. In Moto 2, he got off to a fourth-place start as he inserted himself into the podium battle early on. By lap two, Anderson charged his way into third and he kept the momentum rolling by moving into second around the halfway point. From there, he held steady to claim second in the moto and second overall for the day.
"My weekend went pretty good," Anderson said. "In the first moto, I got a good start and kind of got pushed and had to come through up to fourth. In the second moto, I got a good start and ended up around fifth or sixth and had to push my way up to P2, which is a good overall for the day."
In Moto 1, Osborne jumped into third off the start, where he engaged in battle for a podium position early on. He settled into fifth on lap two and from there he charged his way to a fifth-place finish. In Moto 2, Osborne powered his way to the holeshot but after coming together with another rider, he dropped back to third on the opening lap. He assumed a top-five position for the first half of the race and just after the halfway point he made a charge to overtake fourth, where he ultimately finished.
"Today was another solid day in the top-five but I struggled with the pace in the beginning," Osborne said. "The track was strange for me today, it's really hard-packed and that's something I don't normally excel in so it felt pretty good to go 5-4 and put on a really good charge in the second moto."
Dean Wilson got off to a slow start in Moto 1 after an early crash set him back to outside the top 10. He put his head down and charged up to ultimately finish eighth. In Moto 2, he got off to a good start as he mixed it up in the lead pack early on. He got shuffled back in the chaos of the opening lap, where he began the race in seventh. He fought hard to make a pass late in the race, overtaking the sixth-place position with two laps to go. With 8-6 finishes for the day, Wilson was able to secure seventh overall.
"Today was a step in the right direction," Wilson said. "I actually had a sinus infection the past few days which made it more challenging. I was low on energy, which is not ideal for these hot conditions but we pushed through the day."
250MX
It was a great start to the day for Michael Mosiman, who powered his way to a fifth-place start in Moto 1. He made his way into fourth early on and soon inherited third when a rider ahead of him went down around the halfway mark. He fought to maintain his podium position but after dicing back-and-forth in the heat, he ultimately secured a top-five finish. In Moto 2, Mosiman got bumped by another rider off the start and consequently went down, forcing him to come back from 16th on the opening lap. He wasn't able to garner the momentum needed to make his way through the pack, where he ultimately finished 14th in the second moto.
"It was a tough day," Mosiman said. "I was pretty frustrated on my part to crash but I'm happy to be healthy because I had a lot of sketchy moments with other guys coming through the field. I'm looking forward to the final round and I want to hit every lap strong and finish the season in a positive way." 
In Moto 1, Jordan Bailey got a great jump off the start as he positioned himself inside the top-six early on. He got shuffled back to 10th on the opening lap and put forth a solid fight to capture 11th in the first moto. In Moto 2, he got caught up in a first-turn pileup and began the opening lap in 25th. He climbed his way through the field with a valiant ride to capture 15th in the moto and 15th overall for the day.
"I feel like I rode well all day, it was just an unfortunate start to the second moto for me," Bailey said. "I'll keep improving going into the last round and just try and get better."
Thomas Covington returned to racing at Budds Creek after missing several rounds due to an ongoing illness. With moto scores of 26-34, Covington proved to still feel the effects of his illness in his first race back.
"This weekend I just wanted to come out and have some fun on the bike," Covington said. "I thought I was recovering pretty well and I rode a little bit this week and was feeling somewhat normal but after coming out here in this heat, I realized that I wasn't feeling very good. I guess I'm not fully over the illness."
Next Event: August 24 – Ironman National – Ironman Raceway – Crawfordsville, Indiana
Budds Creek National Results 
450MX Results
1. Eli Tomac (1-1)
2. Jason Anderson – Rockstar Energy Husqvarna Factory Racing (4-2)
3. Marvin Musquin (3-3)
… 
5. Zach Osborne – Rockstar Energy Husqvarna Factory Racing (5-4) 
7. Dean Wilson – Rockstar Energy Husqvarna Factory Racing (8-6) 
250MX Results
1. Shane McElrath (1-1)
2. Adam Cianciarulo (2-5)
3. Justin Cooper (6-2)
… 
10. Michael Mosiman – Rockstar Energy Husqvarna Factory Racing (5-14) 
15. Jordan Bailey – Rockstar Energy Husqvarna Factory Racing (11-15) 
29. Thomas Covington – Rockstar Energy Husqvarna Factory Racing (26-34) 
450MX Rider Point Standings
1. Eli Tomac – 476 points
2. Marvin Musquin – 426 points
3. Ken Roczen – 421 points
4. Jason Anderson – Rockstar Energy Husqvarna Factory Racing – 376 points 
5. Zach Osborne – Rockstar Energy Husqvarna Factory Racing – 365 points 
250MX Rider Point Standings
1. Adam Cianciarulo – 479 points
2. Dylan Ferrandis – 449 points
3. Justin Cooper – 419 points
… 
9. Michael Mosiman – Rockstar Energy Husqvarna Factory Racing – 258 points 
15. Jordan Bailey – Rockstar Energy Husqvarna Factory Racing – 105 points