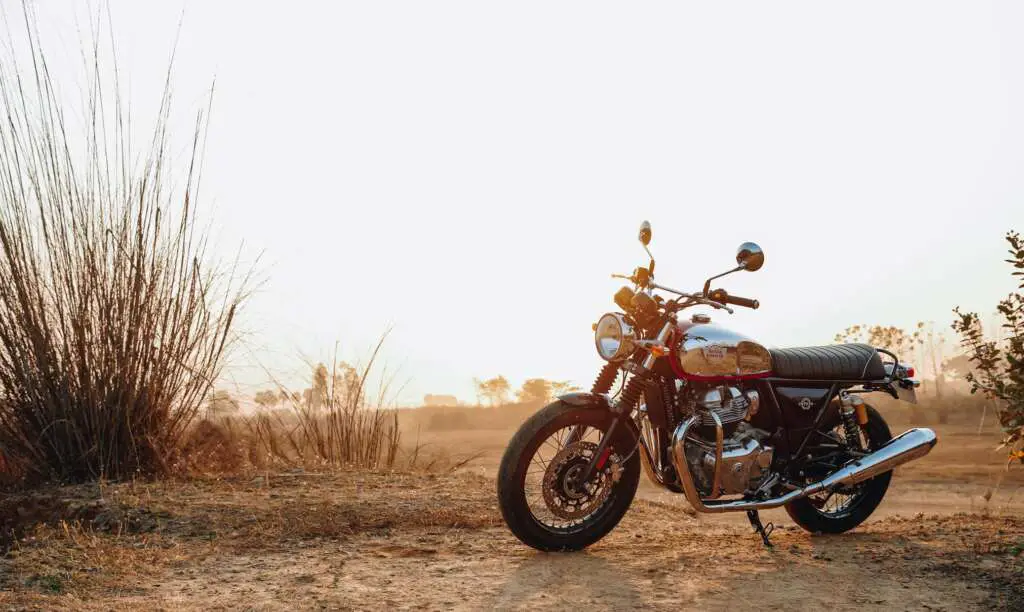 FOR IMMEDIATE RELEASE
MotoAnatomy Powered by Royal Enfield Announces Two-Rider Team for 2023 Progressive American Flat Track Season
Johnny Lewis and Ryan Wells to contest Mission SuperTwins class aboard Royal Enfield Twins FT motorcycles
Milwaukee, WI (Tuesday, February 21, 2023) – Johnny Lewis and the MotoAnatomy Powered by Royal Enfield team are prepared to take on the 2023 Progressive American Flat Track championship. For Lewis, this marks his fourth year of competition with Royal Enfield, and the 2023 season marks another step forward as the MotoAnatomy team will now field a full-time two-man team in the premiere class, adding Ryan Wells to the roster.
Johnny Lewis and the MotoAnatomy team have made great strides in American Flat Track, introducing the Royal Enfield INT650 motorcycle into the world of competition. After spending several seasons in the Production Twins class developing the Royal Enfield Twins FT motorcycle, Lewis carded multiple podium finishes in the last two seasons, including a historic win at the Lima Half-Mile in 2021—a first-ever feat for Royal Enfield. Lewis is now confident that the Twins FT has the potential to be a serious contender in all formats of AFT racing: Short Track, Half-Mile, TT, and even the formidable Mile. Lewis and crew are ready to jump into the busy 18-round AFT Championship.
After several seasons of development, Johnny Lewis and Ryan Wells are looking to put the Royal Enfield Twins FT on the podium in 2023.
"This is going to be another historic season for Royal Enfield in American Flat Track," said Johnny Lewis. "The Twins FT motorcycle is something we've spent a long time developing, and we're now at a point where we have the confidence to go all in. We're thrilled to bring on a second rider, as well. Ryan Wells is already a great addition to the MotoAnatomy team. We're looking forward to kicking off the season at the Daytona Short Track."
Ryan Wells is a force in AFT competition, and the 2016 GNC2 (Singles) champion ranks among the Singles' class all-time winningest riders. The 2007 AMA Youth Dirt Tracker of the Year has been winning pro-level races for over a decade, and now brings his flat track expertise to Royal Enfield.
"Words can't express my excitement to join the MotoAnatomy Powered by Royal Enfield team for 2023," said Ryan Wells. "Finally rejoining the Mission SuperTwins class full time is long overdue for my personal goals and I'm glad it's finally coming to fruition. Being able to work alongside Johnny Lewis, someone I've looked up to for so long, is really the icing on the cake. I thrive off of positivity and people chasing the same goals and Johnny and I really click in those ways. I'm very excited to get the ball rolling."
The expanded Royal Enfield racing team will make its 2023 racing debut at the Progressive AFT season opener at Daytona Bike Week in Florida. Look for Johnny Lewis (#10) and Ryan Wells (#94) at the Daytona Short Track Doubleheader on Thursday, March 9, and Friday, March 10.
Lewis, Wells and the MotoAnatomy Powered by Royal Enfield team will be joined at select rounds by the Royal Enfield BUILD. TRAIN. RACE. (BTR) program. The women of BTR will be contesting a schedule of four rounds within the Progressive American Flat Track schedule, starting with the Dallas Half-Mile on April 22. For more info visit BuildTrainRace.com.
2023 Progressive American Flat Track Racing Schedule
March 9 (Rnd 1) Daytona Short Track I – Daytona Beach, FL
March 10 (Rnd 2) Daytona Short Track II – Daytona Beach, FL
March 25 (Rnd 3) Senoia Short Track – Senoia, GA
April 1 (Rnd 4) Arizona Super TT – Chandler, AZ
April 22 (Rnd 5/ BTR Rnd 1) Dallas Half-Mile – Mesquite, TX
May 6 (Rnd 6/ BTR Rnd 2) Ventura Short Track – Ventura, CA
May 13 (Rnd 7) Sacramento Mile – Sacramento, CA
May 27 (Rnd 8) Red Mile – Lexington, KY
Jun 17 (Rnd 9) DuQuoin Mile – Du Quoin, IL
Jun 24 (Rnd 10) Lima Half-Mile – Lima, OH
July 1 (Rnd 11/ BTR Rnd 3) West Virginia Half Mile – Mineral Wells, WV
July 8 (Rnd 12) Orange County Half-Mile – Middletown, NY
July 22 (Rnd 13/ BTR Rnd 4) Bridgeport Half Mile, Swedesboro, NJ
July 30 (Rnd 14) SC2 Peoria TT – Peoria, IL
August 6 (Rnd 15) Buffalo Chip TT – Sturgis, SD
August 12 (Rnd 16) Castle Rock TT – Castle Rock, WA
September 2 (Rnd 17) Springfield Mile I – Springfield, IL
September 3 (Rnd 18) Springfield Mile II – Springfield, IL
For more on the 2023 Progressive American Flat Track Championship, visit AmericanFlatTrack.com.
About Royal Enfield
The oldest motorcycle company in continuous production in the world, Royal Enfield made its first motorcycle in 1901. A division of Eicher Motors Limited, Royal Enfield has created the midsize motorcycle segment in India with its unique and distinctive modern classic motorcycles. With its manufacturing base in Chennai, India, Royal Enfield has been able to grow its production rapidly against a surge in demand for its motorcycles. Royal Enfield is a leading player in the global middleweight motorcycle market.
Royal Enfield North America (RENA) is headquartered in Milwaukee, Wisconsin, and is developing a growing network of more than 150 dealers in North America, including the contiguous U.S. and Canada. RENA currently offers the all-new Scram 411, Classic 350, Meteor 350, Himalayan and the 650 Twins (INT650 and Continental GT 650) motorcycles, along with a range of Genuine Motorcycle Accessories and apparel.