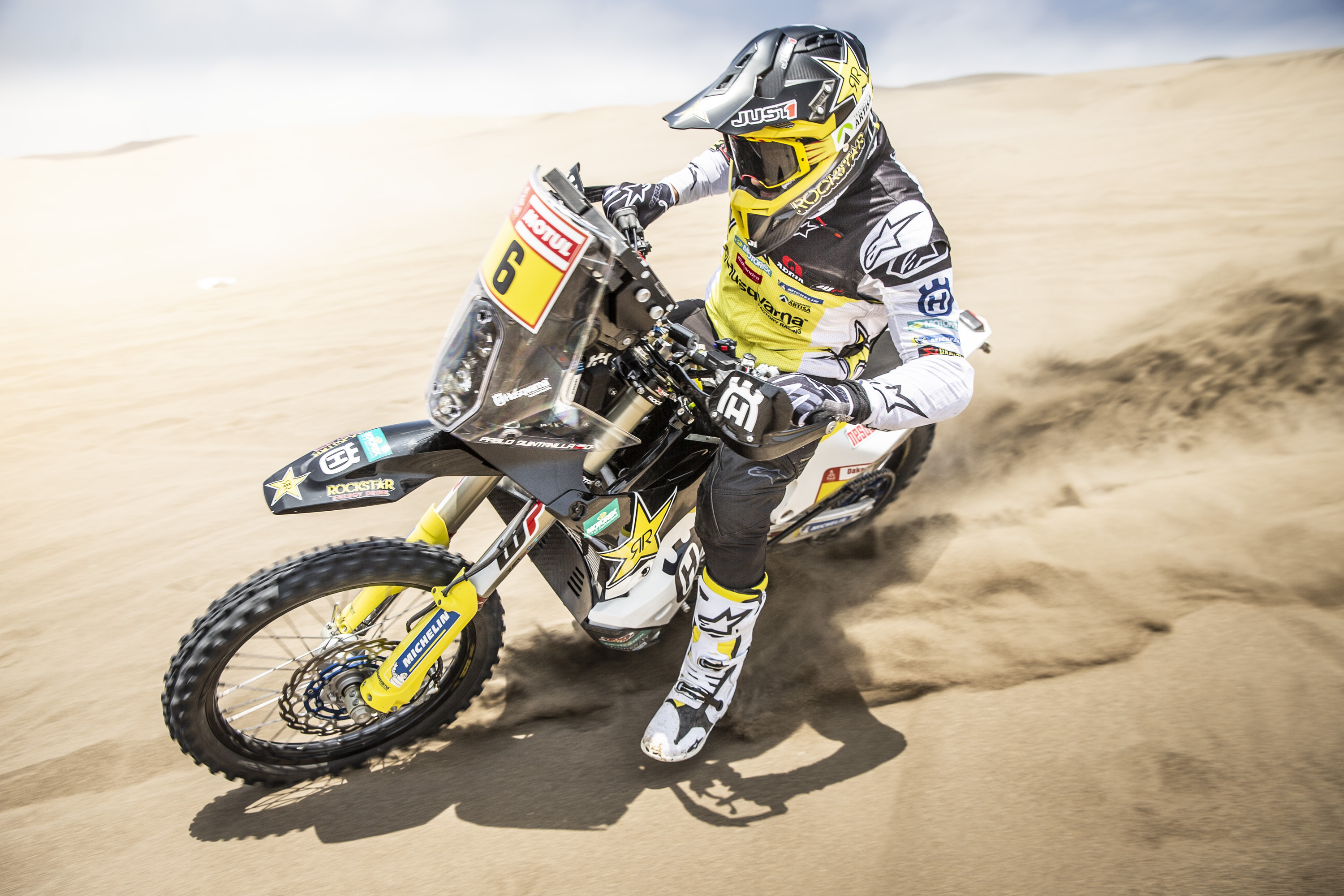 Pablo Quintanilla and Andrew Short are set to take to the start of the 2019 Dakar Rally on Monday in Lima, Peru. Spending months preparing for the event, the two Rockstar Energy Husqvarna Factory Racing team riders will tackle the world's most demanding rally aboard the newest version of the FR 450 Rally machine.
Two-time FIM Cross-Country Rallies World Champion Pablo Quintanilla is aiming high at this year's Dakar Rally. Eager to put his experience and raw speed to good use, the Chilean rally star will be launching an attack for the top step of the podium at this 41st edition of the prestigious rally.
All set to enter the second Dakar of his career, Andrew Short is looking for a good overall performance in the dunes of Peru. The acclaimed US racer is feeling comfortable aboard the latest edition of the FR 450 Rally and will be there to provide support to his team partner Quintanilla, whenever needed.
Contested exclusively in Peru, the 41st edition of the world-famous rally features 10 demanding stages in the sandy dunes of the South American country. Kicking off on January 6 in Lima, the 2019 Dakar Rally features a 5,000km loop in the southern part of Peru, with competitors scheduled to reach the finish line in Lima on January 17.
Pablo Quintanilla: "I feel we're in a good place right now. I'm in a great shape physically and I am really motivated to do well this year at the Dakar. I just can't wait for the race to start so that all that hard work during the last few months starts to pay off. This Dakar will be different from the others. It is shorter but I think it will be harder. Riding in the dunes is always challenging and you end up spending a lot more energy. I expect the pace to be quite high and it will certainly feel like a two-week motocross race. My plan is to take each day separately and take advantage of any opportunity I have to attack. There will be three mass starts this year and that's something we also need to take into consideration. I have my strategy on my mind and I will do my best to stick to the plan I've set for myself."
Andrew Short: "I feel really excited for this Dakar. Last year I felt like I wanted to learn and to finish and this year I want to push and do my best. The feeling is good on the bike and I feel as prepared as I can be. I want to leave nothing on the table and do my best for a good overall result. In 2018 we raced the Baja Inca here in Peru and that helped a lot to get more familiar with the terrain and conditions. Ten days in the dunes will be really tough and we all expect things to get more difficult as the race goes on. I look forward to those challenges. For me the key point would be to be able to control pressure and maintain a good race pace from the start to the finish. Pablo has a good chance of winning this event and I really hope he can bring that victory home for the team. If I can help him achieve this win it would be great for the whole team and everybody involved."
Pela Renet – Rockstar Energy Husqvarna Factory Racing Rally Team Manager: "We are entering this Dakar with both of our riders in their best possible condition. Pablo is in great shape following a long season of international rally racing. He is physically strong and has the experienced needed to battle for the win. Andrew has worked a lot in 2018 and we have high expectations of him this January. Andrew is good in sand racing and the shorter format might work to his advantage. The Dakar is a long and very tough event and we are all highly motivated to do our best for Pablo and Andrew. The race will be shorter and more intense this year and for me this is the main difference compared to any of the previous editions. It is important for our riders to remain focused and avoid any mistakes in navigation. Eliminating mistakes will be crucial for the final outcome of this race."