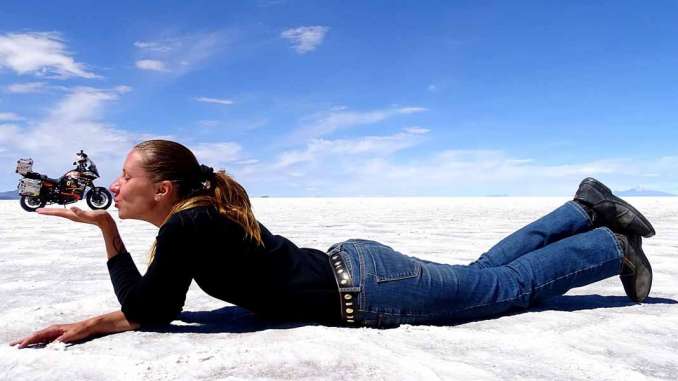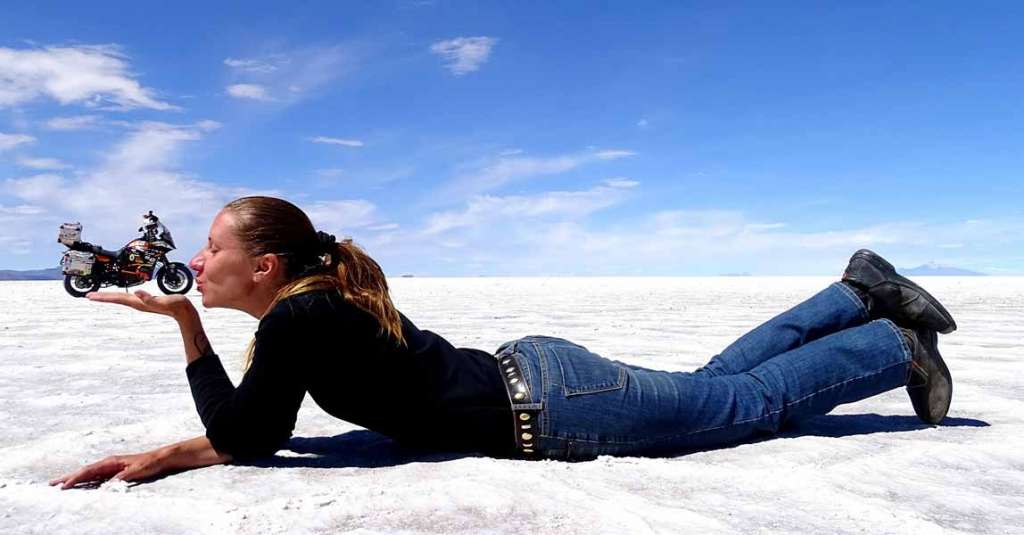 Equipped with a KTM 1190 ADVENTURE and the burning desire to travel, Ukrainian Anna Grechishkina set out on a journey. She is now almost breaking records and is nearly five years in the saddle. This is her story …
The idea to set out on this massive trip came as a surprise to me. I mean I always liked to travel mostly by bus or train with my father when I was a little girl but it was no major dream for me. I remember I enjoyed 'going' rather than 'arriving'. I think that the passion for it started there … but I never thought that I'd be able to travel the world on the motorcycle!
Actually, I would have been very surprised if somebody told me that I would be riding a motorcycle at all. Nobody in my family did, I didn't have any rider friends. So nobody inspired or pushed me: it came just as a dream in the night and eventually turned into reality.
I bought my first bike in 2005 before I had even learned to ride properly. It was a small Kawasaki Eliminator 125, which was followed the next year by the bigger Kawasaki Vulcan 900. With the 900 I travelled a lot and explored many countries around the Ukraine, in Eastern Europe and the Middle East. With each trip I wanted to go further and for longer. It became like an addiction and I was searching for any tiny possibility to get on my bike and just go.
My traveling was always limited by vacation time. Like most people, when I had to go back home to work I was stressed and discouraged! I started to look for the ways to change that. At some point a fleeting idea came into my mind – why not to quit my job and go around the world on a bike? At first I just pushed this idea away as something crazy and impossible. But I could not get rid of it. The more I thought about it, the more I loved it. Deep inside I knew it was exactly what I wanted. And if I didn't try then I would never have peace of mind.
I chanced my luck and I tested my persistence and, here I am, having been on the road ever since for four and a half years. I've covered the world and with no intention to stop yet.
5 years on the road: Anna Grechishkina and her travelling dream
The scope …
I started a website to chronicle everything: I have a dream travel
Little did I know that my journey would eventually bring me into touching distance of the Guinness Book of Records for the longest, solo round-the-world trip by a female. The initial idea was to cross all the continents and as many countries as possible. By now almost all have been ticked-off, only Europe – which is my part of the world – is left. Asia, Australia, North America, South America, Africa have been covered, and I have just arrived in Europe from Egypt and shipped my bike by air.
My trip has not only been about riding and devouring kilometers. It has been much more, and that's why it took me longer to cover the intended distance. I have explored the life around me, meeting and talking to people, listening to their stories, inspiring and being inspired by them, encouraging and being encouraged.
I called my trip 'I have a dream': the words of Martin Luther King's famous speech. I believe that all our dreams can come true with enough motivation and persistence. My main initiative and mission from this trip was to help as many people as possible to take their dreams more seriously. With that in mind I always tried to visit schools, colleges, orphanages and other places to meet kids and, in general, any groups of people willing to listen and to share my story with them, a message of the dream. I did not want just to roam around and enjoy myself, I wanted to spread the news that it is actually possible to follow one's heart and one's dreams. If I can do it, with all my fears and doubts, then you can do it as well and even better.
I started my journey with a lack of experience and funds and with many gaps in preparation and uncertainty. The road has been teaching and training me every day since then: I am a different person from what I have been before.
5 years on the road: Anna Grechishkina and her travelling dream
The riding and experiences …
When I was planning my trip, I visualized only two years on the road. It still seemed to be a huge time and distance for me. After a while it was clear that I would not be able to cover the world in that period. The world turned out to be extremely interesting and I didn't want to be in a rush. Since I started my trip, I was on a very low budget and I always had to look for ways to continue, and it took time. I was lucky to meet amazing people on my way whom I didn't want to leave.
A lot of things, including my expectations, changed since I started. In the beginning, it was just a project of traveling, covering a certain distance within a limited period of time and coming back to my country. Now this is not a project any more, this is my lifestyle, my routine, which I love and would not change for anything. Without exaggerating, I would say that this is the happiest part of my life.
5 years on the road: Anna Grechishkina and her travelling dream
But I will be honest and say that traveling on the bike for so long is not always easy and enjoyable, sometimes it is a challenge both physically and emotionally. The physical part is understandable. Being always on the move requires strength and endurance, and sometimes I feel that it's too much for me. But emotionally occasionally it hurts even more. It's good to see new places and meet new people almost every day, but at some point you start to miss a sense of stability, of coming back to the same place, of sharing things with people, some kind of history, without having to repeat over-and-over same things about myself.
Loneliness strikes as well. Though I meet many people on the road, I have to leave them behind, and many times it is heart breaking and brings tears to my eyes. Realizing that I might never see them again becomes a burden, which becomes heavier every time I have to say another good-bye.
Besides the fun and hardships the road is my best education and sometimes I feel that I have lived many lives while traveling, something I would never have gained through university or degree. I've learned to understand other people, be more flexible and tolerant and to focus on similarities rather differences. I learned also that every tiny and invisible deed of kindness matters and it is our responsibility not to miss a chance to make a difference.
5 years on the road: Anna Grechishkina and her travelling dream
The record …
I did not put it as a priority for the trip and, of course, I didn't even think about it at the beginning. As I said before, I had only two years on the road in mind and a much more modest mileage on the odometer of the bike!
Over time all the plans and the whole vision of the trip changed. No more schedules and time frames, just open dates living on the road and accepting everything that came my way.
If, at some point while riding and enjoying this nomad life, any measurable accomplishments come my way, then why not go for it? I will be happy to have the record and I will make an effort but my biggest incentive for this trip is not distinctions or winning competitions but to explore the world, myself, new people and to learn from I discover.
5 years on the road: Anna Grechishkina and her travelling dream
The bike …
My bike, a 2013 KTM 1190 ADVENTURE, has been with me since the beginning and is my first ADVENTURE motorcycle. When I started to prepare for my trip, I didn't have a KTM in mind and I didn't know much about the brand. KTM came as a surprise, and now I understand that it was a perfect choice. I was a bit cautious about the ADVENTURE at first. The size and weight was intimidating. My previous bikes were lighter and with a lower center of gravity. Nevertheless, I made my choice and I've never regretted it. The bike proved to be a reliable, easy to handle and a comfortable companion.
Of course, I tried to visit and say hello to all KTM dealers in the countries and continents on my way. They always checked the bike's performance and did regular maintenance with replacement of needed parts. I do not remember any serious technical issues; all the replacements were due to the proper mileage and scheduled maintenance.
5 years on the road: Anna Grechishkina and her travelling dream
My journey is not finished yet, and perhaps, far from being finished. I really want to continue with the same bike and I do feel that it still has a lot of potential. Moreover, it became much more than a bike for me. It is my friend, my home, my own 'rock'; it is more of a personality than just a vehicle. I feel comfortable with it and I hope that we still have many more safe and enjoyable kilometers together.
Anna visited the KTM factory at the end of January as part of her epic trail and took part in a workshop where staff reviewed the KTM 1190 ADVENTURE that had clocked over 130,000 km. She spoke to engineers that checked over the machine and gave their opinion on the wear and the mileage. See what happened when Anna came to Mattighofen and what the bike's technical crew and R&D thought of the lifespan of the KTM 1190 ADVENTURE.
Total Motorcycle thanks KTM and Anna Grechishkina for sharing the 5 years on the road: Anna Grechishkina and her travelling dream article, her story and adventure with Total Motorcycle and we at TMW wish Anna Grechishkina a long, safe and happy journey!
To read all about Anna's experiences and exploits then visit her website.
Photos: Anna Grechishkina
Video: Anna Grechishkina