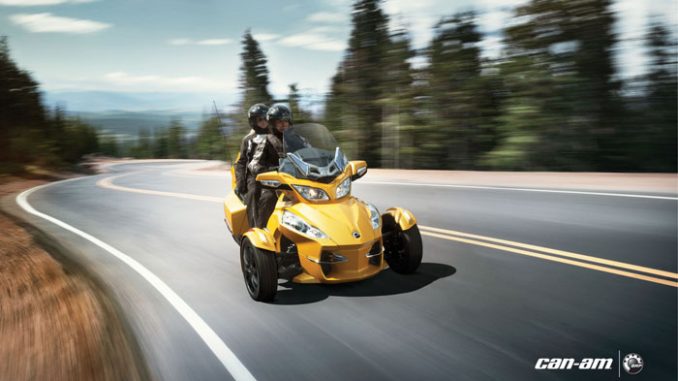 Click photos to enlarge. Our big, clean bike pics make great desktop wallpaper.
2013 Can-Am Spyder RT-S Review

2013 Can-Am Spyder RT-S
Touring with attitude
Custom trim and exclusive 15-in. wheels for a sportier look. Rider footboards and a rear air suspension for an extra dose of comfort. Plus, it comes with all the features of the Spyder RT.
Add a little edge to touring with the Spyder RT-S. The custom trim package and exclusive 15-inch wheels give it a unique look, while the rider footboards and rear air suspension bring an extra dose of comfort to the ride. In addition, the Spyder RT-S comes with all of the features and amenities of the Spyder RT.
The ultimate touring vehicle. The perfect way to start your journey, the Spyder RT-S offers plenty of comfort and convenience, from wind protection and an ergonomically designed touring saddle to ample amounts of storage. It also features automotive-inspired technologies like a Vehicle Stability System and a manual or semi-automatic transmission for a smooth, confident ride.

2013 Can-Am Spyder RT-S Key Features
• 998cc Rotax V-twin engine
• 41 gallons (155 L) of storage
• Vehicle Stability System
• AM/FM audio system with iPod† cable
• Rider heated grips with control
• Adjustable electric windshield
• Electronic Cruise control
• Ultra comfort touring saddle with lumbar support and integrated passenger backrest
• Multifunction color digital display
• Anti-theft system: Digitally Encoded Security System (D.E.S.S.™)
• Roadster electronic command center
Highlights
All the Spyder RT features, PLUS:
•12-spoke, Carbon-black front rims
•Electronically-adjustable rear air suspension
•Refined front fenders with integrated LED light
•Rider footboards (w/ SE5 transmission only)
•Carbon-black trim
•Fog lamps and LED accent lights
•Heated passenger grips with control
•Front cargo light and liner
•Push-button electronic front cargo release
•Secondary gauges (fuel information, engine temperature)
•Heated passenger grips with control
•Equip your Spyder RT with the RT-622 trailer


Transmissions: SM5 – 5-speed manual with reverse OR SE5 – 5-speed semi-automatic with reverse
Colors: Circuit Yellow Metallic, Pure Magnesium Metallic, Quantum Blue Metallic or Viper Red
2013 Can-Am Spyder RT-S Features and Benefits

Rider Footboards
Stretch out and enjoy the ride with the added legroom of Carbon Black rider footboards, designed with vibration dampening for more comfort. (SE5 transmission only)
Adjustable Rear Air Suspension
5-position, adjustable-on-the-fly rear suspension for easily accommodating your passenger, trailer or rider preference.

S Trim Package
Add a stylish edge with a unique Carbon Black treatment on the handlebars, footrests, rear sprockets and springs. Plus secondary
gauges with a chrome bezel.
15-in Wheels and Refined Front Fender
Carbon Black, 12-spoke front wheels. Plus refined front fenders with integrated LED light pipes and improved aerodynamics for more attitude.
Fog and LED Accent Lights
Additional lighting for improved visibility and more spectacular arrivals.
Ultra Comfort Touring Saddle
Premium saddle with lumbar support and passenger backrest for maximum comfort during long journeys.
41 Gallons (155 L) of Cargo Space
Lockable front storage, plus two side compartments, a rear compartment and a glove box. All watertight.

Entertainment System
Satellite-radio-ready, AM/FM audio system with iPod† integration cable, weather band, radio settings and an amber display.
Plus, rear speakers with independent audio control to spoil your passenger even more.
Other Comfort /Touring Amenities
Adjustable-on-the-fly electric windshield, cruise control, adjustable passenger footboards and heated rider handgrips.
Accessories:
Enhance your riding experience or just give it a more personal touch with Can-Am roadster accessories and clothing. Need more storage for longer rides? Crave the look and sound of pure performance? Want more comfort and control? Whatever roadster you ride, you'll find a wide range of available gear and accessories.
---
2013 Can-Am Spyder RT-S – USA Specifications/Technical Details
US MSRP Price: $25,899 USD
ENGINE
Manufacturer
BRP-Rotax® Type: 998cc Rotax V-twin engine, liquid-cooled with electronic fuel injection and electronic throttle control
Bore & stroke 3.82 x 2.68 in. (97 x 68 mm)
Power 100 hp (74.5 kW) @ 7500 RPM
Torque 80 lb-ft. (108 Nm) @ 5000 RPM
Transmissions
5-speed manual with reverse (SM5)
5-speed semi-automatic with reverse (SE5)


CHASSIS
Front suspension
Double A-arm with anti-roll bar
Front suspension travel
6.85 in. (174 mm)
Rear suspension
Swing arm with pneumatic adjustable preload
Rear suspension travel
6 in. (152 mm)
Brake type
Foot-operated, hydraulic 3-wheel brake
Front brake
270 mm discs with Brembo 4-piston fixed calipers
Rear brake
Single 270 mm disc with Brembo single-piston floating caliper

EBD
Electronic Brake Distribution
Parking brake
Electromechanical
Front tires 165/55R15
Rear tire 225/50R15
Front wheel
Carbon Black twelve-spoke, 15 x 5 in. (381 x 127 mm)
Rear wheel
Carbon-Black, 15 x 7 in. (381 x 178 mm)

SAFETY & SECURITY
VSS
Vehicle Stability System – Standard
SCS
Stability Control System – Standard
TCS
Traction Control System – Standard
ABS
Anti-lock Braking System – Standard
DESS
Digitally Encoded Security System – Standard
DPS
Dynamic Power Steering – Standard

VEHICLE DIMENSIONS & WEIGHT
Wheel base 67.3 in. (1,711 mm)
Seat height 30.4 in. (772 mm)
Ground clearance 4.5 in. (115 mm)
Dry weight 955 lb (433 kg)
L x W x H
105 x 61.9 x 59.4 in. (2,667 x 1,572 x 1,510 mm)
Total storage capacity 41 gal (155 L)
Maximum vehicle load 494 lb (224 kg)
Fuel capacity 6.6 gal (25 L)
---
2013 Can-Am Spyder RT-S – Canadian Specifications/Technical Details
Canada MSRP Price: $28,699 CDN
ENGINE
Manufacturer
BRP-Rotax® Type: 998cc Rotax V-twin engine, liquid-cooled with electronic fuel injection and electronic throttle control
Bore & stroke 3.82 x 2.68 in. (97 x 68 mm)
Power 100 hp (74.5 kW) @ 7500 RPM
Torque 80 lb-ft. (108 Nm) @ 5000 RPM
Transmissions
5-speed manual with reverse (SM5)
5-speed semi-automatic with reverse (SE5)


CHASSIS
Front suspension
Double A-arm with anti-roll bar
Front suspension travel
6.85 in. (174 mm)
Rear suspension
Swing arm with pneumatic adjustable preload
Rear suspension travel
6 in. (152 mm)
Brake type
Foot-operated, hydraulic 3-wheel brake
Front brake
270 mm discs with Brembo 4-piston fixed calipers
Rear brake
Single 270 mm disc with Brembo single-piston floating caliper

EBD
Electronic Brake Distribution
Parking brake
Electromechanical
Front tires 165/55R15
Rear tire 225/50R15
Front wheel
Carbon Black twelve-spoke, 15 x 5 in. (381 x 127 mm)
Rear wheel
Carbon-Black, 15 x 7 in. (381 x 178 mm)

SAFETY & SECURITY
VSS
Vehicle Stability System – Standard
SCS
Stability Control System – Standard
TCS
Traction Control System – Standard
ABS
Anti-lock Braking System – Standard
DESS
Digitally Encoded Security System – Standard
DPS
Dynamic Power Steering – Standard

VEHICLE DIMENSIONS & WEIGHT
Wheel base 67.3 in. (1,711 mm)
Seat height 30.4 in. (772 mm)
Ground clearance 4.5 in. (115 mm)
Dry weight 955 lb (433 kg)
L x W x H
105 x 61.9 x 59.4 in. (2,667 x 1,572 x 1,510 mm)
Total storage capacity 41 gal (155 L)
Maximum vehicle load 494 lb (224 kg)
Fuel capacity 6.6 gal (25 L)
---
2013 Can-Am Spyder RT-S – Europe/UK Specifications/Technical Details
UK RRP: £TBA (Prices are recommended and inclusive of VAT @ 20% and delivery)
TBA
---
2013 Can-Am Spyder RT-S – Australia Specifications/Technical Details
Australia MSRP Price: See dealer for pricing in AU
TBA