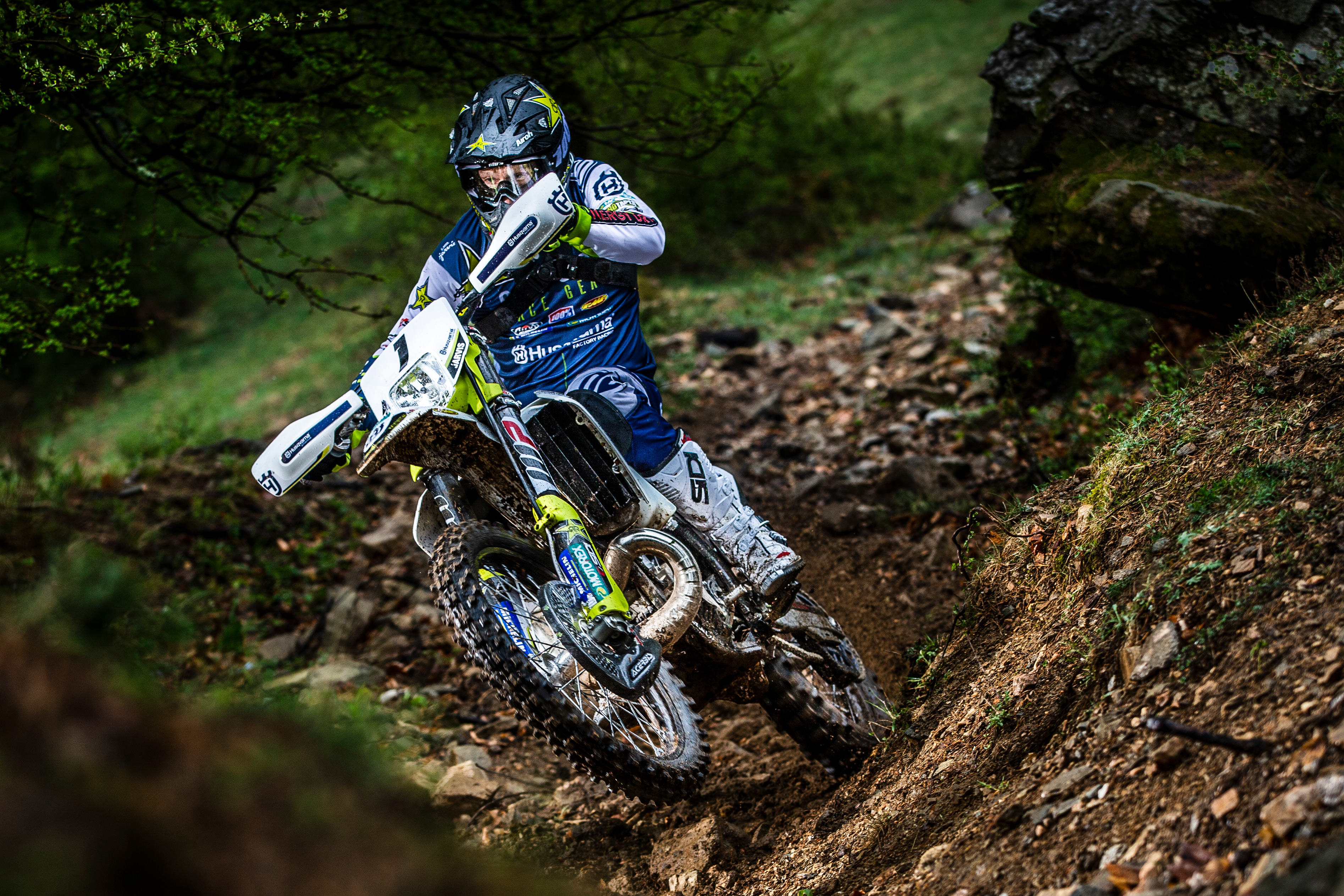 JARVIS, BOLT AND GOMEZ HEAD TO SPAIN TO CONTEST HIXPANIA HARD ENDURO
Led by Erzbergrodeo Hare Scramble winner Graham Jarvis, the three-man Rockstar Energy Husqvarna Factory Racing team head to Aguilar de Campoo in the north of Spain for this weekend's Hixpania Hard Enduro.
Round four of the 2019 World Enduro Super Series, the three-day event consists of a SuperEnduro-style prologue on the Friday night, a cross-country race on the Saturday and a two-and-a-half-hour multi-lap extreme enduro on Sunday ensuring Hixpania will be a sizeable challenge for all competitors. In a slightly different format to most stops on this year's WESS calendar, points earned over the three days will decide the overall winner.
All three Rockstar Energy Husqvarna riders have experience at the event, with Jarvis and Alfredo Gomez both recent winners and having both finished on the podium in 2018. Billy Bolt narrowly missed out on a third-place finish during his debut at the race in 2017. Normally held in the autumn, its inclusion in the 2019 WESS calendar has brought about a move to the mid-June slot and as such, this year's Hixpania will present far different conditions.
Putting in an incredible ride to overcome all odds and win at Erzberg, Graham Jarvis will be keen to carry his momentum to Spain. The 44-year-old Brit will undoubtedly be one of the riders to watch as he fights to claim his second victory at the event.
Finishing third at the 2018 running of Hixpania, just behind teammate Jarvis, Alfredo Gomez will also be looking to increase his tally of wins. Currently lying seventh in the WESS championship standings, the popular Spaniard is looking forward to racing in front of his home crowd.
By his standards, Billy Bolt had a tough round three of the World Enduro Super Series at the Erzbergrodeo Hare Scramble, finishing seventh following a tricky start to the race. Fully motivated and keen to earn valuable WESS points to put his title defence back on track, the young British rider will be pushing hard for a strong result in Spain.
The three-day Hixpania Hard Enduro, round four of the 2019 World Enduro Super Series, takes place in Aguilar de Campoo, Spain from 21-23 June.
Andi Hölzl – Rockstar Energy Husqvarna Factory Racing Team Manager: "Everyone in the team is really looking forward to this weekend, we're really focused on helping the riders get more strong results. Hixpania is an event where Graham, Alfredo and Billy have all competed before, and with both Graham and Alfredo having won here it gives them a lot of confidence. No one can say theses victories give them some advantage, but they know what to expect, which is important. Hixpania is also an important race at it takes us to the middle of the WESS series. So far things have been very good, with Graham's Erzberg win obviously the highlight of the season so far. Both Graham and Alfredo, who is looking forward to a home race, are riding really well at this time. Billy is also doing extremely well. We always knew things would be tough for him, coming back from his injury, but race-by-race he is improving, which is great to see. We are ready and looking forward to what we are sure will be a good but challenging event."