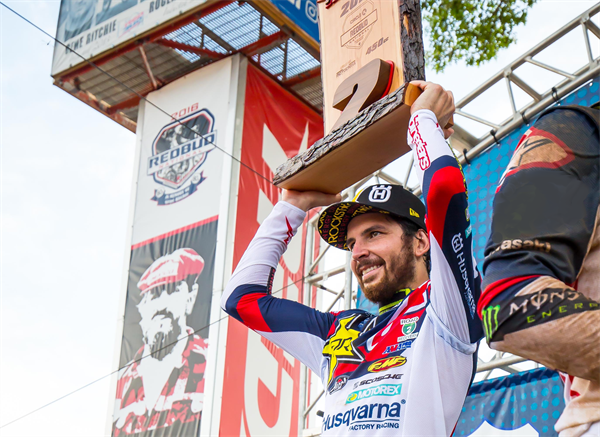 Round 7 of the 2019 AMA Pro Motocross Championship made its way to Buchanan, Michigan over the weekend for a festive Independence Day celebration at the world-renown RedBud Track N' Trail. Rockstar Energy Husqvarna Factory Racing's Jason Anderson had a solid weekend, putting together impressive 2-4 finishes for second overall in the 450MX class.
450MX
In Moto 1, Anderson got off to a great start aboard his FC 450, settling into a top-five position on lap one. He charged hard in the opening laps to overtake third and three laps later, he charged his way into second. Holding off a hard-charging pack of riders, Anderson was able to secure second-place. In Moto 2, he got off to another good start as he positioned himself inside the top five once again. It didn't take long for him to jump into podium contention as he contended for a top-three position for most of the race. With a solid effort, Anderson finished just off the podium in Moto 2 but his 2-4 moto scores were enough to overtake second overall for the day, where he now sits fourth overall in the 450MX Championship Standings.
"We're progressing and we're getting better every weekend," Anderson said. "The fans here at RedBud are amazing! This weekend went a lot better than the last. I was able to get second overall, which is another podium, so we'll take it and just keep climbing."
Dean Wilson returned to racing on Saturday after missing the first six rounds of the series due to a shoulder injury sustained at the Denver SX. In Moto 1, he got off to a sixth-place start but he fell in the fourth corner and dropped back to last place on the opening lap. He remounted and began picking off riders but a series of crashes became a yo-yo effect for him as he continued to gain and lose ground. In the end, Wilson was able to work his way up to 12th. In Moto 2, Wilson began just outside the top-10 and slowly worked his way up to seventh, where he ultimately finished. With 12-7 finishes, Wilson was able to claim a top-10 overall in his first race back with a solid ninth on the day.
"My first race back was a good race to work off of," Wilson said. "This was the first time I've ridden my outdoor bike all year, so I was just kind of gelling with it. I'm going to work off of this – I know what I need to do and I'll keep pushing for better results."
Following a career-best weekend at the previous round, team rider Zach Osborne was unable to line up for racing on Saturday due to a minor shoulder injury sustained in a practice crash on Thursday. After attempting to ride the first practice session today, Osborne and the team made the tough decision to sit out for this round. He is expected to return at Round 8 in Minnesota.
250MX
After missing the previous round due to injury, team rider Michael Mosiman returned to racing on Saturday. Qualifying seventh, Mosiman didn't seem to miss a beat as he rode confidently into the first moto. Unfortunately, Mosiman got hit from behind off the start in Moto 1 and he landed with another rider's bike on top of him. He managed to get going and work his way through the pack until another crash set him back once again. After laying down some of the fastest laps of the race, Mosiman fought his way back up to finish 10th. In Moto 2, he got a much better start as he rounded the opening lap in seventh. He maintained a solid pace around seventh for most of the race, ultimately finishing seventh in the moto and eighth overall. After seven rounds, Mosiman now sits seventh overall in the 250MX Championship.
"I had a good week and I felt good coming back after an injury," Mosiman said. "All-in-all, it was a pretty good day. I'm happy with my riding but I just need to clean things up a little bit. We'll regroup and keep charging, we've got a weekend off to rest and recuperate and then we'll hit it hard at one of my favorite tracks at Spring Creek."
Jordan Bailey had a great start to the day, claiming a career-best qualifying position of fifth overall as he went into the first moto with a favorable gate pick. In Moto 1, Bailey got connected with another rider off the start and got buried in the pack on the opening lap, where he came around in 22nd position. He fought his way up to the top-10 around the halfway point but fatigue began to set in during the final laps and he ultimately finished 14th. In Moto 2, Bailey unfortunately experienced a bike issue that ultimately kept him from finishing the moto.
"RedBud is one of the best races of the year and I would say it was a really good step forward," Bailey said. "I qualified fifth overall in practice, which was my best qualifying position ever. I had a rough start in the first race but we were able to come back to 12th. In Moto 2, we had a bike issue that caused a DNF but we'll get it figured out. It's been a tough year outdoors but I have confidence in the guys that we're going to get it figured out and get everything dialed for Millville."
Next Event: July 20 – Spring Creek National – Spring Creek MX Park – Millville, Minnesota
RedBud National Results 450MX Results
1. Eli Tomac (1-2)
2. Jason Anderson – Rockstar Energy Husqvarna Factory Racing (2-4)
3. Marvin Musquin (7-1)
… 
9. Dean Wilson – Rockstar Energy Husqvarna Factory Racing (12-7) 
250MX Results
1. Dylan Ferrandis (1-1)
2. Adam Cianciarulo (5-2)
3. Justin Cooper (3-6)
… 
8. Michael Mosiman – Rockstar Energy Husqvarna Factory Racing (10-7) 
18. Jordan Bailey – Rockstar Energy Husqvarna Factory Racing (14-39) 
450MX Rider Point Standings
1. Eli Tomac – 304 points
2. Marvin Musquin – 270 points
3. Ken Roczen – 264 points
4. Jason Anderson – Rockstar Energy Husqvarna Factory Racing – 252 points 
… 
6. Zach Osborne – Rockstar Energy Husqvarna Factory Racing – 227 points 
250MX Rider Point Standings
1. Adam Cianciarulo – 307 points
2. Dylan Ferrandis – 282 points
3. Justin Cooper – 281 points
… 
7. Michael Mosiman – Rockstar Energy Husqvarna Factory Racing – 173 points 
17. Jordan Bailey – Rockstar Energy Husqvarna Factory Racing – 55 points