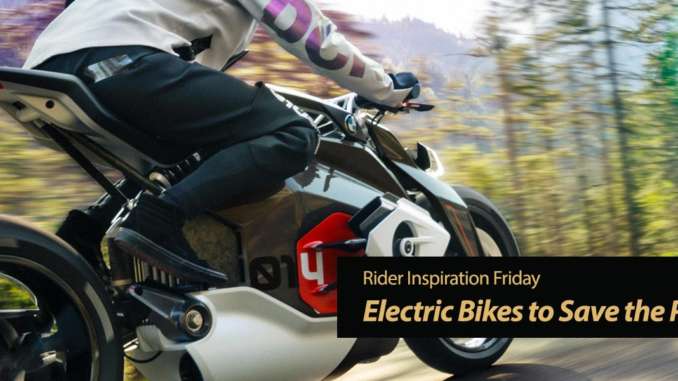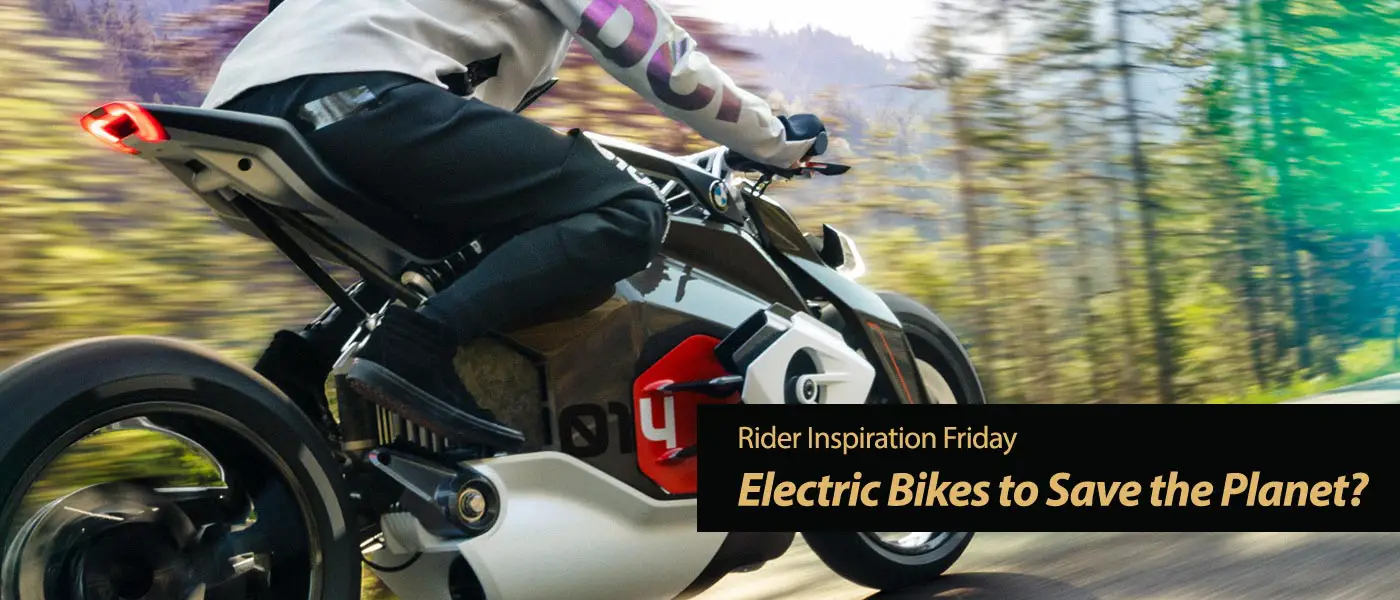 Climate Change, Climate Justice; controversial claims, violent environmental protests, these sensationalized issues have been raging around the world like acid rain of the 1980s and manufactures are listening to capitalistic consumers. Introducing the new 2020 BMW Vision DC Roadster, 2020 Husqvarna EE5, 2020 Harley-Davidson LiveWire and 2020 Yamaha TY-E Electric Trials Bikes. Electric Bikes to Save the planet? Unlikely. But more choice is always good!
What do you think? Do you think Climate Change and/or Climate Justice is important today? Do you think electric motorcycles will replace fossil-fuel gasoline powered bikes? Or maybe you are thinking that's a lot of horse malarkey camp and this whole climate stuff is exaggerated and/or foolish talk, intended to deceive. No matter where you are (and everyone is right to have their own opinions), consumers can have their say at the cash register and in the voting stations across the globe. As I always say, "it isn't who you vote for that is important, it is that you vote".
What ever happened to acid rain? Acid rain today is now 80% less acid and is a faded memory. The cause was emissions from smokestacks in the Midwest rustbelt causing rain to drop at a lower ph value (like grapefruit juice). At the time, congress said "There is a very high, high risk of irreversible, and catastrophic impact looming on the horizon" 10 years later thanks to the Clean Air Act of 1990 few remember Acid Rain today. Source.
I hope you enjoyed this Rider Inspiration Friday and it got you thinking and/or being inspired. I also hope it wasn't too controversial as well.
BRUTAL POWER WITH ZERO EMISSIONS.
For more than 90 years, the 2-cylinder boxer engine has been a key element of the BMW Motorrad identity, in both technological and visual terms. But as the BMW Group consistently pursues electrification, the question arises as to what a BMW motorcycle might look like that is electrically powered? And how would it reveal itself at first sight to be a BMW? One possible answer to these questions is provided by the BMW Motorrad Vision DC Roadster, a highly emotional naked bike with electric drive.
"The boxer engine is the heart of BMW Motorrad – an absolute stalwart of its character. But BMW Motorrad stands for visionary zero-emissions vehicle concepts, too. In view of this, one question that arises is: what would happen if we were to replace the boxer engine with an electric motor and the required battery? The Vision Bike shows how we're able to retain the identity and iconic appearance of BMW Motorrad in distinctive form while at the same time presenting an exciting new type of riding pleasure," explains Edgar Heinrich, Head of Design BMW Motorrad. "After all: anyone who's ever tried it out in practice knows very well that riding on two wheels is just as exciting when its electrically powered! The high level of torque right at set-off makes for breath taking acceleration. This almost brutal power delivery creates a whole new experience of dynamic performance. And the BMW Motorrad Vision DC Roadster puts a face to this experience."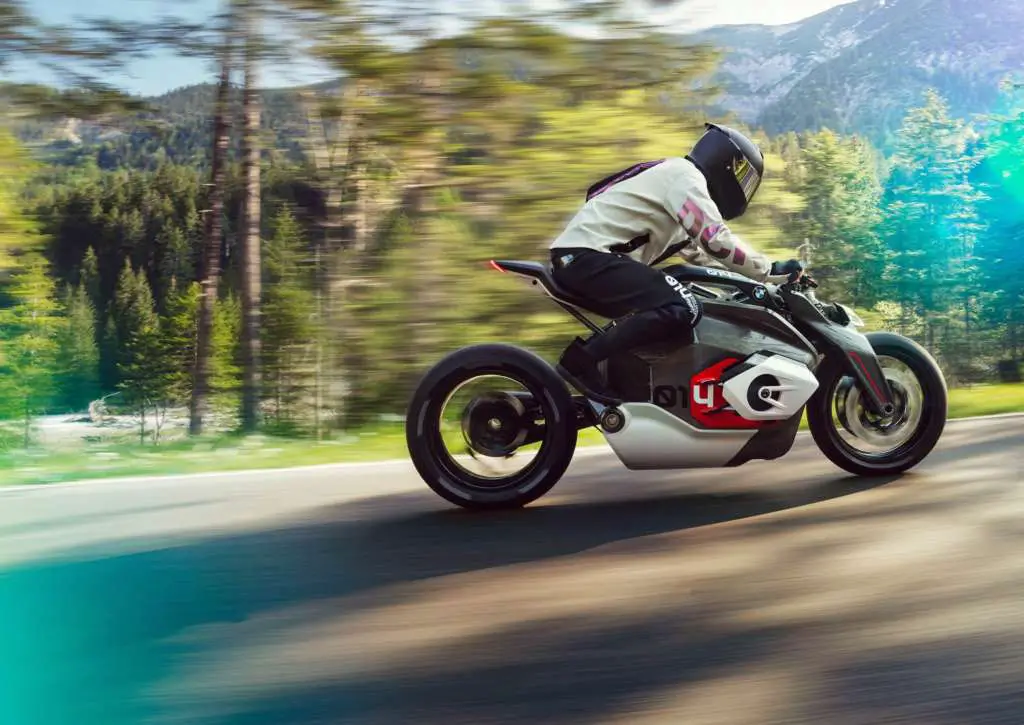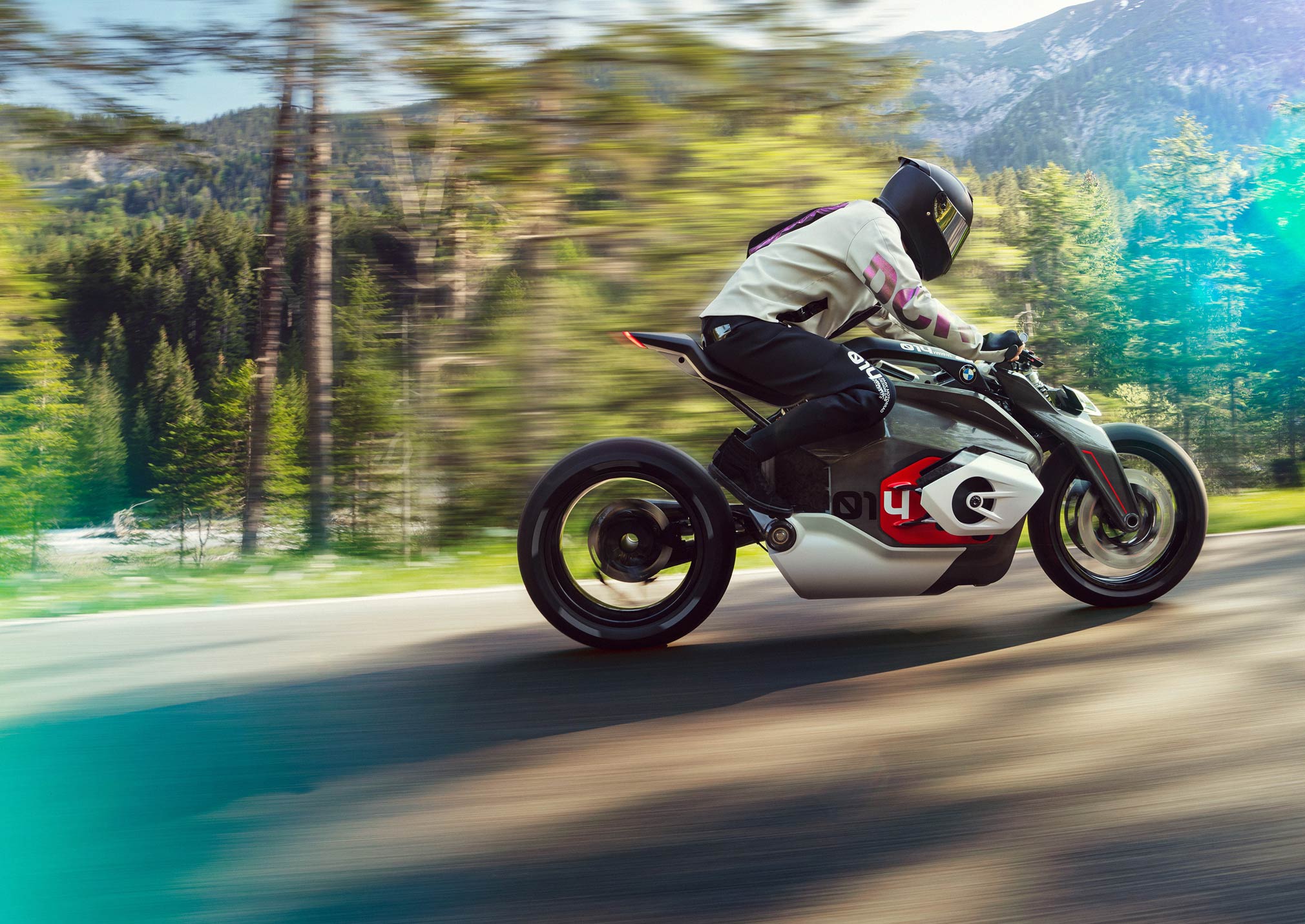 THE SIMPLE APPROACH.
Husqvarna Motorcycles are proud to launch the new EE 5 – an electric engine Minicycle that continues the brand's pioneering motocross journey and delivers a complete and fully adaptable, five-kilowatt competition machine. Set to rival any 50cc fuel-powered motorcycle, the quick-charging EE 5 combines the latest high-quality componentry with bodywork specifically designed to give young riders an ergonomically effortless, all-electric riding experience.
The first ever electric model from Husqvarna Motorcycles, the EE 5 offers youngsters an environmentally friendly way to learn, compete and have fun. Easily adaptable, the ride height can be simply adjusted to keep pace with an improving or growing rider. Delivering two hours of riding enjoyment for beginners and 25 minutes for serious racers, the supplied charger takes just 70 minutes to fully charge the lithium-ion battery.
Featuring the latest suspension technology, the EE 5 is fitted with 35 mm WP XACT forks that offer 205 mm of travel and combined with a fully-adjustable WP rear shock ensure exceptional damping characteristics. A high-strength chromoly frame, hydraulically operated brakes, lightweight wheels, tapered NEKEN handlebars and striking graphics complete Husqvarna Motorcycles pioneering, all-new EE 5 machine.
A pioneering mindset means you don't wait for the future to be invented and then merely adapt, adopt and refine. A pioneer relishes the opportunity to shape the future and to be a part of defining a new path. Husqvarna Motorcycles exist to provide the most progressive and effortless riding experiences to those who see value in riding. Finding new ways to translate, deliver and execute the riding experience is of high importance to the brand. Everyday, Husqvarna Motorcycles welcome the chance to create more, move in new directions and challenge our engineers to pioneer a future that embraces the simple thrill of riding a motorcycle.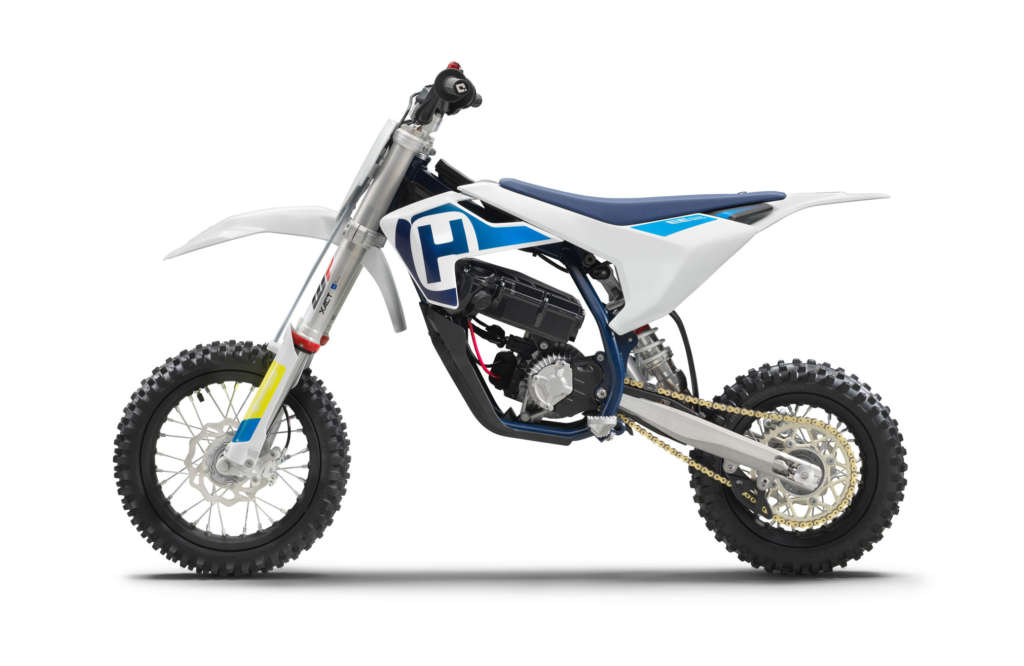 LEADING ELECTRIC POWERED PERFORMANCE.
We're bringing the thrill of riding into the future. Get ready for a lineup of electric motorcycles that will inspire new ways to ride.
The vision behind the production LiveWire motorcycle began with Project LiveWire, revealed as a prototype in 2014 as an effort to gauge the potential of an electric-powered motorcycle as envisioned by Harley-Davidson. Drawing from the experiences of the Project LiveWire demo tour and following an intensive development program the Harley-Davidson LiveWire model offers the rider a new, high-performance motorcycling experience. Propelled by the immediate torque of an all-electric motor, the LiveWire motorcycle is capable of astounding acceleration with just a twist of the throttle – no clutching or gear shifting required. A low center of gravity, rigid aluminum frame and premium adjustable suspension components give the LiveWire dynamic handling. Performance and range are optimized for the urban street-rider.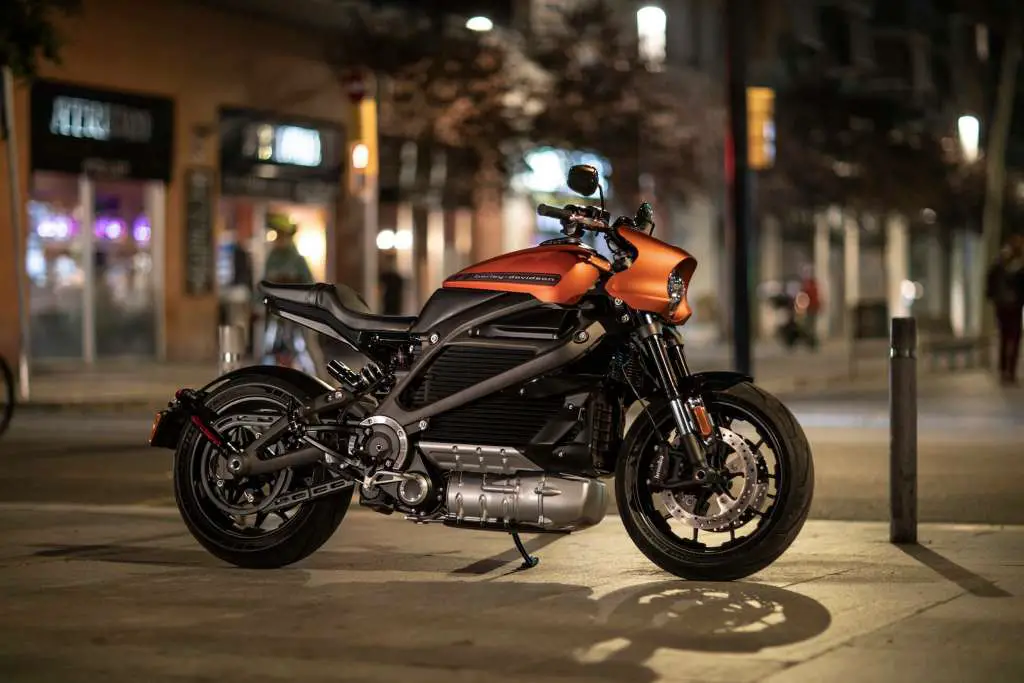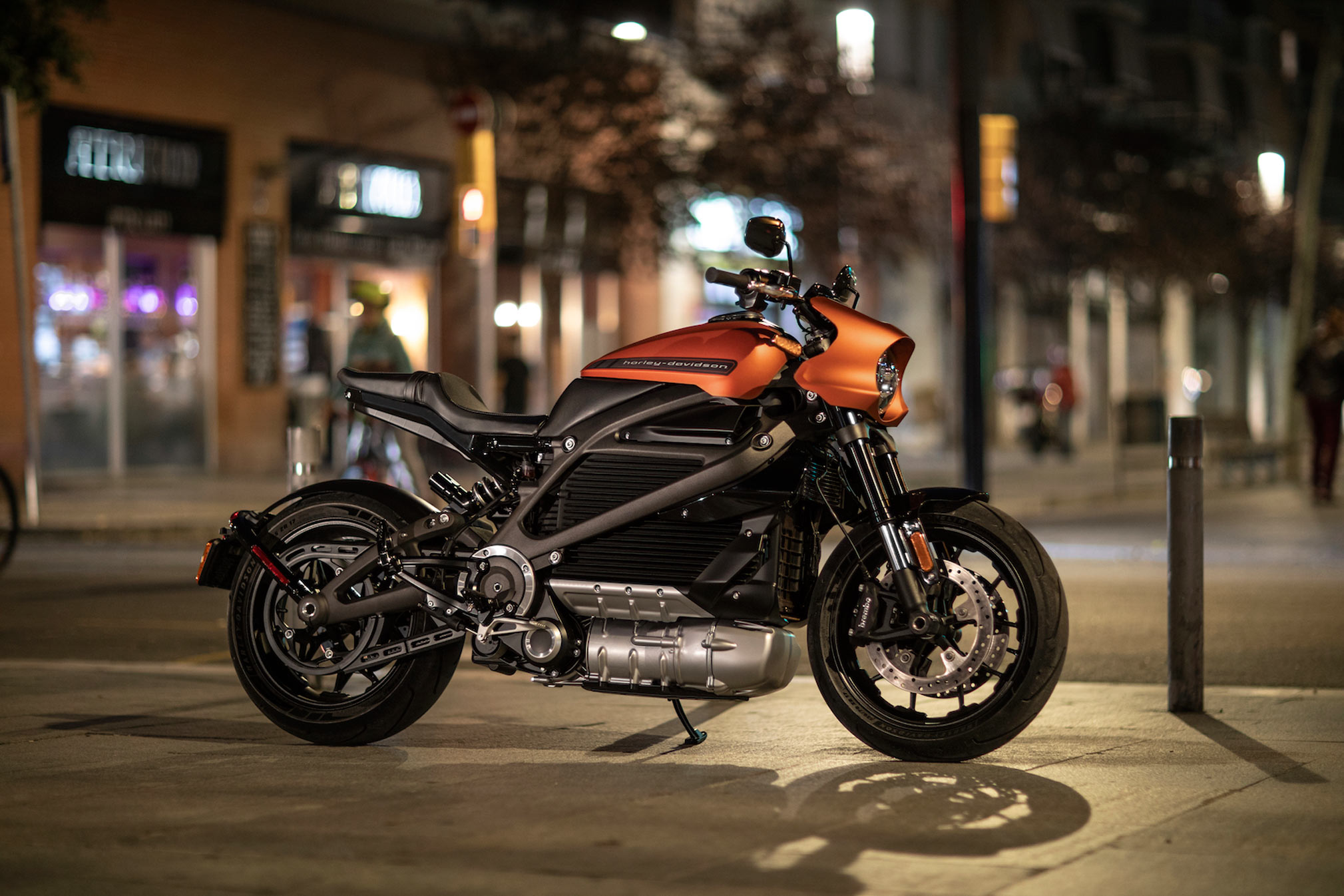 THINKING OUTSIDE OF THE BOX.
The TY-E is an advanced development vehicle created as part of Yamaha Motor's Evolving R&D programme. This initiative allows employees in the Research and Development Section to use 5% of their working hours at their discretion for voluntary, independent research not bound by conventional frameworks in order to spur innovation.
To help overcome the development problems associated with electric vehicles, such as delivering high output from compact and lightweight components, and being easy to ride where the bike responds just as the rider intends, a group of engineers looked to creating a competition trials model and set to work on its development.