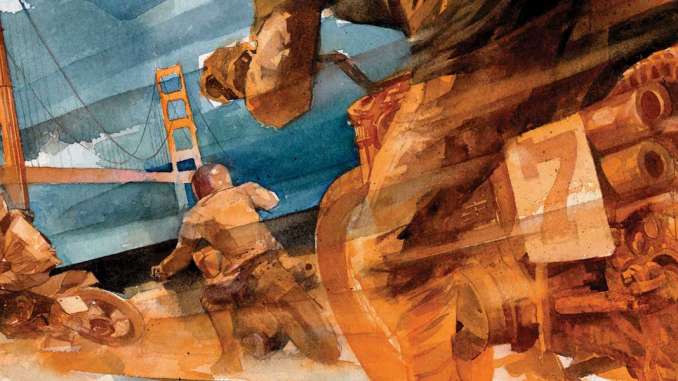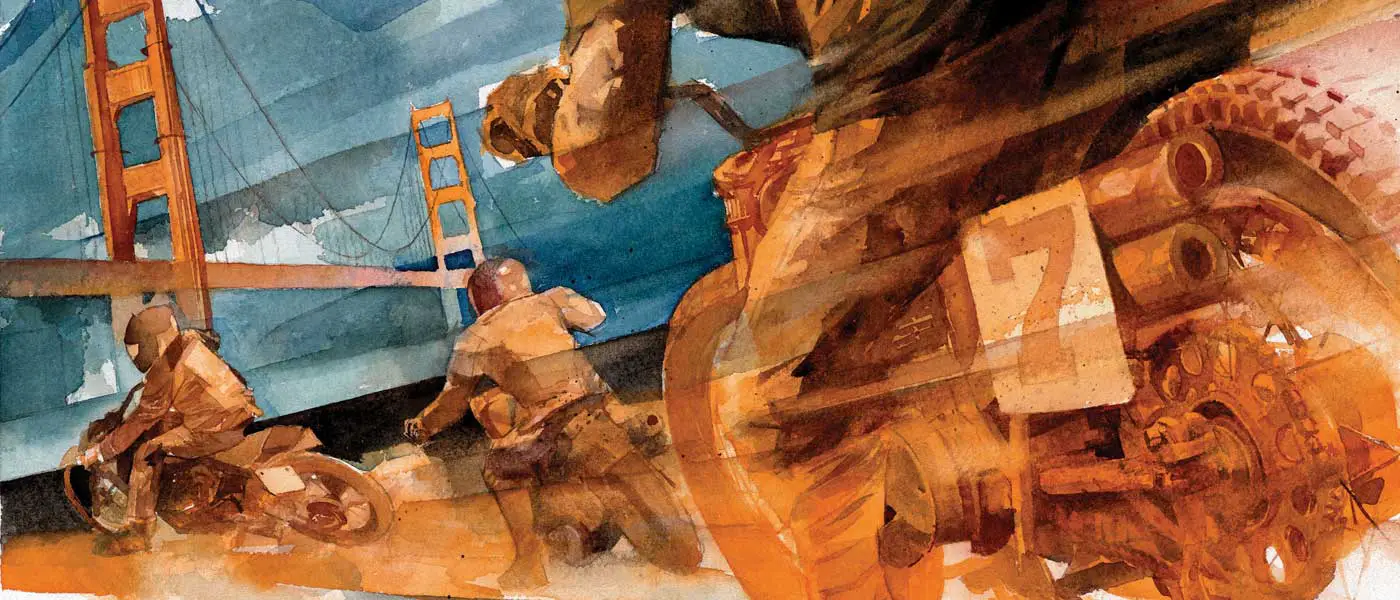 Our weekly rider inspiration story comes from the Moto Bay Classic event, why not get out there and see what happens when you combine Law Enforcement & Hooligans Join Forces for Three Days of Motorcycle Competition; Including the Police Motor Skills Competition, Super Hooligan Racing on a closed course, Live Musical Acts, Custom Motorcycle Show and More!
Saturday will feature Live Music Headlined by Iconic Punk and Rock Bands Including the Eagles of Death Metal, T.S.O.L and The Vandals
THE RSD MOTO BAY CLASSIC JOINS FORCES WITH THE RETURNING INTERNATIONAL POLICE MOTOR SKILLS COMPETITION THIS AUGUST 16, 17 AND 18 UNDER THE BAY BRIDGE.
SAN FRANCISCO, CA (July 24, 2018) – Roland Sands Design (RSD) and REVER, today announced the Inaugural Moto Bay Classic will join the International Police Motor Skills Competition as it returns to the iconic Pier 32 under the shadow of the Bay Bridge Thursday, August 16 through Saturday, August 18. This year, the world-renowned motor skills competition is expanding to include Saturday's RSD Moto Bay Classic – a full-blown motorcycle circus from RSD that includes Iconic Punk Rock Music, Super Hooligan flat track racing on a closed course, a custom motorcycle show, motorcycle art gallery, beer garden, food and more.
The International Police Motor Skills Competition is one of the most challenging law enforcement skills competitions in the world. The competition allows officers to showcase the amazing skills utilized when policing on a motorcycle. Officers from a number of local and international law enforcement agencies will compete against each other in the timed obstacle course for the right to be named this year's champion. The competition begins with practice rounds on Thursday, August 16 followed by qualifying and class championships on Friday, August 17. The event culminates on Saturday, August 18, with the final competition for Top Gun and the Last Man Standing Challenge.
Saturday's Moto Bay Classic will include a series of live musical acts with notable punk rock bands. Among the headliners performing on the main stage are the Eagles of Death Metal, T.S.O.L, and The Vandals. Each of these bands have their roots in California and will be coming home to perform select hits from their impressive catalogs that span more than four decades.
Highlights on Saturday include the final round of the "Top Gun" motor skills competition and the 6th round of the Super Hooligan National Championship, presented by Indian Motorcycle. Once considered a sport traditionally for "outlaws," hooligan racing has grown in popularity and features riders from all walks of life racing heavy production motorcycles on a closed course at Pier 32. This authentic "run-what-you-brung" flat track race will be the first-ever in the Bay Area and include hundreds of riders including law enforcement teams competing bar to bar for top honors on an asphalt oval.
In addition to the Police skills finals and Indian Motorcycles Super Hooligan race, Saturday, August 18 will offer a number of other attractions and activities, including the first-ever Cops vs. Hooligans Gymkhana by Vance and Hines on a closed course, a special riding course for kids supported by Dunlop tires and a motorcycle stunt competition from Bell Helmets. Also included is the Husqvarna powered Architects of Inspiration Art show and J and P Cycles Bikes show, craft beers, food and more. Riders in the area can also access the REVER app to discover the best roads and rides San Francisco has to offer.
"We're honored to be teaming up with the Police and REVER to expand the iconic Motor Competition into an action-packed celebration of motorcycle riding, music and culture," said Roland Sands, Founder Roland Sands Design. "It's exciting to have the chance to bring law enforcers together with 'hooligans,' united by a passion for two wheels. If you're in the Bay area Saturday, August 18 and a moto and music fan, this is not to be missed."
Thursday and Friday's events are free to the public, while tickets to Saturday's events begin at $30 for general admission, with a portion of all proceeds benefitting the SFPD Wilderness Adventure Youth Program. For more information on the event please visit www.motoclassicevents.com/moto-bay-classic.
MOTO BAY CLASSIC
We'd like to welcome you to the San Francisco Bay, the location of the Moto Bay Classic and Police Skills Competition. The Moto Bay Classic will happen on the epic Pier 32, directly off the Embarcadero in the shadow of the legendary Bay Bridge. You can expect a host of entertainment starting Thursday and Friday with the San Francisco Police Department's International Motor Skills Competition featuring highly skilled riders on big bikes accomplishing the impossible. Saturday brings the full moto carnival. The Super Hooligan National Championship takes Hooligan Racing bayside for the first time, with 100 plus hooligan riders from all walks of life battling bar to bar for top honors on an asphalt oval. The Moto Bay event is aimed at participation and riding with the first Cops vs. Hooligans Gymkhana race as well as Kids course and Stunt competition. Also included are the Architects of Inspiration Bike and Art Show accompanied by local craft beers and food trucks. Headlining the first ever Moto Bay Classic will be legendary rockers Eagles of Death Metal along with SoCal favorites The Vandals and TSOL. For those who like to inject a little rock into their roll, this lineup will be sure to set the tone for the full throttle action happening on Pier 32.
​
The RSD Moto Bay Classic promises something for everyone. With a constant flow of activities and participation from attendees, you're not just watching the show, you're a part of it.
SCHEDULE
AUG 1 – 18TH : CITY MOTO SCROUNGE
​
AUG 16 – 18TH : INT'L POLICE MOTO SKILLS COMPETITION
​
AUG 18TH : MOTO BAY CLASSIC MAIN EVENT
– Super Hooligan Round #7 Flat Track Races
– Architects of Inspiration Bike & Art Show
– Cops Vs. Hooligan Gymkhana
– Kidkhana Mini Kids Race
– Vendor Village
– Music, Food, Beer
LOCATION
599 The Embarcadero San Francisco CA 94107
###
ABOUT RSD
Roland Sands Design is a motorcycle, product, apparel and event company that has its roots in racing, custom bike building and design. Our inspiration comes from a high-performance background that blends the love of two wheels with the desire to create unique products. We live the two-wheeled life and our crew is a diverse collection of road racers, off-road, dirt track, super moto and custom bike builders and riders. It's this diversity that allows us to work with the best in the industry on a wide variety of projects. Follow all bike builds, new products and the life and times of the Roland Sands Design crew at www.rolandsands.com.
ABOUT REVER
REVER is the world's largest motorcycle community available for free on iOS and Android. The REVER app works in conjunction with the REVER website to help riders discover the world's best roads, create custom routes, track epic rides, compete for bragging rights, and share their riding experiences across social platforms. Since the app launched, REVER users have tracked millions of miles on motorcycle rides in over 125 countries around the world. For more information, visit REVER.co. or download the REVER mobile applications.