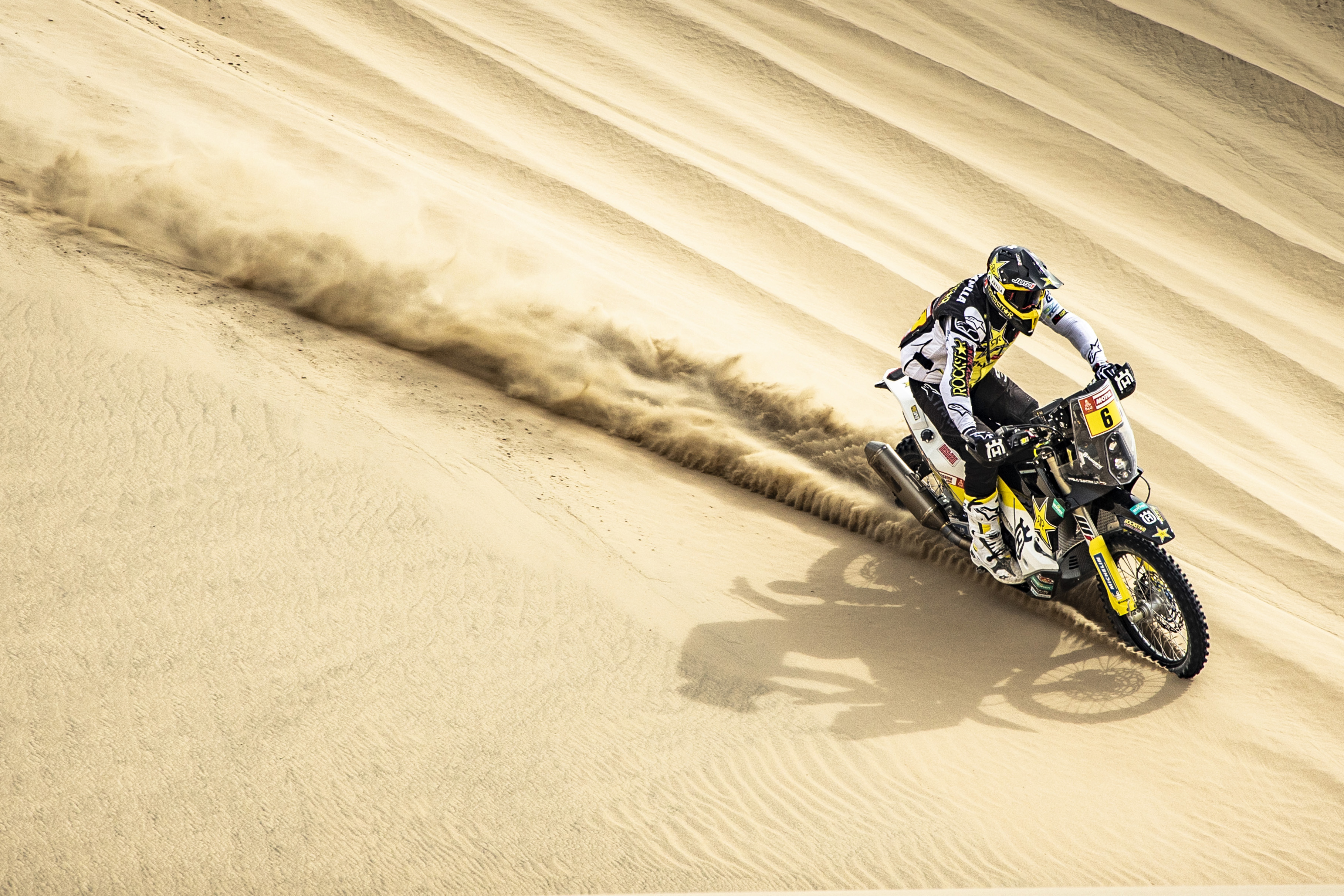 Taking competitors further towards the south of Peru, stage two of the 2019 Dakar Rally proved to be highly positive for Rockstar Energy Husqvarna Factory Racing's Andrew Short and Pablo Quintanilla. With Quintanilla securing a solid fifth place result, his teammate Short crossed the line in ninth place and in doing so climbed to 10th in the event's provisional overall standings.
Making good use of his vast rally racing experience, Pablo Quintanilla put in a steady but importantly mistake-free performance on Tuesday's stage two of the Dakar. Pushing hard to gain some time in the opening part of the special, the Chilean rally star eventually finished less than four minutes behind the day's winner Matthias Walkner. Currently fourth in the provisional overall standings, Pablo sits in a very good place ahead of the remainder of the rally.
For Andrew Short, it was another good day in the saddle of his FR 450 Rally machine. Further improving his speed on Tuesday, the American racer posted the ninth best time for the day to bring himself even closer to the leading group of riders in the provisional overall standings.
Wednesday's stage three is the second longest at this 41st edition of the Dakar. Featuring a gruelling 798km of total distance, it includes a 331km long timed special. Starting from San Juan de Marcona, competitors are expected to reach the Arequipa bivouac in the late hours of the afternoon.
Pablo Quintanilla: "Stage two was a long and tough one but I had a good feeling on my bike. The pace was quite high from the beginning and we were riding a lot across the beach. I pushed hard in the first part of the special stage. After the refueling the conditions changed a lot. We were following the cars and there were lots of different tracks everywhere, so I decided to keep it steady and avoid taking any risks. I kept a good pace until the end and managed to get a good overall time for the day. The gap to the leaders is still controllable so I am looking ahead to tomorrow's stage."
Andrew Short: "I had a lot of fun on my bike today. The stage was familiar to me from the previous Dakar. I raced most of the stage by myself. Today we were following the cars and I had to pass many side-by-side vehicles in the dust and that was sketchy. But I really enjoyed the landscapes and to ride full gas next to the ocean. It was something pretty special and I sure made some memories to keep forever. Overall, I'm really happy with where I'm at and I hope I can maintain a decent pace in the stages to come."
2019 Dakar Rally – Stage 2 Provisional Classification
1.Matthias Walkner (KTM) 03:23:57
2. Ricky Brabec (Honda) 03:24:19
3. Joan Barreda (Honda) 03:25:38
4. Toby Price (KTM) 03:27:03
5. Pablo Quintanilla (Husqvarna) 03:27:21
6. Sam Sunderland (KTM) 03:30:00
…
9. Andrew Short (Husqvarna) 03:36:22
2019 Dakar Rally – Provisional Overall Standings After Stage 2
1. Joan Barreda (Honda) 04:23:14
2. Matthias Walkner (KTM) 04:24:45
3. Ricky Brabec (Honda) 04:24:47
4. Pablo Quintanilla (Husqvarna) 04:26:31
5. Toby Price (KTM) 04:27:47
6. Sam Sunderland (KTM) 04:30:32
…
10. Andrew Short (Husqvarna) 04:40:51