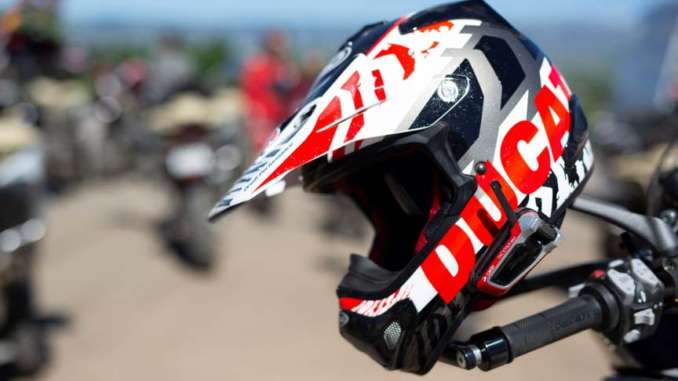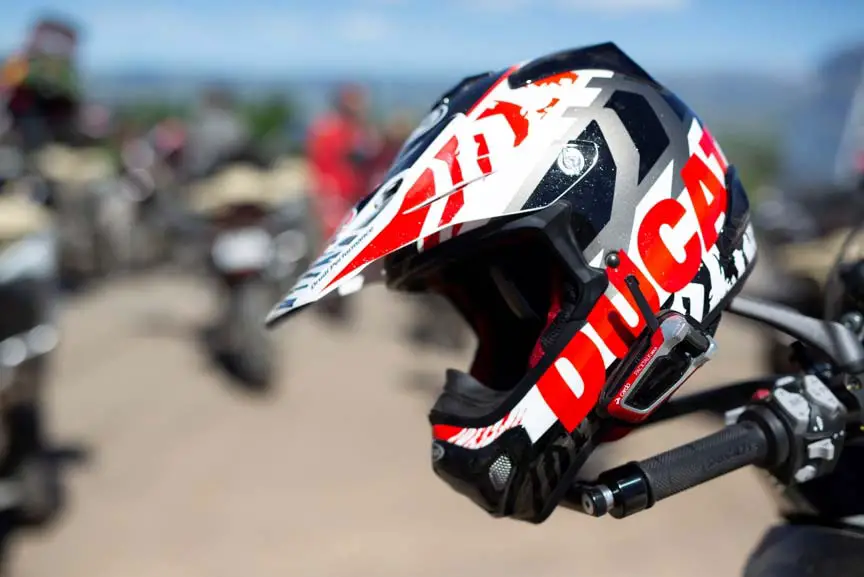 Collaboration Blends Style and Technology to Create a Unique, Ducati-Themed Product Offering
Milan, Italy (September 4, 2019) – Cardo Systems, Ltd. the global market leader in wireless communication systems for motorcyclists, and Ducati Motor Holdings S.p.A. manufacturer of the world's most attractive motorcycles, today announced retail availability of its special edition, Ducati Red PACKTALK units. These units, which are available now in Ducati dealerships across North America, are the result of Cardo and Ducati's ongoing partnership which was announced last fall.
"Ducati Red is more than a color – it's a representation of the lifestyle these riders lead," said Dan Emodi Cardo's CMO. "Riders who want the best in helmet communicators, while representing their passion and loyalty Ducati Red, now can do so with the special edition PACKTALK lineup."
PACKTALK products are powered by Cardo's ground-breaking Dynamic Mesh Communication™ (DMC) technology, which give riders the ability to enjoy the company of their riding companions like never before by remaining seamlessly connected with up to 15 riders. With Cardo's natural voice-command, activating the device no longer requires a specific action such as push-to-talk, so riders can keep their hands on the bars at all times. Riders can simply say, "Hey Cardo" with the desired action to the always-on system and it reacts instantaneously. Plus, riders will experience sound by JBL, which delivers a superior audio experience to motorcyclists and sets a new standard in audio quality for helmet communications systems.
Ducati North America utilized the new communicators as part of its inaugural Ducati Riding Experience (DRE) Enduro program held this Summer in Sundance, Utah. "The Cardo Ducati PACKTALK Bold systems proved to be an incredible tool for our instructors providing clear communication and coaching as we navigated our students through the Utah backcountry," said Ducati North America's CEO, Jason Chinnock, "We are proud to have partnered with Cardo to bring this system to our owners."
The Ducati Red Cardo Systems PACKTALK units are available now, exclusively through Ducati dealerships across the country and online: https://store.ducatiusa.com/c/apparel_helmets_communication-system-v2-by-cardo
ABOUT CARDO
Cardo Systems specializes in the design, development, manufacturing and sale of state-of-the-art communication systems for motorcycle riders. Since inception in 2004, Cardo has pioneered the vast majority of innovations for Bluetooth motorcycle communication systems. The company's products, now available in over 85 countries, are the world's leading communication devices for the motorcycle industry.
ABOUT DUCATI
Ducati Motor Holding S.p.A. – A Sole Shareholder Company – A Company subject to the Management and Coordination activities of AUDI AG
Founded in 1926, since 1946 Ducati has been manufacturing sport-inspired motorcycles characterized by high-performance Desmodromic engines, innovative design and cutting-edge technology. With its factory located in Bologna's Borgo Panigale district, in 2016 Ducati celebrated 90 years since it was founded. The model range covers several market segments with the following families: Diavel, Hypermotard, Monster, Multistrada, SuperSport and Panigale. In 2015 Ducati presented the Ducati Scrambler: a new brand made of bikes, accessories and apparel that provide the last word in creativity and self-expression. These authentic icons representing what the world knows as "Made in Italy", together with an extensive range of associated accessories and technical and lifestyle apparel, are distributed in 90 countries globally. In 2017 Ducati delivered 55,871 bikes to customers, continuing the growth trend of the last eight years. Ducati competes in both the World Superbike and MotoGP World Championships. In Superbike, Ducati has won 17 Manufacturers' titles and 14 Riders' titles. Ducati has been competing in MotoGP since 2003, winning both the Manufacturers' and Riders' titles in 2007.