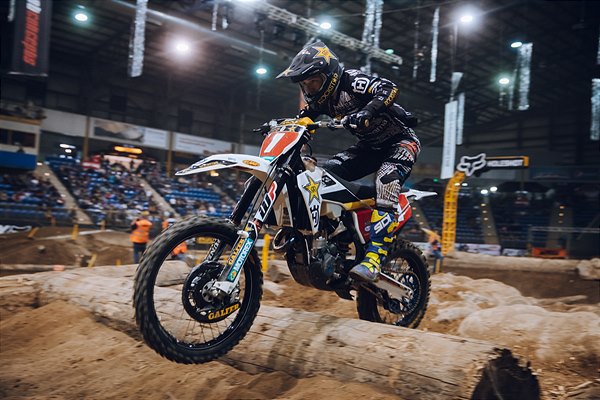 Rockstar Energy Husqvarna Factory Racing's Colton Haaker fought his way through a chaotic night of racing on Saturday to claim a runner-up finish from Round 2 of the 2019 AMA EnduroCross Championship in Denver, Colorado.
The reigning Super EnduroCross Champion carried a fourth-place gate pick into Moto 1, where he got tangled off the start and rounded the opening lap in fifth. He quickly charged through the pack and caught the lead pack by lap four. He made his move into second with four laps to go and from there he gave it his all to catch the leader, ultimately finishing 4.6 seconds back for second.
In the second moto, riders were inverted from the race one results, which placed Haaker in the second row off the start. He once again grabbed a mid-pack start and quickly climbed his way up to second by lap three. He spent the remainder of the race battling for the lead position with Taddy Blazusiak where he finished only 1.9 seconds behind for second-place.
In the third and final race, Haaker was able to get a good jump off the start but things quickly took a turn as he got landed on by another rider on the first obstacle. Stuck under his bike, Haaker was forced to wait for assistance in order to get out and as a result, he took off in the dead last position. He put his head down and made passes each lap, eventually climbing his way up to an impressive fourth-place finish in Moto 3.
With 2-2-4 moto scores, Haaker ultimately came away with second overall for the night, where he still maintains the championship points lead heading into the final round.
Haaker: "The whole night in general was pretty hectic, there was a lot of chaos in every race and it was bound for someone to draw the short end of the stick. I've always done really well in Denver and I really like it there but it's not always your night and I'm just happy to walk away with second overall and gain some valuable points toward the championship."
Super EnduroCross Results – Denver
1. Taddy Blazusiak, 1-1-2, KTM
2. Colton Haaker, 2-2-4, Husqvarna
3. Trystan Hart, 3-5-1, KTM