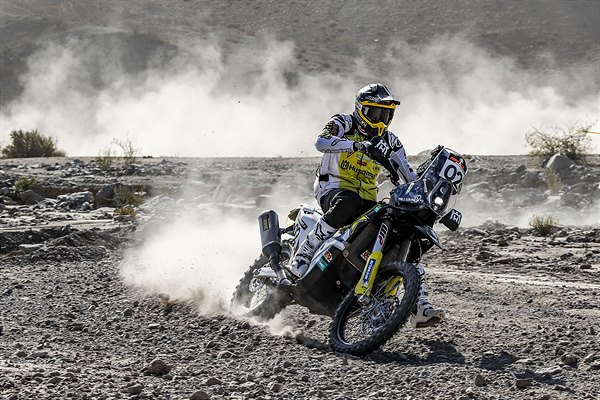 ROCKSTAR ENERGY HUSQVARNA FACTORY RACING RIDER MAKES PERFECT START TO HIS HOME RACE IN CHILE
Making a return to international rally competition for the first time since the Dakar Rally in January, Rockstar Energy Husqvarna Factory Racing's Pablo Quintanilla has stormed to victory on the first full stage of the 2019 Atacama Rally. Andrew Short also enjoyed a strong pace on the fast, Chilean Desert stage to post the ninth-fastest time.
Under clear blue skies, riders got underway from the bivouac mid-morning local time, to take on the 231.58-kilometre stage one of the rally. Following Monday's short four-kilometre qualification Prologue, Quintanilla started as the 10th rider to enter the stage, with Short 14th from the start. With a number of tracks ahead of them, the two Rockstar Energy Husqvarna riders used their navigation skills to chase down the riders ahead as they covered the fast, rocky stage.
Clocking a time of under two-and-a-half hours, Quintanilla was two-minutes-and-50-seconds quicker than the second-placed rider – an impressive advantage at this stage in the event. Short crossed the finish just over nine minutes behind his teammate but will start Wednesday's stage two in a favourable position as he looks to make up time on his competitors.
The 294-kilometre stage two of the rally will see riders cover a looped route south of the town of Copiapó.
Pablo Quintanilla: "I'm really happy how the first stage has gone for me – it's been a successful return to racing. Honestly, I felt really good for the whole stage and it was great to ride my bike again. I've been waiting for this moment for a long time and now it's real. I don't feel under too much pressure, the main thing is to enjoy the race and find my rhythm again after a long time off the bike. The bike feels good, but I'm a little surprised at the result today. Hopefully I can keep consistent and keep this kind of pace to the finish."
Andrew Short: "It was good to get the race started today. The stage was pretty uneventful for me, but I had forgotten just how fast the specials are here in Chile. The terrain is fun, but tricky, and you have to maintain a real good pace over some really tough ground. Hopefully I can rebound and come back stronger as the race goes on."
2019 Atacama Rally – Stage 1 Provisional Classification
1. Pablo Quintanilla (Husqvarna) 2:22:24
2. Sam Sunderland (KTM) 2:25:14
3. Kevin Benavides (Honda) 2:26:43
4. Ricky Brabec (Honda) 2:27:41
5. Matthias Walkner (KTM) 2:29:09
6. Joan Barreda (Honda) 2:30:01
…
9. Andrew Short (Husqvarna) 2:31:35 
2019 Atacama Rally – Provisional Overall Classification [After Stage 1] 
1. Pablo Quintanilla (Husqvarna) 2:33:16
2. Sam Sunderland (KTM) 3:36:14
3. Kevin Benavides (Honda) 2:37:59
4. Ricky Brabec (Honda) 2:38:25
5. Matthias Walkner (KTM) 2:40:17
6. Toby Price (KTM) 2:40:36
…
9. Andrew Short (Husqvarna) 2:42:03