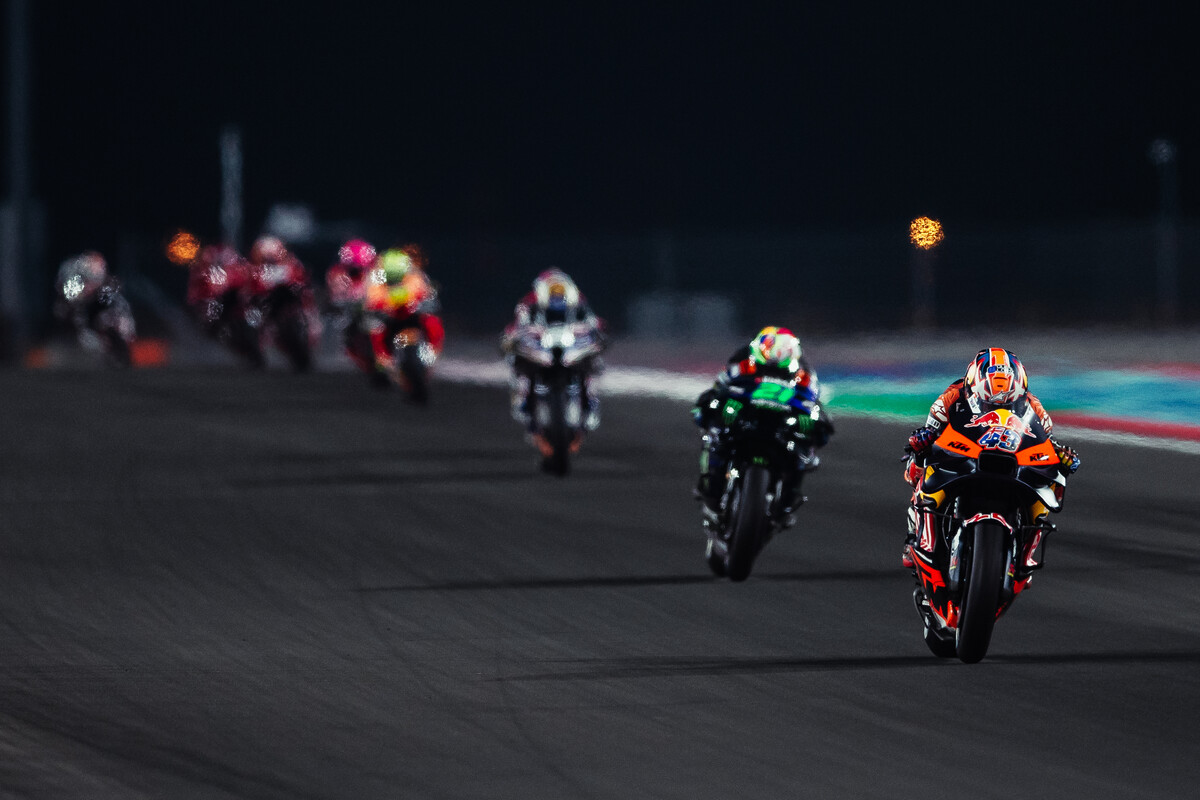 The penultimate round of a long MotoGP season and a relentless second phase of the campaign saw Brad Binder take his KTM RC16 to 5th position through the Qatari night air and at a glistening Lusail International Circuit. The South African pushed to the limit to rise as high as 3rd and then had to nurse his front tire to the top five. The second event of the final triple-header also saw Red Bull KTM Factory Racing's Jack Miller earn a creditable 9th on a difficult track for consistent grip and performance.
In the three-race Malaysia-Qatar-Spain run, Red Bull KTM Factory Racing make more progress and bag Grand Prix points at what was a tricky circuit for the team
Thanks to points in the Saturday Sprint and on Sunday, Brad Binder is confirmed as the 4th best rider in the world championship standings for 2023; his top ranking in his fourth season in the premier class
Jack Miller rides to his twelfth top ten result of his first season in Red Bull KTM colors and with a hard battle to make sure of 9th by the end of the 22-laps
Red Bull KTM Ajo's Deniz Öncü recovers brilliantly to finish 3rd on the Moto3™ podium and in a first three divided by less than two tenths of a second
2023 Moto2™ world champion Pedro Acosta takes 8th in another excellent year for Red Bull KTM Ajo who confirm their fourth Teams title in the category and third in a row
The immense lighting system, the remodeled infrastructure and presentation, the fast, flowing and challenging 5.4km, 16-corner layout, the desert setting and nighttime spectacle: very few events have the look, feel and character of the Qatar Grand Prix. Red Bull KTM already had a taste of the unique grip but high abrasion demands of the Lusail tarmac on Saturday but the 22 laps of the full Grand Prix on Sunday was another task.
Brad Binder and Jack Miller set off from 10th and 15th places on the grid and hopeful of mods for optimum performance throughout the 22-laps. It was Binder who was unsurprisingly higher up the order in the opening exchanges as Miller strived to regain places and mileage to near the top ten. Brad pushed and probed his way into 3rd and then valiantly tried to hold the slot as his front tire grip began to fade. He ended the race 5th and less than three seconds from the third step of the podium. Jack set some of his hottest pace of the weekend to close down riders and make moves up to 9th.
When the checkered flag waved, and fantastic LED displays started to flicker Binder's 11 points further hammered home his 4th place for 2023 while Miller's standing of 11th in the championship can still be converted into 9th. Red Bull KTM Factory Racing are likely to confirm 4th in the Teams standings while KTM hold 2nd in the Constructors contest.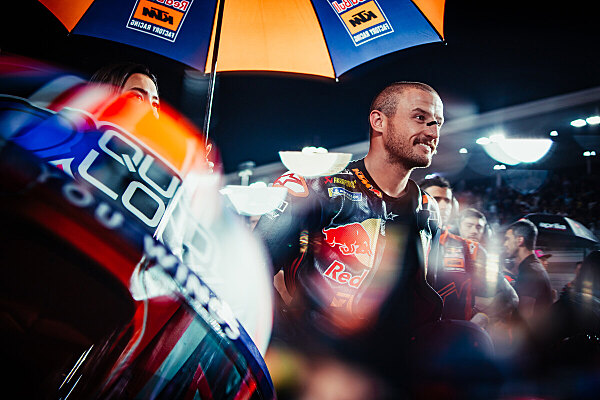 The Circuito de Ricardo Tormo brings the 2023 season to a conclusion where KTM's MotoGP adventure began with a wildcard appearance in 2016, where they celebrated their maiden podium in 2018 and where Binder achieved runner-up distinction in 2022. Valencia is once more the scene for the final Grand Prix of the year and the latest ever finale to the world championship. Round twenty takes place next weekend.
Brad Binder, 5th: "Today was actually really good. To walk away with a 5th and to fight for the podium was very positive. My rear tire was perfect but my front tire gave-up after about twelve laps in, from there I was just trying to survive. Probably one of the hardest races I had in terms of dealing with the limit. I just wanted to bring it home in a solid 5th. My team did a great job to get us in this position today because the weekend was much more tricky than we anticipated."
Jack Miller, 9th: "My pace was decent and I finally made some passes to get ahead of the big group I had in front. I felt better than yesterday. Semi-positive end to what had been a difficult weekend. I'm looking forward to Valencia, one of my favorite tracks."
Francesco Guidotti, Red Bull KTM Team Manager: "We raced today! Brad was in the leading group and was there for many laps, until seven to go even though his feeling with front was not the best. He didn't give up and finished 5th: still a good position considering how the weekend had been so far. We aren't that happy but more satisfied than we were on Saturday. Jack had a very good race despite being stuck in traffic on the first corner. He recovered quite a lot of positions with good lap-times. Both riders were able to compete and fight back. We'll gather as much information as we can from this weekend and go to Valencia."
Results MotoGP Grand Prix of Qatar
1. Fabio Di Giannantonio (ITA) Ducati 41:43.654
2. Francesco Bagnaia (ITA) Ducati +2.734
3. Luca Marini (ITA) Ducati +4.408
5. Brad Binder (RSA) Red Bull KTM Factory Racing +7.246
9. Jack Miller (AUS) Red Bull KTM Factory Racing +11.509
World championship standings MotoGP
1. Francesco Bagnaia (ITA) Ducati, 437 points
2. Jorge Martin (ESP) Ducati 416
3. Marco Bezzecchi (ITA) Ducati, 326
4. Brad Binder (RSA) Red Bull KTM Factory Racing, 268
11. Jack Miller (AUS) Red Bull KTM Factory Racing, 163

KTM GP Academy
Moto3 involved 16 close and tense laps. The decisions, form and antics of the large pack held extra resonance, with race points counting toward the final positions in the 2023 championship. Red Bull KTM Tech3's Daniel Holgado gave himself a decent chance of snaring a top three medal by starting from Pole Position for the first time this season. The impressive Spaniard – in just his second Moto3 term – surged for victory and achieved 9th (less than two seconds from the win) by the conclusion of the affair and after having to avoid Ayumu Sasaki's huge scare in the last corner. The points-haul ensures that Holgado is 4th in the series and can still catch 3rd place. As usual Red Bull KTM Ajo's Deniz Öncü was among the fastest riders in the class. The Turk also had options to classify 2nd or 3rd for the year and pushed in typically smooth but uncompromising fashion despite a double Long Lap penalty for a jump start. He set a brilliant pace to cut his way back to 3rd and lift his seventh piece of silverware this year and is tied on points with Holgado.
Jose Rueda's apprenticeship in Moto3 is coming to a close but the Spanish teenager was once more running with the fastest and more experienced riders in the field. Sadly, he was punished by a double Long Lap penalty and finished 16th. Fillippo Farioli's decent speed in practice and qualification was hampered by a penalty that meant he had to start from the rear of the grid. The Italian rookie pushed beyond the limits and fell at Turn 3 after three laps.
Deniz Öncü: "I made mistake at the start and I knew right away so I had to push extra hard to make the time back. I knew 3rd was the best I could do tonight. I want to give special thanks to the team for their support."
Moto2 has been a fertile ground for Red Bull KTM Ajo, and Pedro Acosta, to excel in 2023. The team officially confirmed the world championship 'set' for the third time in a row in Qatar as the Spaniard rode to 8th place after 18 laps early Sunday evening. The points achieved by the freshly crowned #37 meant the Ajo crew celebrated #1 status for the third consecutive year. Albert Arenas has contributed to the tally but could not get in the points in Qatar with a 21st place finish. Acosta's quest for another podium ended early in the race when he was sucked into the slipstream into Turn 1 and ran wide. He then focused on gathering as much ground and positions as possible.
The Gran Premio de la Comunitat Valenciana will be a celebratory final event of the year for the all-Spanish line-up and before Red Bull KTM Ajo pivots to the 2024 roster for the first test of the season to come after the race near the east coast.
Results Moto3 Grand Prix of Qatar
1. Jaume Masia (ESP) Honda 33:50.694
2. David Alonso (COL) GASGAS +0.068
3. Deniz Öncü (TUR) Red Bull KTM Ajo +0.163
9. Daniel Holgado (ESP) Red Bull KTM Tech3 +1.943
16. Jose Rueda (ESP) Red Bull KTM Ajo +4.707
DNF. Filippo Farioli (ITA) Red Bull KTM Tech3
World championship standings Moto3
1. Jaume Masia (ESP) Honda 271 points
2. Ayumu Sasaki (JPN) Husqvarna, 243
3. David Alonso (COL) GASGAS, 225
4. Daniel Holgado (ESP) Red Bull KTM Tech3, 212
5. Deniz Öncü (TUR) Red Bull KTM Ajo, 212
9. Jose Rueda (ESP) Red Bull KTM Ajo, 111
26. Filippo Farioli (ITA) Red Bull KTM Tech3, 15
Results Moto2 Grand Prix of Qatar
1. Fermin Aldeguer (ESP) 35:32.117
2. Manuel Gonzalez (ESP) +2.643
3. Aron Canet (ESP) +2.652
8. Pedro Acosta (ESP) Red Bull KTM Ajo +6.598
21. Albert Arenas (ESP) Red Bull KTM Ajo +28.571
World championship standings Moto2
1. Pedro Acosta (ESP) Red Bull KTM Ajo, 328.5 points
2. Tony Arbolino (ITA), 249.5
3. Jake Dixon (GBR), 194
15. Albert Arenas (ESP) Red Bull KTM Ajo, 79