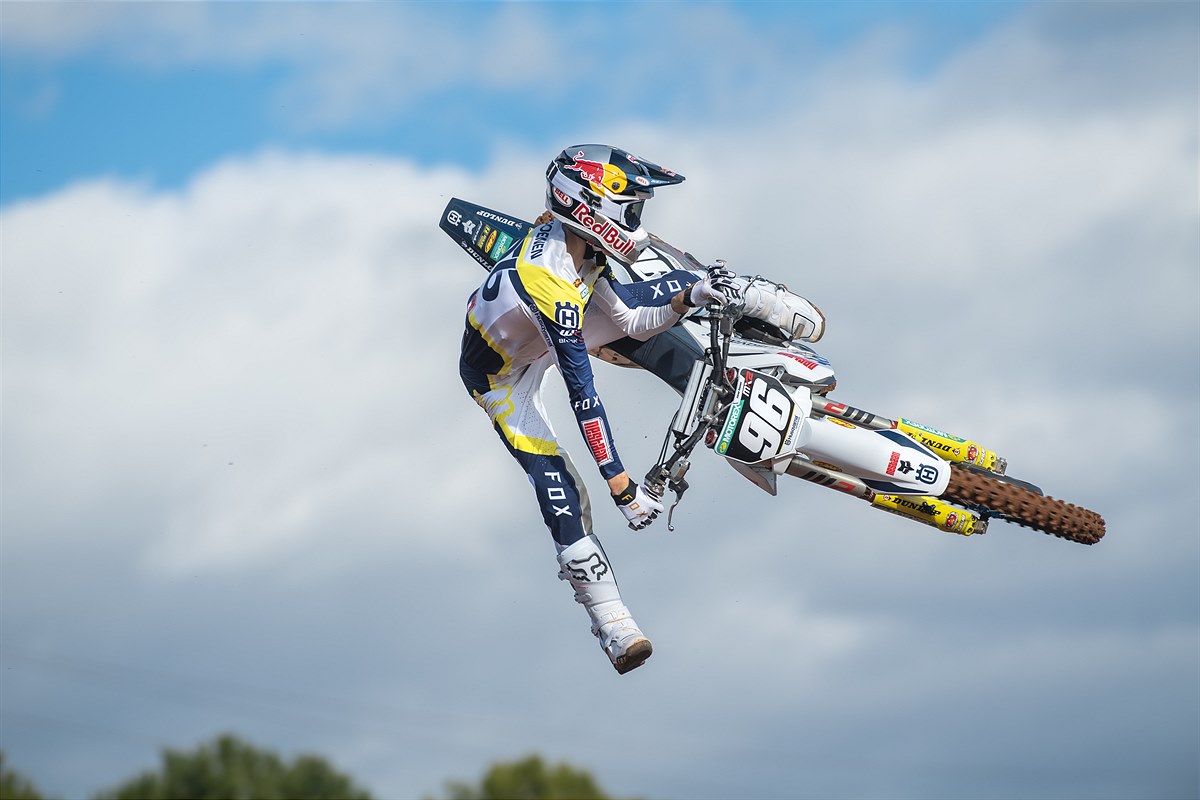 The Nestaan Husqvarna Factory Racing team is full of excitement, because the 2023 FIM Motocross World Championship is a little over a month away and thus another opportunity to pursue gold awaits. The three-rider team will consist of Kay de Wolf, Roan van de Moosdijk and Lucas Coenen when the new term begins.
Kay de Wolf is about to embark on his third season as an MX2 rider and has his sights set on making a step forward aboard his FC 250. De Wolf has already finished on the Grand Prix podium eight times in his young career and, in addition, he has won two motos in the MX2 division. There have been many highlights since he first joined the Nestaan Husqvarna Factory Racing team and '74' is keen to add to that list in the not-so-distant future.
Motivated to achieve similar success is Roan van de Moosdijk. Moosdijk, who is from The Netherlands, has spent a year aboard the FC 250 now. Although he missed a lot of the previous season with an injury, he still climbed onto the box at the season finale and established momentum that is set to serve him so well when the new season begins with the Grand Prix of Patagonia-Argentina on March 12.
New to the squad and the MX2 class is Lucas Coenen, a generational talent from Belgium. Coenen captured the attention of motocross fans across the globe whilst competing in the EMX250 class last term – he won seven of the last eight motos and confirmed that he will be an immediate force with support from the elite Nestaan Husqvarna Factory Racing squad. There is a wealth of experience under the team tent and Coenen will be able to rely on that to advance his progress.
The 2023 FIM Motocross World Championship will start in Patagonia-Argentina on March 12. Before then, the team will compete in various pre-season races that have been selected to give the riders optimum prep for the new season.
Kay de Wolf: "I am really happy at the moment. The off-season has been great – I have had a lot of time on my FC 250 and I feel great. I cannot wait to start racing and have another solid season with the Nestaan Husqvarna Factory Racing team. It will be good to implement everything that I have learned through the winter."
Roan van de Moosdijk: "It feels great to work with the Nestaan Husqvarna Factory Racing crew for the second season in a row! I am really happy with the improvements that we have made during the off-season and I cannot wait for the gate to drop again. Seeing as this is my final year in MX2, the team and I will do everything to get the maximum out of it."
Lucas Coenen: "I am looking forward to the new season. I was in EMX250 last season, so this is a massive change and I am very excited. I will get to do a lot more races and learn as much as possible. My FC 250 is really, really good. I am counting down to the first race in Patagonia-Argentina and cannot wait to start my MX2 career with Nestaan Husqvarna Factory Racing."