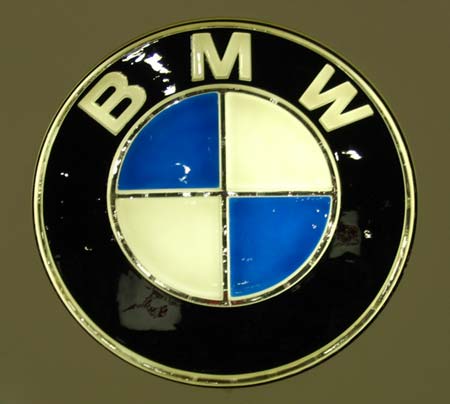 Total Motorcycle's interview with BMW Motorcycle Canada:
by Mike and Andrea Le Pard.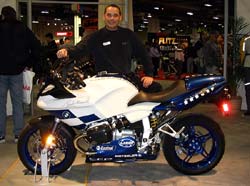 For over 80 years BMW has provided us with quality German designed motorcycles deep in tradition with their boxer-style engines. Today, BMW is changing and evolving. Its goal is to launch its motorcycle division in a direction never before taken by the company by using new age technology and innovation. Read on and see what is ahead for you from BMW.

Total Motorcycle interviewed Norm Wells, BMW Motorcycle's National Motorcycle Manager for Canada, at the 2005 Calgary Motorcycle Show on January 8th, 2005. Norm has been with BMW for over 20 years and was just the right person to interview to see where BMW's new direction will be taking us.
TMW: Norm, what sets BMW apart for the rest of the competition?
Norm: We at BMW provide a product that allows motorcyclists to further expand their riding experiences. For us, riding is all about mobility and being able to travel in comfort and style on one of our motorcycles. In our BMW automotive line, drivers expect our cars to provide a dynamic driving experience. This is no different in our BMW motorrad division.
TMW: What were BMW's most successful models for 2004?
Norm: The whole BMW GS series (R 1200 GS, R 1150 GS Adventure, F 650 GS, F 650 GS Dakar) was extremely successful for us, with the 2004 BMW R1200GS being our number one seller. Altogether, the GS series represented 35% of all our total motorcycle sales in 2004. If I had to name the most successful model outside the GS lineup, I would definitely have to say the 2004 BMW 1150GT.
TMW: Out of all BMW's 2005 models, which ones are BMW most excited about and why?
Norm: For 2005, BMW has such a great motorcycle line up that I would love to say we are very excited about all of them! I expect the 2005 BMW R1200GS to again be our biggest success of numbers sold as it was also our top seller in 2004. But it is the brand new and very innovative BMW K1200S that our customers and company are most excited about. The K1200S is the pinnacle bike and it launches BMW in a new direction for the future. This bike was created as a masterpiece of engineering for a thrilling riding experience, and it features a hitherto unknown combination of technology, performance and design.

TMW: What is BMW currently focusing on in the market and why?
Norm: Even with all the big changes ahead for BMW we will always focus on the quality products we are best known for so that we can deliver what people expect of BMW. 2005 will also be the last year for our cruiser lineup (R 1200 CL, R 1200 C Montauk, R 1200 C Independent, R 1200 C Classic) as that is not where we see our strength.

TMW: What do you foresee BMW focusing on more in the future?
Norm: I can tell you that BMW will become more dynamic and more innovative in the future with LOTS of changes coming in the next 18 months. We want to be known for our motorcycles for what we are already known for our cars — offering a very dynamic riding experience. The K1200S is just the start of the changes that will launch BMW in a new and exciting direction.
TMW: What things might we expect to see in the future from BMW?
Norm: You can expect BMW to become more prominent in all motorcycle sectors. You will also see even more dirt-oriented BMW models. There are currently no plans at the moment to introduce any small (500cc or less) motorcycles into our lineup.

TMW: Are there any future models in the works?
Norm: Unfortunately I cannot share with you all of the information on the huge changes that will be taking place within the next 18 months. But I am very excited about what is going to happen in the near future. That being said, I can share with you that BMW will be introducing 2-3 new models each year that will feature exciting variations of our current models and innovative platforms like you have seen with the 2005 BMW K1200S.
This concludes our 2005 Interview with BMW Motorcycles. We would like to thank BMW Canada and Norm Wells for allowing us to interview them and for their time. We look forward to our next interview with them.

---
Unbiased, helpful, personal, friendly and useful motorcycle resource