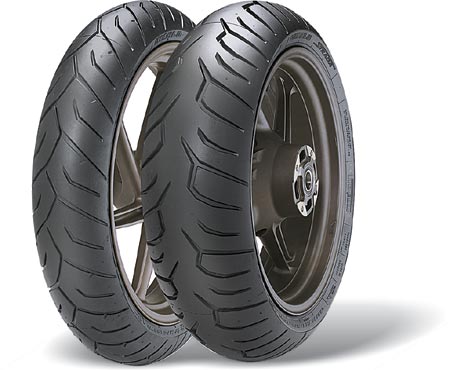 Motorcycle Tire/Tyre Maintenance tips to keep your motorcycle at peak condition.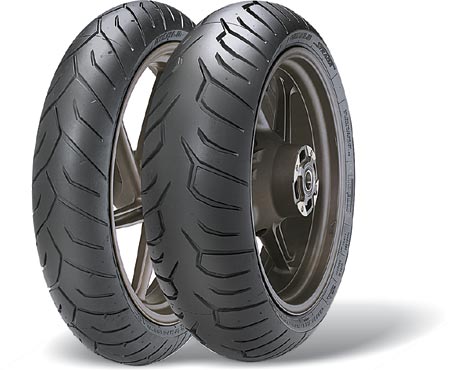 The only thing between the hard unforgiving pavement and you is your tires. Best that you know, understand, respect and learn how to treat them well.
Motorcycle Tire, Tyre Maintenance
Tip: Keep a low pressure tire gauge (0psi – 80psi) in your bike tool bag at all times. Try to remember to check your tire pressure everytime you fill up for gas.
Keep your tires correctly inflated. A tire that is very under-inflated generates a lot of heat which can lead to a blow out. Tires that run too hot also wear out more quickly. The most common motorcycle breakdown is for tire damage.
Purchase a pencil-type tyre gauge and use it regularly until you instinctively 'know' what your tyres feel like correctly inflated. Use of the gauge and visual inspections must become second nature.
Replace your tires sooner rather than later. If tread depth is 1-2mm it is time to replace your tires. Take a tip from the mad sportbikers and the canyon racers – they never skimp on their tyres as they are often all that stands between them and the pearly gates.
Dry Rotting- or "cracking." Usually means that the tires are old and/or the bike has not been in covered storage. Real "light" cracking may be ok, but basically if there is excessive dry rotting, you should get new tires.
Tire Care and Tyre Tips
Tires on motorcycles, like any vehicle, play a vital role in the performance, handling and safety of the bike. Many times we tend to ignore the necessary maintenance needed to keep the tires safe. With motorcycles, there are only two small contact patches for the rider to rely on, so it is extremely important to keep the tires in top condition.
Any tire, no matter how well constructed, may fail in use as a result of punctures, impact damage, improper inflation, overloading, or other conditions resulting from use or misuse. Tire failure may create a risk of property damage, serious personal injury or death. To reduce the risk of tire failure, we strongly recommend you read and follow all safety information contained in this brochure.
It is recommended that riders do a periodic inspection of their tires and have any imbedded objects removed by a qualified service person. Serious personal injury or death may result from a tire failure. Many tire failures are preceded by vibration, bumps, bulges or irregular wear. If a vibration occurs while riding your motorcycle, or you notice a bump, bulge or irregular wear, have your tires and motorcycle evaluated by a qualified service person.
It is not often that a properly maintained tire will "blow out" while you are riding. More commonly if air is lost, it will be gradual. If you do experience a blow out or sudden tire failure, the following information should be helpful: When the failure occurs, slowly decrease the amount of throttle, hold the handlebars firmly, and steer to maintain your lane position. Once the motorcycle has slowed and is fully under control, apply the brakes gently. Gradually pull over to the shoulder and come to a stop.

Tire Inflation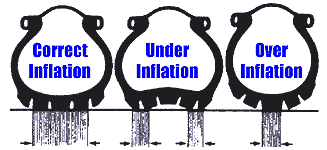 Motorcycle tire inflation and contact patch area
Always keep the motorcycle manufacturer's recommended air pressure in both tires. This is an important requirement for tire safety and mileage. Your motorcycle owner's manual will tell you the recommended cold inflation pressure. On some motorcycles, the recommended front and rear tire pressures will be different. The pressures stamped on the sidewall of the tire are only for maximum loads. On some occasions, these pressures will also be the manufacturers recommended settings as well.
Riding on tires with too little air pressure is dangerous. The tires will build excessive heat. This can cause a sudden tire failure that could lead to serious personal injury or death.
Underinflation may also:
-Damage the tire leading to tire failure
-Adversely affect vehicle cornering
-Reduce tire life
-Increase fuel consumption
-Fatigue cracking

Riding on tires with too much air can be dangerous. The tires are more likely to be cut, punctured, or broken by sudden impact. Serious personal injury or death could result. Do not exceed the pressure indicated on the tire sidewall. Consult your owner's manual for the recommended inflation and other tire information.
Never inflate a tire unless it is secured to the motorcycle or a tire-mounting machine. Inflating an unsecured tire is dangerous. If it bursts, it could be hurled into the air with explosive force resulting in serious personal injury or death.
Valve Stems, Cores & Caps
Old or damaged valve stems and cores may cause air loss. Replace them when mounting new tires. Use caps (finger tight) on the valve stems to keep dust, dirt and moisture away from the valve.
Checking Tire Inflation
-Check your tire air pressure at least once a week and before long trips. Be sure to use an accurate pressure gauge.
-Check your air pressure when the tires are "cold." The tires are "cold" when your motorcycle has been ridden less than a mile at moderate speed or after being stopped for three or more hours.
-If you must add air when your tires are hot, add four pounds per square inch (4 psi)(28 kPa) above the recommended cold inflation pressure. Recheck the inflation pressure when the tire is cold.
-Never release air from a hot tire in order to reach the recommended cold tire pressure. -Normal riding causes tires to run hotter and inflation pressure to increase. If you release air when your tires are hot, you may dangerously under inflate your tires.
-If your tires lose more than two pounds per square inch (2 psi)(14 kPa) per month, the tire, the valve, or wheel may be damaged. Consult your local dealer for an inspection.
-Use valve caps to keep valve cores clean, clear of debris and to help guard against air leakage.

Break-in Period
In order for your new tire(s) to provide optimum performance, tires should be ridden very cautiously for the first 100 miles in order for the tread surface to be "Scuffed-In" and work properly. Directly after new tires are mounted, sudden acceleration, maximum braking and hard cornering must be avoided. This will allow the rider to adjust to the "Feel" and handling characteristics of the new tire and for the new tire to be "Scuffed-In" correctly in order to achieve optimum grip level.
Tire Loading
Riding your motorcycle in an overloaded condition is dangerous. Overloading causes excessive heat to build up in your tires. This can lead to sudden tire failure and serious personal injury or death while the tire is overloaded or at some later date.
Safe Loading
Consult your motorcycle owner's manual for the motorcycle load limits and proper tire inflation that applies to your motorcycle and tires.

Never exceed the maximum load rating stamped on the tire sidewall of your tire or the maximum vehicle load rating, whichever is less. Before a trip, determine the total weight of luggage, equipment, and rider(s) to be added to your vehicle.

Never exceed the accessory restrictions and motorcycle load capacity found in the owner's manual, or the maximum load molded on the sidewall of the tire.

Pulling trailers behind your motorcycle is not recommended by Bridgestone/Firestone as trailers may contribute to motorcycle instability and overload.
Tire Damage

Riding on damaged tires is dangerous. A damaged tire can suddenly fail causing serious personal injury or death. Have your tires regularly inspected by your local dealer for damage.
Spotting Damaged Tires
After striking anything unusual in the roadway, ask your local dealer to demount the tire and inspect it for damage. A tire may not have visible signs of damage on the tire surface. Yet, the tire may suddenly fail without warning, a day, a week, or even months later.
Inspect your tires for cuts, cracks, splits or bruises in the tread and sidewall areas. Bumps or bulges may indicate a separation within the tire body. Have your tire inspected by a qualified tire service person. It may be necessary to have it removed from the wheel for a complete inspection.

Inspect your tires for adequate tread depth. When the tire is worn to the built-in indicators at 1/32nd inch (0.8 millimeters) or less tread groove depth, or the tire cord or fabric is exposed, the tire is dangerously worn and must be replaced immediately.

Inspect your tires for uneven wear. Wear on one side of the tread or flat spots in the tread may indicate a problem with the tire or vehicle. Consult your local dealer.
Inspect your rims also. If you have a bent or cracked rim, it must be replaced.