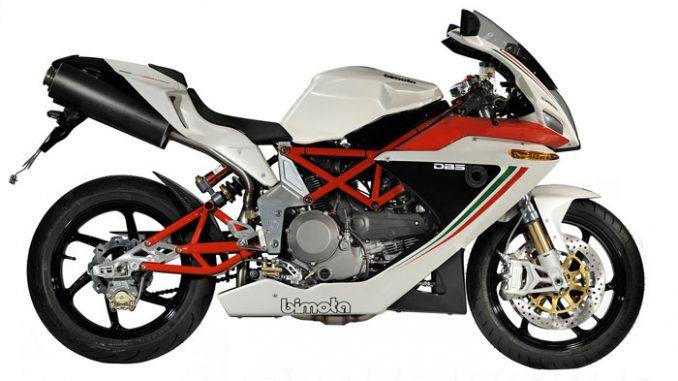 Click photos to enlarge. They make great desktop wallpaper.
2012 Bimota DB5E Desiderio Review

2012 Bimota DB5E Desiderio
Total versatility

The driving position has been designed to accommodate a comfortable insertion of the pilot in the triangle saddle-platforms-tank, where the legs are excellent housing, designed to ensure the best support during the insertion phase and the bend.
The shares fell by half to ensure rider maneuverability and driving precision.
The OZ forged aluminum wheels enhance the bike, contributing to 'lighten the rotating masses.
2012 Bimota DB5E Desiderio Model Highlights
It 's been called a masterpiece of design, so as to enable to get the Bimota MOTORCYCLE DESIGN AWARD.
Bimota DB5 bike is always present, characterized by straight lines and sharp corners, a carbon fiber hull minimized, however, able to ensure optimum aerodynamics.
Details and the colors you wanted, like the precious finishes, are made in line with the tradition of excellence Bimota.

2012 Bimota DB5E Desiderio Features and Benefits
Technology

DB5 uses a trellis frame with composite architecture and is made of chrome-molybdenum tubes worked with couture craftsmanship typical of Rimini. E'completato with valuable plates made by machining from solid with total respect for tradition and quality Bimota. The quotas are reduced, thus ensuring ease of handling and steering precision.
Same architecture for the swingarm to the frame that combines a billet end plate, where are housed the headquarters of the chain wheel axle and adjusters. A structure that ensures a footprint and a limited weight, while maintaining the proper rigidity.
The engine is the famous twin "L" Desmo Ages two valves, air cooled and oil production Ducati and is capable of providing a power of 100 horsepower. An engine that ensures a vigorous thrust out of corners, and delivery progressive and exciting.
Effective suspension system, with the Marzocchi fork and monoshock adjustable for high and low speeds. The Brembo 4-piston radial calipers and discs of 298 mm allow stopping distance is greatly reduced.

---
2012 Bimota DB5E Desiderio – International Specifications/Technical Details
MSRP Price: See your local Bimota dealer for pricing.
Model Motorcycles Bimota DB5
2 valves per cylinder
2-cylinder engine, 4 stroke
Displacement 1078cc
Bore x stroke 94×71, 5 mm
Compression ratio 10.7:1
Power electronic injection by BIMOTA
Electric Start
Power 98hp /8500 rpm
Rpm Max torque 10.5 kgm/5500 rpm
Transmission Chain
Frame made of chrome-molybdenum
Front suspension 43mm inverted front forks
Rear suspension monoshock
Front brake 2 x Brembo 298mm discs, 4 piston calipers
Rear brake 220mm disc, 2 piston caliper
Dry weight 169 kg.
Capacity tank 16 lt.
Speed max 230 km / h
Front tire 120/70-17
Rear tire 180/55-17

Bimota S.r.l. Reserves the right to make any kind of modifications to the technical charateristics, equipments and outfits without prior notice.