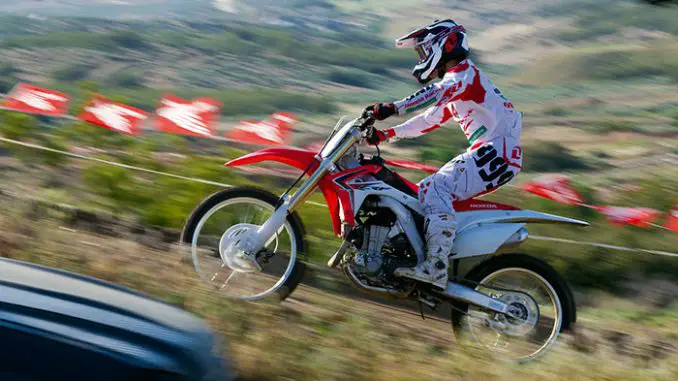 Click photos to enlarge. Our big, clean bike pics make great desktop wallpaper.
2014 Honda CRF450R Review

2014 Honda CRF450R
There is no second place
Riders and industry folk alike raved about the 2013 CRF450R. And , we've given them even more to love. For 2014, there's new intake and exhaust ports, a new Dual-Timing PGM-FI fuel injection setup, and redesigned muffler internals to boost torque output and increase throttle response.
The CRF450R is designed for the way riders ride today. There's more whipping. More scrubbing. So we built a bike that takes weight off the bike's ends, and concentrates mass towards the bike's center. The first thing you'll notice is our revolutionary air fork. It's nearly two pounds lighter than a conventional coil-spring fork, taking weight off the front. And now with improved oil flow, this year the fork is even more responsive, delivering even better handling. And new clutch springs to enhance lever feel.
The CRF450R also sports a compact dual exhaust, tucked closely to the frame to further enhance mass centralization. And with better exhaust flow, we've even managed to increase horsepower. There's also our next-generation aluminum chassis, designed to help lower the center of gravity. All in all, the 2014 CRF450R takes the best and lightest bike in its class and makes it even better. And, in doing so, plants it firmly ahead of the pack.

Affixed to the front of our CRF450R is a 48mm inverted KYB PSF (Pneumatic Spring Fork) air fork. It weighs less than a conventional spring fork. It's a breeze to adjust (just use an air pump). And now with improved oil flow, it's even more responsive and helps the front end feel more planted.

Rather than a single pipe extending outward, our twin-muffler setup is short, compact, and located low and close to the frame to improve mass centralization. And with enhanced exhaust flow, we've managed to crank out even more horsepower.

At the center of it all is our next-generation twin-spar aluminum chassis. Designed to work with the CRF450R's air fork, the spars are lower, lowering the center of gravity and improving handling. This results in a bike that delivers superior suspension action, steering feedback and chassis stiffness.

Our Factory Race Team developed the Honda Progressive Steering Damper to enhance cornering and tracking, while reducing rider fatigue. And if it's good enough for our race team, it's certainly good enough for you.
Introduced in 2013, the new-generation CRF450R has already proven itself a winner at the highest levels of racing. And that's no surprise. This awe-inspiring racing machine features a rolling chassis fully focused on meeting the needs of today's scrub generation of riders via an aluminum frame along with an innovative suspension package, plus a strategically engineered compact dual-muffler exhaust system that tucks in closely to the center of mass. Designed from the ground up as a total package that would be eminently flickable, responsive and lightweight, every element in the CRF450R chassis has been focused on attaining a low center of gravity along with class-leading mass centralization. For 2014, new intake and exhaust ports, new Dual-Timing fuel injection and redesigned muffler internals boost torque output and increase throttle response. Also, in the suspension department, revised internals in the KYB PSF® (Pneumatic Spring Fork) yield improved damping response for improved bump performance. As before, the advantages to the KYB PSF include significantly lighter weight since it uses air in place of traditional steel springs, and the design also allows incorporation of a larger 32mm cartridge damper piston for superb fork action.
Matching an agile state-of-the-art chassis to big-hitting four-stroke power and torque, since its introduction in 2002 the Honda CRF450R has proven itself a complete, winning package for the professional Motocross racer while its reliability, longevity and build quality have also made it a popular machine for the amateur racer and hobby rider alike.
The 2013 model year CRF450R featured a brand new mass-centralised frame built around KYB air suspension USD front forks, a major evolution focused on assisting the rider to turn in super-fast lap times with less effort, on the ground and whilst airborne. Packed with a host of detail upgrades from HRC, the 2014 CRF450R builds on its abilities and success.

Model Overview
Delivering improved bottom-end torque, the CRF450R's 449cc single-cylinder engine benefits from new Dual Fuel injection timing and updated twin rear silencers while the clutch features lighter springs – with no loss of durability. These modifications are aimed at providing a direct, yet sensitive connection to the rear tyre, enhancing rear wheel traction and drive plus the rider's feel for available grip. Work on the intake and exhaust ports by the CRF450R's development engineers has also produced improved over-rev and power at peak rpm.
The sixth generation aluminium twin-beam frame remains unchanged for 2014, as do the aluminium swingarm and Pro-Link rear suspension linkage. Rebound and compression damping have been refined on the company KYB rear shock, and the 48mm KYB front forks receive revised internals for improved damping response. The CRF450R's crisp styling – combining stark form with brutal function – allows the rider complete freedom to move intuitively.

2014 Honda CRF450R Key Features

– New for 2014

– New intake and exhaust ports, a new Dual-Timing PGM-FI fuel injection setup and redesigned muffler internals boost torque output and increase throttle response.

– New clutch springs give a lighter pull at the lever without sacrificing durability.

– Revised internals in the KYB PSF® (Pneumatic Spring Fork) yield improved damping response.

The CRF450R and CRF250R are renowned winning packages with a combination of power, agility and reliability that makes them popular with professional racers and hobby riders alike. Today Honda releases details of upgrades to these two models for 2014.
Following last year's major upgrades to the CRF450R, the CRF250R has now been given extensive improvements for even greater usability ahead of the 2013-14 season. A completely new mass-centralised chassis plus upgrades to the engine and suspension enhance rider control and feel, both on the ground and in the air.
The flagship CRF450R, meanwhile, has received further engine development for greater torque, throttle feel, top-end power and over-rev. Its 48mm KYB air front fork has also been upgraded for improved oil flow and damping characteristics.
Honda Genuine Accessories
– PGM-FI Tuning Kit, Skid Plate, Oil Filler Cap, Workstand
2014 Honda CRF450R Features and Benefits
Short Twin-Muffler Exhaust System
The dual exhaust on the 2014 CRF450R is compact and positioned closer and lower to the frame's center. This reduces weight off the rear, bringing more mass to the bike's center for improved "whipability." And with by improving exhaust flow, we've increased overall horsepower.

Fuel Injection PGM-FI
The settings on the CRF450R's Programmed Fuel Injection improve low- and mid-range performance, and help deliver smooth, predictable engine performance. And with our HRC Fuel Injection Setting Tool, it's easily adjustable to specific track conditions.

Next-Generation Aluminum Frame
Linking the front air fork and rear twin pipes is our Next-Gen twin spar aluminum chassis. The front spars are lower to work with the new fork. The subframe improves mass centralization. And overall, the bike has a lower center of gravity, so you get better steering feedback, suspension action and chassis stiffness and compliance.

New Cylinderhead Porting
New intake- and exhaust-port shapes work in conjunction with the new fuel-injection timing to give increased power and torque at partial throttle settings and more overrev, better suiting the CRF450R's power delivery for most riders

New Air-Fork Front Suspension
The air fork made waves in 2013. And we've made it even better this year. It's a 48mm inverted KYB PSF (Pneumatic Spring Fork), easily adjustable with a simple air pump. And now with improved oil flow, it's even more responsive, keeping your front tire planted for better tracking through turns and across whoops.

Works-Style Brakes
The 2014 CRF450R sports front and rear disc brakes with factory-spec master cylinders, and new rotor covers. You can wind down fast into turns, and get around the lap quicker.

Dunlop MX51FA Tire
The Dunlop MX51FA Tires were made for the CRF450R. Literally. We even designed the suspension to work specifically with these premium tires. So you have optimum traction and control around the track.

Seat and Bodywork
To whip and scrub, the rider needs to move around the seat more. And the seat and bodywork on the CRF450R help make that happen. Riders fit easily on the bike, thanks to minimal bodywork. And they can slide around on the seat easier for better comfort and control.

Subframe
By moving the CRF450R's twin pipes lower and closer to the bike's center, the subframe needn't support a long, extended exhaust. That means the subframe can be lighter overall. And with a wide opening at the top, it's even easier to change the air filter.

Rear Suspension
With a large-diameter sub piston, the CRF450R's fully-adjustable rear suspension delivers improved low-speed damping for better traction and handling across all track conditions.

Swingarm
The CRF450R's swingarm is specially designed to work with the updated rear suspension and Next-Gen chassis, delivering improved stability, traction and rider feedback.

Honda Progressive Steering Damper (HPSD)
Our HPSD has been purpose-built to help deliver precise steering at all points on the track, from acceleration to braking, whoops to hardpack. So you can hit your line from the opening gate through the final lap.

Engine
The CRF450R's liquid-cooled, four-valve Unicam engine's bore and stroke is set at 96mm x 62.1mm with 36mm inlet valves and 31mm exhaust valves. Both inlet and exhaust ports have been redesigned and reshaped to improve gas flow and combustion efficiency, complemented by the new PGM-FI Dual Fuel injection timing that delivers sensitive feel for power and torque at partial throttle openings. The throttle body diameter is 46mm and compression ratio is 12.5:1.
Shot-peening the piston skirt with molybdenum disulfide reduces friction while the piston oil jet uses two holes instead of one, for improved cooling of its underside. Modulating power and torque, the six-spring clutch features new springs for a lighter lever action with no loss of capacity or durability. The five-speed close-ratio gearbox is unchanged.
The short rhombohedral twin rear silencers – another key part of the mass centralisation process – feature new internals; the left/right junction area has been optimised to improve the balance and flow of exhaust gas and back pressure. Overall, the CRF450R's new engine specification delivers in three key areas: improved bottom-end torque for punching out of corners, finer feel at partial throttle openings to control drive and manage the available traction and greater top-end power and over-rev, for instant high-rpm snap and the ability to hold a given gear for longer.

Chassis
The 9.35kg aluminium twin-beam frame was designed from the outset around the 48mm KYB air suspension front fork, building on the improved suspension performance to deliver superb front tyre side-grip. Full mass-centralisation – and the the low centre of gravity – reduce physical inertia with improved high-speed stability. Rake of 27.067°, with trail of 116mm and wheelbase of 1,492mm gives razor-sharp turn-in and increased feel for available traction.
The KYB fork maintains its advantage over conventional steel springs, delivering faster response in directional stroke transitions from compression to rebound, with significantly less weight. For 2014 the KYB units receive revised rebound pistons/centre rods plus new oil lock guides, for improved oil flow and damping characteristics. In a sport where the most marginal gains matter, 25g weight has also been shaved; stroke remains 310mm.
Fully adjustable for rebound and compression damping, preload is increased or decreased via the Schrader air valve fitted on the top of the fork cap. Standard pressure is 230kPa (33psi), minimum pressure is 220kPa (32psi) and maximum pressure is 250kPa (36psi). The CRF450R can also be tied down for transport simply by removing air pressure, lowering the front end with no risk of damaging fork seals.
The aluminum swingarm provides massive rigidity for less deflection in ruts, and improved corner-exit traction. It works a compact, fully adjustable (spring preload and rebound damping, plus high and low speed compression damping) KYB rear shock; the benefit of mass centralisation in this area is reduced pitching inertia along the bike's centre line – harder braking is possible with improved stability. The shock's stroke is set at 133.5mm, allowing 315mm axle travel.
Clever packaging of equipment around the frame contributes to mass centralisation; all of the electrical components – ECU, condenser, regulator and wiring harness – are lightweight and centrally located below the throttle body.
The 2014 CRF450R's bodywork maintains the 'triangle proportion' that has long set the CRF family of competition machines apart. A phrase used by Honda's engineers during initial development of the 2013 model was 'man maximum, mechanical minimum'. Essentially the machine is built about human needs, the rider, first and foremost and mass centralization, plus enhanced ergonomics are at the heart of the CRF450R's shape.
In support of this the shrouds, side covers, seat and fuel tank offer a slim, smooth and continuous transition allowing the rider a great deal of freedom and flexibility of movement. The radiator shrouds incorporate high-efficiency channels for maximum airflow into, through and out of the compact radiators.
The front disc cover is designed in two parts, for easier maintenance of the 240mm wave-pattern disc and twin-piston brake caliper. The rear brake is a 240mm wave-pattern disc with single-piston caliper. Both calipers use sintered metal brake pads. Lightweight aluminium rims, with directly attached spoke pattern layout reduce unsprung weight; front wheel size is 21 x 1.6in and 80/100-21 tyre, the rear is 19 x 2.5in and 110-90/19 tyre.

---
2014 Honda CRF450R – USA Specifications/Technical Details
US MSRP Price: $TDA USD

ENGINE
Engine Type 449cc liquid-cooled single-cylinder four-stroke
Bore and Stroke 96mm x 62.1mm
Compression Ratio 12.5:1
Valve Train Unicam®, four-valve; 36mm intake, titanium; 30mm exhaust, steel
Induction Programmed Fuel Injection (PGM-FI), 46mm throttle body
Ignition Full transistor with electronic advance

DRIVE TRAIN
Transmission Close-ratio five-speed
Final Drive #520 T-ring sealed chain; 13T/48T

CHASSIS / SUSPENSION / BRAKES
Front Suspension 48mm inverted KYB® PSFTM (Pneumatic Spring Fork) with rebound and compression;
Rear Suspension Pro-Link® KYB single shock with spring-preload, rebound-damping adjustability, and compressiondamping
adjustment separated into low-speed and high-speed; 12.5 inches travel
Front Brake Single 240mm disc with twin-piston caliper
Rear Brake Single 240mm disc
Front Tire 80/100-21 Dunlop MX51FA
Rear Tire 120/80-19 Dunlop MX51

DIMENSIONS
Wheelbase 58.7 inches
Rake 27.04° (Caster angle)
Trail 116mm (4.57 inches)
Seat Height 37.5 inches
Ground Clearance 13.0 inches
Fuel Capacity 1.66 gallons
Curb Weight 242.7 pounds (Includes all standard equipment, required fluids and a full tank of fuel-ready to ride)

OTHER
Available Color Red
Model ID CRF450R

---
2014 Honda CRF450R – Canadian Specifications/Technical Details
Canada MSRP Price: TBA CDN
To be announced.

---
2014 Honda CRF450R – European Specifications/Technical Details
European MSRP Price: £6,799* GBP (* Includes delivery and VAT)

ENGINE
Type 4 stroke, single cylinder, uni-cam
Displacement 449.7cc
Bore Stroke 96.0mm x 62.1mm
Compression Ratio 12.5:1
Max. Power Output TBC
Max. Torque TBC

FUEL SYSTEM
Carburation FI
Fuel Tank Capacity 6.4L

ELECTRICAL SYSTEM
Ignition System Full transistor
Starter Kick
DRIVETRAIN
Clutch Type Multi plate wet clutch
Transmission Type 5 speed, constant mesh
Final Drive Chain
FRAME
Type Aluminium twin tube
CHASSIS
Dimensions (L W H) 2191mm x 827mm x 1271mm
Wheelbase 1,492mm
Caster Angle 27°
Trail 116mm
Seat Height 953mm
Ground Clearance 330mm
Kerb Weight 111kg
SUSPENSION
Type Front 48mm inverted Air Fork, 310mm stroke, fully adjustable
Rear Pro-link, Fully adjustable mono shock, 133.5 mm stroke, 315mm axle travel
WHEELS
Type Front Wire spoke
Rear Wire spoke
Tyres Front 80/100-21
Rear 120/80-19
BRAKES
Type Front 240mm Hydraulic disc
Rear 240mm Hydraulic disc
All specifications are provisional and subject to change without notice.

---
2014 Honda CRF450R – Australian Specifications/Technical Details
Australia MSRP Price: See dealer for pricing in AUD
ENGINE
ENGINE TYPE 449.7cc 4 stroke, single cylinder, uni-cam
BORE AND STROKE 96 x 62.1mm
COMPRESSION RATIO 12.5:1
VALVE TRAIN Unicam®, 4-valve; 36mm titanium intake valves, 31mm steel exhaust valves
CARBURATION PGM-FI
IGNITION Full transistor
TRANSMISSION 5-speed, constant mesh
STARTER Kick
FINAL DRIVE Chain
FRAME
DIMENSIONS 2,191mm x 827mm x 1,271mm
WHEELBASE 1,492mm
RAKE (CASTER ANGLE) 27°
TRAIL 116mm
SEAT HEIGHT 953mm
GROUND CLEARANCE 330mm
FUEL CAPACITY 6.4 litres
KERB WEIGHT 111kg
SUSPENSION
FRONT 48mm inverted Air Fork, 310mm stroke, fully adjustable
REAR Pro-link, Fully adjustable mono shock, 133.5 mm stroke, 315mm axle travel
BRAKES
FRONT 240mm Hydraulic disc
REAR 240mm Hydraulic disc
TYRES
FRONT 80/100 21 inch
REAR 120/80 19 inch
Specifications, features and prices to change by manufacturer without notice. All information correct as of posted date.