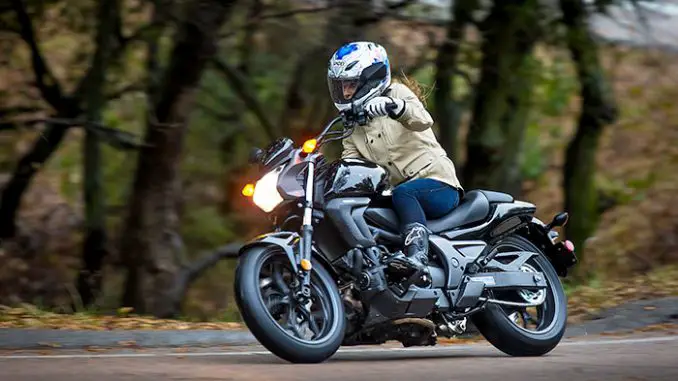 Click photos to enlarge. Our big, clean bike pics make great desktop wallpaper.
2014 Honda CTX700N Review

2014 Honda CTX700N
Meet your new favorite bike
The open road has never looked more inviting than when you're rolling along on the new 2014 Honda CTX700. Made for travel with an efficient fairing and windscreen up front, the CTX700 boasts features that make it an ideal partner for exploring all that the open road can offer. It starts with great rider accommodations, thanks in large part to a comfy seat that's only 28.3 inches high-a handy aid around town. Then there's the powerful, smooth-running 670cc engine with its twin cylinders canted 62 degrees forward for better weight distribution and a lower center of gravity for nimble handling. There's also the option of an easy-to-use automatic Dual Clutch Transmission (DCT) or a standard six-speed manual; the DCT allows riders to instantly choose between a fully automatic mode or the option of more active gear selection via "paddle-shift" type buttons on the handlebar. Better yet, the CTX700D also comes equipped with an Antilock Braking System (ABS). With its broad power curve, light and nimble handling, roomy riding accommodations and smooth engine, the CTX700 excels at long-range travel, but these qualities also make it a terrific weekend warrior or daily rider. With all this and more, all in a very affordable package, get out and see that destination you've been wanting to visit-on the Honda CTX700.
Honda's new CTX series is all about taking the best of motorcycling, adding new technology, and making it even better. The modern engines and chassis designs mean you get great performance, superior fuel economy, and plenty of useable power. The laid-back seating position is just as comfortable for a weekday commute, a weekend cruise, or a week-long vacation trip. And their low center of gravity makes for a better all-around riding experience, especially for new riders. And these two models are just the start.

Offering simplicity plus all-around performance
The brilliance of Honda engineering shines once again in the form of the 2014 CTX700N. This is a bike specifically engineered to make motorcycling more approachable, affordable and fun than ever before. Thanks to a low seat height of only 28.3 inches, riders can quickly get acclimated to life in the saddle. Honda's acclaimed automatic Dual Clutch Transmission (DCT) provides either a fully automatic mode or the option of more active gear selection via "paddle-shift" type buttons on the handlebar, and the DCT version also comes with Honda's Antilock Braking System (ABS). The 670cc parallel-twin engine features cylinders canted 62 degrees forward for better weight distribution and a lower center of gravity for nimble handling. This smooth-running fuel-injected engine pumps out loads of low-end and midrange torque to simplify taking off from stops even with the optional six-speed manual gearbox, and there's enough power on tap for wherever the road may lead. Beneath the fuel tank cover there's a handy glove box area, and the fuel is carried beneath that. All in all, the CTX700N/ND are amazingly affordable, friendly and comfortable bikes that are perfect for everyday rides, weekend trips, two-up exploring or just about anything else you can dream up. Price: $6999; $7999 for DCT/ABS model. Availability: spring 2013
2014 Honda CTX700N Key Features
Two Model Options:

– CTX700D with DCT/ABS features a second-generation automatic six-speed Honda Dual Clutch Transmission that uses two hydraulically controlled clutches to deliver quick and smooth gear changes in a choice of three modes: Manual (MT), which allows the rider to shift gears using buttons, and two automatic (AT) modes-S for sport riding and D for everyday use.

– DCT model also features an Antilock Braking System (ABS) to provide full antilock functionality for powerful and secure braking action.

– CTX700 features a manual six-speed transmission.
– Low-seat height, along with the new Honda parallel-twin engine design, creates a very low center of gravity, making the CTX700 feel remarkably nimble and fun to ride.
– Fuel capacity of 3.17 gallons plus excellent fuel economy gives the CTX700 a long cruising range.
– A rigid and compact diamond-shape steel frame, low center of gravity and plush suspension help make the CTX700 responsive, agile and enjoyable over the long haul.
– Stout 41mm front fork provides 4.2 inches of travel, while the Pro-Link® rear suspension system delivers 4.3 inches of wheel travel.
– A remarkably low seat height of 28.3 inches helps instill rider confidence.
– Open, roomy ergonomics position the rider in a well-balanced seating position for all-day comfort.
– A large array of available accessories allows owners to add just the right combination of capabilities to suit individual preferences and expand their adventures.
Part of the new CTX series, the CTX700N offers a laid-back riding position with more forward-set hand controls and footpegs, and a low 28.3-inch seat height. And we didn't forget the tech: there's an available automatic (DCT) transmission and ABS version for smooth shifting and strong stopping in less than ideal conditions. Both versions feature the fuel-efficient 670cc twin-cylinder engine in our award-winning NC700X.

The CTX700N offers an automatic transmission and ABS version at a low $7,999 base MSRP*. With the DCT automatic transmission, you can shift with the push of a handlebar-mounted button, or select the automatic mode and the bike will shift itself. Plus, you get Anti-Lock Brakes for improved stopping in less than ideal conditions.

Honda's new CTX series is all about making motorcycling fun and accessible. The CTX700N's relaxed riding position and low seat help achieve this goal.

The CTX700N's 670cc liquid-cooled parallel-twin engine produces tons of torque and enough power for easy two-up cruising. Honda twins are famous for their wide powerbands and efficiency, and this new engine is one of our best.

We want the new CTX700N to be a bike you'll want to ride every day, not just on weekends. That's why we went out of our way to design user-friendly features like the integrated storage—perfect for items you need to access fast.
CTX700N – Base MSRP $6,999*
Features & Options
•670cc Parallel-twin engine
•Integrated storage area
•Low seat height
•Sporty riding position
Honda Genuine Accessories†
– Tall Windscreen (cowl version only), Heated Grips, Heated Grip Attachment, Saddlebags, Saddlebag Stay, Saddlebag Panel (color-matched), Rear Carrier, Backrest, Backrest Bracket, Sub Harness, Accessory Socket, Chrome Master Cylinder Cover, Chrome License Plate Frame
† WARRANTY: Because we're so confident in the quality of each of our Honda Genuine Accessories, we're pleased to offer one of the best warranties in the industry. One-year warranty begins on the day accessories are purchased by the customer.
2014 Honda CTX700N Features and Benefits

– Upper fairing and windscreen divert wind around the rider, adding to comfort and reducing fatigue.
– Sophisticated liquid-cooled SOHC eight-valve 670cc parallel-twin engine pumps out abundant torque in the low-end and midrange for easily accessible power.
– An impressively broad torque curve gives the CTX700 a remarkably linear and smooth power delivery.
– A relatively long engine stroke (80.0mm combined with a 73.0mm bore) and a high-inertia crankshaft are design elements that add to the CTX700's extremely tractable power characteristics.
– The 62-degree forward lean given to the cylinder assembly facilitates near-vertical mounting of the single 36mm throttle body for superior intake port positioning and shaping. In addition, special shaping to the combustion chambers further enhance engine combustion efficiency for clean burning and optimal power production.
– An engine balancer shaft quells vibration for smooth, comfortable operation, and rubber-mounted footrests also add to rider comfort.
– Programmed Fuel Injection (PGM-FI) continuously monitors numerous variables to ensure the correct fuel mixture for existing riding and atmospheric conditions, thereby delivering optimal performance and remarkably crisp throttle response over a wide range of operating conditions.
LCD Instrument Panel
Full digital LCD instrumentation includes digital speedometer, digital bar-type tachometer, clock, low-fuel gauge, and two tripmeters. The instruments are light, compact, and easy to read, too. The DCT/ABS version adds a gear position indicator.

41mm Fork
With 4.2 inches of travel, the CTX700N soaks up the bumps and jolts in rough pavement, but also provides excellent handling and superior feedback through the handlebar.

Cast Aluminum 17-inch Wheels
The 17-inch wheels give you a wide choice of premium tires to choose from and really help the CTX700N handle like a pro on the street. The cast wheels are light and strong too.

Front and Rear Disc Brakes with Available ABS
Single front and rear disc brakes give the CTX700N great stopping power. The ABS option incorporates a Anti-lock brakes for the best possible stopping power, especially under challenging conditions.

Integrated Storage Compartment
The new CTX700N offers a convenient utility compartment that's in the fuel-tank area, making it easy to reach.

Electronic Fuel Injection
Honda's. Electronic Fuel Injection means easy startups on cold mornings and flawless running even at high elevations.

670cc Parallel-Twin Engine
With its cylinders tipped 62 degrees forward for better weight distribution, the CTX700N's engine is a big step forward in modern powerplant design. The two-cylinder format produces tons of low- and mid-range torque, and the 270-degree-phase crank and uniaxial primary balancer make it smooth, too.

Reduced Vibration
You don't need to rattle and shake when riding a motorcycle. The CTX700N's engine counterbalancer and rubber-mounted footpegs let you enjoy the ride on your commute or on a weekend getaway.

Optional Automatic Transmission
Shift with the push of a handlebar-mounted button, or select the CTX700N's automatic mode and the bike will shift itself. Honda's Dual-Clutch Transmission (DCT) has been a huge hit on our other models, and once you ride an CTX700N with DCT, you'll see why.

Diamond-Shape Steel Frame
Light, strong, and with just the right amount of stiffness, the CTX700N's rigid and compact chassis is the foundation for precise handling.

Relaxed Rider Position
The CTX700N was designed for a comfortable, confidence-inspiring ride. The rider triangle was designed to provide a relaxed riding position for most riders, so you won't feel cramped up after just a few miles down the road.

Low Seat Height
With a seat height of just 28.3 inches, the new CTX700N is confidence-inspiring and comfortable. Combine that with the forward-set controls, and it's easy to flat-foot it at stoplights or in parking lots.

Pro-Link Rear Suspension
Offering 4.3 inches of rear-wheel travel and teamed with a Honda Multi-Action System rear shock, the CTX700N eats up rough pavement while giving you a smoother ride.

Front and Rear Disc Brakes with Available ABS
Single front and rear disc brakes give the CTX700N great stopping power. The ABS option incorporates a Anti-lock brakes for the best possible stopping power, especially under challenging conditions.

Cast Aluminum 17-inch Wheels
The 17-inch wheels give you a wide choice of premium tires to choose from and really help the CTX700N handle like a pro on the street. The cast wheels are light and strong too.

---
2014 Honda CTX700N – USA Specifications/Technical Details
US MSRP Price: $6,999 USD
ENGINE
Engine Type 670cc liquid-cooled parallel-twin
Bore and Stroke 73mm x 80mm
Induction PGM-FI, 36mm throttle body
Ignition Digital transistorized with electronic advance
Compression Ratio 10.7:1
Valve Train SOHC; four valves per cylinder

DRIVE TRAIN
Transmission Six-speed
Final Drive Chain

CHASSIS / SUSPENSION / BRAKES
Front Suspension 41mm fork, 4.2 inches travel
Rear Suspension Pro-Link® single shock; 4.3 inches travel
Front Brake Single 320mm disc with two-piston caliper
Rear Brake Single 240mm disc with single-piston caliper
Front Tire 120/70-17
Rear Tire 160/60-17

DIMENSIONS
Rake (caster angle) 27.7 degrees
Trail 114.0mm (4.4 inches)
Wheelbase 60.2 inches
Seat Height 28.3 inches
Curb Weight 478.4 pounds. Includes all standard equipment, required fluids and full tank of fuel—ready to ride
Fuel Capacity 3.17 gallons
Estimated Fuel Economy† TBD

OTHER
Model ID CTX700N
Emissions Meets current EPA standards. Models sold in California meet current CARB standards and may differ
slightly due to emissions equipment.
Available Colors Cool Candy Red, Black
FACTORY WARRANTY INFORMATION
One Year Transferable, unlimited-mileage limited warranty; extended coverage available with a
Honda Protection Plan.

*Specifications subject to change without notice.

† Honda's fuel economy estimates are based on EPA exhaust emission measurement test procedures and are intended for comparison purposes only. Your actual mileage will vary depending on how you
ride, how you maintain your vehicle, weather, road conditions, tire pressure, installation of accessories, cargo, rider and passenger weight, and other factors.
---
2014 Honda CTX700N – Canadian Specifications/Technical Details
Canada MSRP Price: See dealer for pricing in CDN
CTX700N
Engine Type LIQUID-COOLED PARALLEL-TWIN
Displacement 670 CC
Bore & Stroke 73 MM X 80 MM
Compression Ratio 10.7:1
Valve Train SOHC; FOUR VALVES PER CYLINDER
Fuel Delivery PGM-FI WITH 36 MM THROTTLE BODY
Transmission SIX-SPEED
Final Drive CHAIN
Front Suspension 41 MM FRONT FORK; 107 MM (4.2 IN.) TRAVEL
Rear Suspension PRO-LINK REAR SUSPENSION SYSTEM; 109 MM (4.3 IN.)

TRAVEL
Tires FRONT: 120/70-17 REAR: 160/60-17
Brakes FRONT: SINGLE 320 MM DISC WITH TWIN-PISTON CALIPER
REAR: SINGLE 240 MM DISC WITH SINGLE-PISTON CALIPER
Seat Height 719 MM (28.3 IN.)
Wheelbase 1,529 MM (60.2 IN.)
Curb Weight 217 KG (478 LB)
Fuel Capacity 12 LITRES

Colour BLACK
Since the time of printing, some of this information may have been updated. Ask your retailer for details before
ordering. Specifications, descriptions and illustrations contained herein are based on information believed to be
correct at the time this publication was approved for printing. However, accuracy cannot be guaranteed. Honda
reserves the right to discontinue models or options at any time or change specifications and materials, equipment or
design without notice and without incurring obligation. Some of the equipment may not be exactly as shown. Some
of the equipment, described or illustrated herein may not be standard, and may be available only at extra cost, as
factory installed or retailer installed; items described as "available" may be standard on some models and optional,
or not available, on others. Equipment referred to as "available" or "optional" may be at extra cost. Some options
are required in combination with other options. For the price of the model with the equipment you desire or
verification of specifications and equipment availability described herein, see your retailer. Colour availability may vary by model. Due to printing limitations, the colours shown here and throughout may vary slightly from the actual hue. See your retailer to view accurate colour chips.
---
2014 Honda CTX700N – UK Specifications/Technical Details
UK RRP: £NA
Model not available

---
2014 Honda CTX700N – Australia Specifications/Technical Details
Australia MSRP Price: NA
Model not available
---
2014 Honda CTX700N – Press Release
Honda Announces Brand-New 2014 Models

With this press release, American Honda completes its lineup of 2013 models and begins a series of announcements that will give riders a look at some of the exciting new Honda models coming for 2014. The 2014 model year promises to be every bit as exciting as the 2013 season, as Honda continues to work at expanding the market through the introduction of innovative concepts in motorcycles, ATVs and Side-by-Sides.
"Today we're announcing the release of the final model for 2013, but we are really excited to give everyone an early look at some incredible new machines for 2014," said Powersports Press Manager Bill Savino. "We introduced a number of terrific new bikes in 2013, and now we're carrying that momentum forward with even more innovative models that cast a fresh take on riding. These new models are not only exciting in concept, attention-grabbing in looks and fun to ride, but they will bring great value for the money.
"First there's the NC700X, the final model for 2013. When we rolled out this very cool adventure-style bike in late 2012, it received a very warm welcome from the motorcycling press and riders alike, so now it's back with two color options for 2013: a new Red and Light Silver Metallic.
"Next comes the Pioneer, replacing the Big Red in Honda's Side-by-Side lineup. Why Pioneer? Because this machine brings pioneering innovation to the Side-by-Side class. Powered by Honda's fuel-injected 700cc-class liquid-cooled OHV single-cylinder four-stroke engine that features an automotive-style automatic transmission with hydraulic torque converter, three forward gears and reverse, the Pioneer also incorporates industry-leading innovations such as a versatile, adjustable seating configuration that can accommodate two, three or four people. All-new rugged and aggressive styling distinguishes the Pioneer, but it's the innovative engineering that makes this Side-by-Side unlike anything seen before.
"More big news is the launch of a whole new line of Honda motorcycles for 2014: the CTX series. These new models introduced today are just the first in a whole new family of CTX products of various displacements and engine configurations that will be rolled out in the future. CTX stands for Comfort, Technology and eXperience—a rider experience that's unique to these machines because of new Honda technologies that focus on class-leading comfort, easy-to-operate features and versatility. These first CTX machines share the same engine as the NC700X and place a premium on lightweight handling thanks in part to a low center of gravity, ergonomics that translate into day-long comfort, distinctive Urban Roadster styling and fantastic value.
We are also rolling out the CTX700, a fairing-equipped sibling ready for the open road. With the DCT and ABS combination, the CTX700D carries a suggested retail price of $8799. Both bikes will also be available with a standard transmission for $6999 and $7799 respectively, and a full assortment of Honda Genuine Accessories will also become available when these bikes land on dealership floors, including saddlebags that expand their touring capabilities.
"Obviously this is great news for enthusiasts all across the riding spectrum," said Savino. "We believe this new CTX series of motorcycles is going to be a big hit as it cuts across many demographic categories while emphasizing one key theme: the fun of riding, at an affordable price. Also, the new Pioneer Side-by-Side offers an elevated level of versatility, utility and convenience that establishes new class standards. And this is only the beginning. We will be releasing more information about other great new 2014 models, so stay tuned for more good news from Honda."
– NC700X—Adventure-style riding for the adventurous in spirit
Whether you're new to the sport, a longtime rider or just getting back into the riding scene, the adventure-style NC700X offers the comfort and practicality of an everyday motorcycle that's also surprisingly affordable. Use it as a day-to-day commuter, country road explorer, two-up getaway machine or perhaps all of the above and more—the NC700X is up to the job. Credit its long-travel suspension, abundant torque and available automatic Dual Clutch Transmission plus Combined Antilock Braking System and more, all of which make the NC700X the bike of choice when a bit of adventure starts calling your name. Price: $7499; $8499 for DCT/ABS model. Availability: spring 2013
– CTX700N/CTX700ND with DCT and ABS—Offering simplicity plus all-around performance
The brilliance of Honda engineering shines once again in the form of the 2014 CTX™700N. This is a bike specifically engineered to make motorcycling more approachable, affordable and fun than ever before. Thanks to a low seat height of only 28.3 inches, riders can quickly get acclimated to life in the saddle. Honda's acclaimed automatic Dual Clutch Transmission (DCT) provides either a fully automatic mode or the option of more active gear selection via "paddle-shift" type buttons on the handlebar, and the DCT version also comes with Honda's Antilock Braking System (ABS). The 670cc parallel-twin engine features cylinders canted 62 degrees forward for better weight distribution and a lower center of gravity for nimble handling. This smooth-running fuel-injected engine pumps out loads of low-end and midrange torque to simplify taking off from stops even with the optional six-speed manual gearbox, and there's enough power on tap for wherever the road may lead. Beneath the fuel tank cover there's a handy glove box area, and the fuel is carried beneath that. All in all, the CTX700N/ND are amazingly affordable, friendly and comfortable bikes that are perfect for everyday rides, weekend trips, two-up exploring or just about anything else you can dream up. Price: $6999; $7999 for DCT/ABS model. Availability: spring 2013
– CTX700/CTX700D with DCT and ABS—The open road never looked so inviting
The open road has never looked more inviting than when you're rolling along on the new 2014 Honda CTX™700. Made for travel with an efficient fairing and windscreen, the CTX700 boasts features that make it an ideal partner for exploring all that the open road can offer. It starts with great rider accommodations, thanks in large part to a comfy seat that's only 28.3 inches high—a handy aid around town. Then there's the powerful, smooth-running 670cc engine with its twin cylinders canted 62 degrees forward for better weight distribution and a lower center of gravity for nimble handling. There's also the option of an easy-to-use automatic Dual Clutch Transmission (DCT) or a standard six-speed manual; the DCT allows riders to instantly choose between a fully automatic mode or the option of more active gear selection via "paddle-shift" type buttons on the handlebar. Better yet, the CTX700D also comes equipped with Honda's Antilock Braking System. With its broad power curve, light and nimble handling, roomy riding accommodations and smooth engine, the CTX700/CTX700D excels at long-range travel, but these qualities also make it a terrific weekend warrior or daily rider. With all this and more, all in a very affordable package, get out and see that destination you've been wanting to visit—on the Honda CTX700/CTX700D. Price: $7799; $8799 for DCT/ABS model. Availability: spring 2013