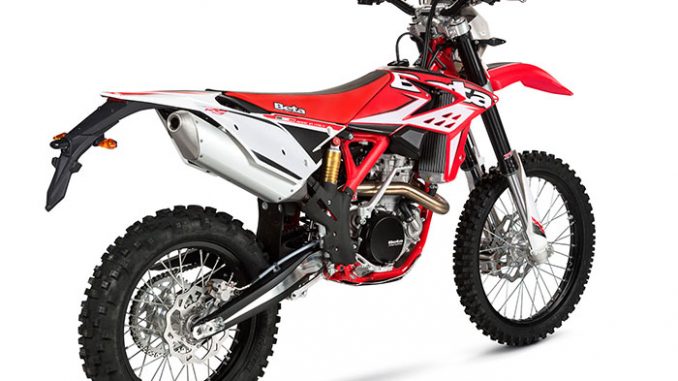 Click photos to enlarge. Our big, clean bike pics make great desktop wallpaper.
2015 Beta 390RS Review

2015 Beta 390RS on Totalmotorcycle.com
Dirt Bike with a Plate….

Trail Tech Voyager GPS unit
RR Inspired Graphics
Push-Button Seat Release
Beta-Built 4-Stroke with Electric Start
All-New Engines (2.2 lbs. lighter)
Tuck-Away Mirrors
Back-Up Kick Starter
Rear Suspension Linkage
Off-Road inspired D.O.T.Tires
Softer Seat Foam
Same Suspension as the RR Models
Available in a 390, 430 and 500
Since 1904 the Beta engineers have strived to provide innovative products that inspire, excite, and perform. 2015 is no different in that they continue to provide their customers with new models that continue to advance in both quality and features.

If you already own a Beta, we would like to say Thank You for your business! If you are looking into owning a Beta and are unsure of our history, simply ask a current Beta owner about the Beta experience. We are sure you will be impressed.
2015 Beta 390RS www.Totalmotorcycle.com Key Features

•50-State Street Legal
•Full-Featured Dual Sport
•Same Engine and Suspension Updates as the RR Models
•Voyager GPS unit with maps, engine temp, outside temp, trip meter, and much more
•Lightest Dual Sports on the Market
•Handlebar pad from Race Edition
•New design seat foam that is softer
•New graphics and color scheme based from the RR models
•More than 300 accessories available to "Make It Your Own"
2015 Beta 390RS Totalmotorcycle.com Features and Benefits

2015 RS Dual Sport 4 Stroke
The popular RS Dual Sport models are also all new including three different displacements being offered for 2015. RS models share all of the engine updates as the new RR models and are available as a 390, 430, or 500.
RS models continue to lead the "Dirt Bike with a Plate" category offering more off road ability than the competition by offering the same engine, frame, and suspension (including linkage) package as the Off Road RR models. The list of differences between the RR and RS is very short.

2015 500 RS


Class-Leading Voyager GPS units are standard on all RS models and features GPS system, MPH, tachometer, engine coolant temperature, compass, outside temperature, trip meter, maps, as well as a external SD card for uploading and downloading your adventures.

All RS models come standard with the Trail Tech Voyager GPS

RS models are fitted with cooling fan kits for the extreme Dual Sport conditions. The fan keeps engine temps down while going across the Mojave or plowing the silt beds of Baja. Other included features are aggressive Michelin Enduro tires that are designed for 90% off road and 10% on road.

2015 RR 2 Stroke
The 2015 RR Enduro 2-stroke range has also evolved, the 250 version featuring certain technical innovations and the 300 version featuring special parts from the 2014 Racing model.
The objective here is to increase the smoothness and improving power from the bottom to the top end making the "right" power available to the rider at all times and under any condition.
Bike Of The Year is Back!

Engines
The 2015 RR 2-stroke engines have undergone some changes aimed at even-better control of engine management, without reducing performance in terms of lightness and power typical of 2-stroke engines with a high output of power.
300 RR 2-Stroke: The engine comes directly from the 2014 RR Race Edition and includes a new cylinder, combustion chamber and CDI.
In particular, the reduced width of the exhaust port and better sealing of the power valve provides improved throttle response and excellent linear power without interfering in any way with the maximum power and torque figures.
The combustion-chamber profile, together with the digital electronic control unit continue to optimize engine output in every stage of operation with primary objective to increase performance and ride-ability of the bike.
250 RR 2 Stroke: The engine's exhaust valve adjustment system has been modified, increasing the number of adjustment springs from 1 to 2 in parallel, as in the 300cc engine. This change significantly improves engine output, optimizing the opening of the exhaust valve at every stage of operation.
Exhaust:
A new silencer for the 250 RR offers a smaller diameter internal pipe compared to the 300 RR which improves the precision of response to the throttle and increases peak revs.
Electric starter motor is under the engine-out of harms way

Chassis
Fork:
The Sachs USD 48mm fork has been further developed in close collaboration between Beta and Sach's engineers and feature numerous important innovations: a new design of the compression piston with "three slot" geometry in order to improve the oil flow and make it more direct so as to absorb violent shocks more progressively. To improve the general smoothness of the fork, particularly on initial impacts, a spring-support release system has been included to eliminate rotational friction, the design of the sleeves and bushings has been modified increasing the distance between the slider and the bushings, also reducing their height. Finally, the spring profile has been redesigned to guarantee better insertion inside the sleeve. Valving has been improved to increasing precision.
Shock absorber:
A new internal piston with oil passages that have been redesigned to improve its flow and reduce overheating during operation. This means that the shock absorber offers more stable performance, precise and reliable even under very intense use.
Handlebar Pad:
Ideal for the most extreme off-road riding and compliant with the standards required by FIM and AMA regulations.
Seat:
The padding has been redesigned with softer foam
Graphics:
The renewed look streamlines and adds character, maintaining the classical Beta colors.

---
2015 Beta 390RS – www.Totalmotorcycle.com International Specifications/Technical Details
MSRP Price: $TBD USD

Engine
Type: Beta-Built single cylinder, 4-valve, 4-stroke liquid cooled, electric start with back up kick starter and cooling fan kit.
Bore: 88mm
Stroke: 63.4mm
Displacement: 386cc
Compression Ratio: 2.5:1
Ignition: DC-CDI with variable ignition timing, Kokusan.
Spark Plug: NGK LKAR8A-9
Lubrication: Twin oil pumps with cartridge oil filter. Separate oil for engine and clutch .8 liter each
Carburetor: Keihin FCR-39mm
Clutch: Wet multi-disc
Primary Ratio: 31:73
Transmission: 6-speed
Final Drive: O-ring chain, DID
Chassis
Frame: Lighter Molybdenum steel with double cradle split above exhaust port. Quick Air filter access from the side.
Wheelbase: 58.1"
Seat Height: 36.6"
Ground Clearance: 12.6"
Footrest Height: 16.2"
Dry Weight: 243 lbs. dry
Electrical: Trail Tech Voyager GPS unit.
Fuel Tank Capacity: 2 US gallons
Front Suspension: 48 mm Sachs USD fork, adjustable compression and rebound, TFX technology.
Rear Suspension: Aluminum Body Sachs shock w/adjustable rebound and hi/low speed compression
Front Wheel Travel: 11.4"
Rear Wheel Travel: 11.4"
Final Gearing: 15t front, 48t rear
Front Brake: 260mm rotor
Rear Brake: 240mm rotor
Front/Rear Rim: 21" (Front) 18" (Rear)
Front/Rear Tire: Michelin Enduro, DOT approved
Warranty: 12 month Limited Warranty
*specifications subject to change without notice. Additional information on all models including manuals, accessories and parts books are available online at www.betausa.com under support.
Specifications and appearance are subject to change without prior notice.