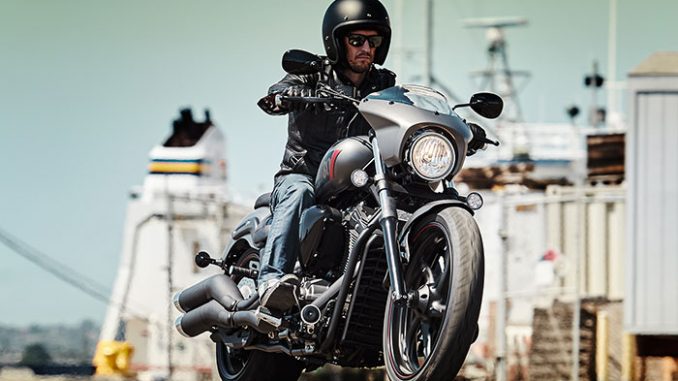 Click photos to enlarge. Our big, clean bike pics make great desktop wallpaper.

2016 Yamaha Stryker Bullet Cowl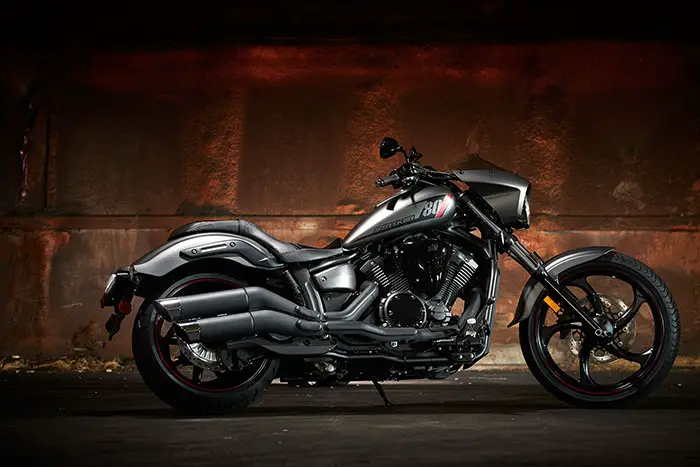 2016 Yamaha Stryker Bullet Cowl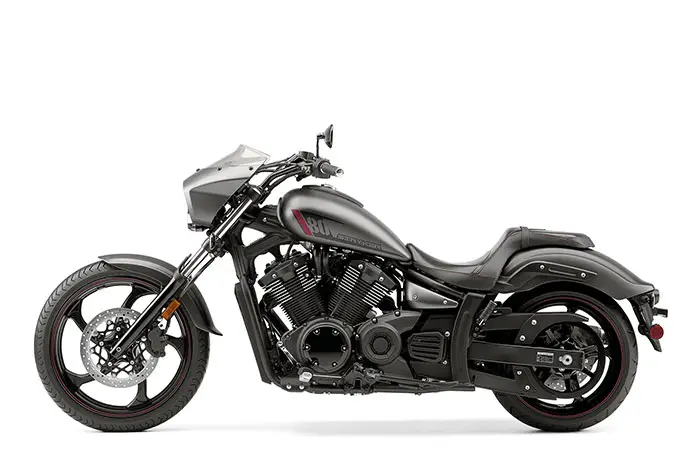 2016 Yamaha Stryker Bullet Cowl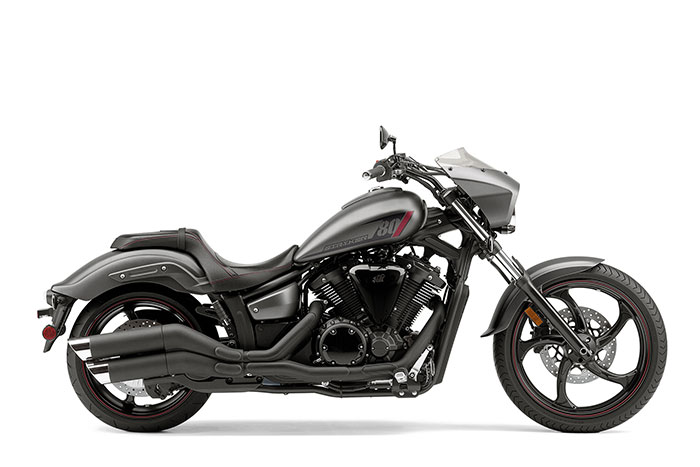 2016 Yamaha Stryker Bullet Cowl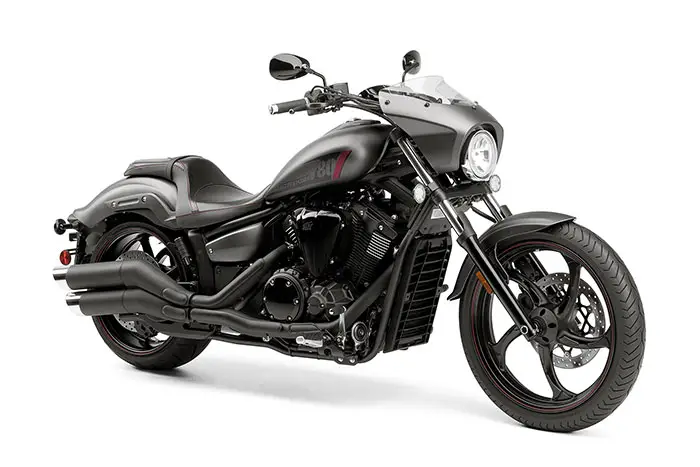 2016 Yamaha Stryker Bullet Cowl
2016 Yamaha Stryker Bullet Cowl Review

2016 Yamaha Stryker Bullet Cowl on www.Totalmotorcycle.com
The world's ultimate midsize chopper-inspired custom with bold aerodynamic bullet cowl with a hint of outlaw…
ATTITUDE AND SPORTY STYLE
The world's ultimate midsize chopper inspired custom, now with a bold aerodynamic bullet cowl.

2016 Yamaha Stryker Bullet Cowl www.Totalmotorcycle.com Key Features
Poise and Protection
The Stryker®'s aerodynamic Bullet Cowl offers a tough look and excellent wind protection.
•Real World Chopper Style
The look reinterprets classic custom chopper styling for an aggressive feel. High-end looks without the high-end price tag.
•Potent Motor
Gutsy 1304cc, fuel-injected liquid-cooled V-Twin engine churns out the inspired, big-engine feel riders will love.
•Agile Handling
Even with its radically raked out front end, Stryker Bullet Cowl has the superbly nimble and lightweight handling that choppers and mid-class competitors can only dream about.
•Low Seat Height
Low seat height (26.4 inches) allows riders to put both feet on the ground and helps provide this bike's natural, relaxed and comfortable riding position.
•Stylish Custom Wheels
Custom 5-spoke aluminum wheels carry a wide 210-series rear tire and chopper-inspired 21-inch front wheel that reinforce the muscular styling of the bike.
•Real Steel Fenders
No cheap plastic fenders here—this authentic cruiser has real steel fenders customizers love. Classic belt drive, too.
•Ready to Customize
Get started on your own customization with two trim packages in high-quality chrome, or an aggressive looking, blacked out package. The Star® Accessories Catalog is packed full of high-quality parts that invite Star owners to fully express their individuality.




2016 Yamaha Stryker Bullet Cowl www.Totalmotorcycle.com Features and Benefits

ENGINE
Potent, Charismatic Engine
The 80-cubic (1304cc) liquid cooled SOHC 60° V-twin engine, with four valves per cylinder, 9.5:1 compression ratio and dual counterbalancers, delivers smooth power to the ground, while maintaining the classic big cruiser sound and pulse characteristics.
•Compact, Low Friction Cam Drive
To keep friction loss to a minimum and help the engine achieve the ideal performance characteristics, special compact roller-type rocker arms with needle bearings are used. These also reduce top-end weight for excellent mass centralization.
•High Performance Cylinder Heads
Four valves per cylinder (36mm intake, 32mm exhaust) provide optimum combustion efficiency. Roller rocker arms reduce friction for better performance and reduced wear.
•Advanced Cylinder Design
Ceramic-composite-plated cylinders provide excellent heat dissipation, high durability and reduced oil consumption.
•Forged Pistons
High-quality forged aluminum 100mm pistons have a lightweight, high-strength compact design that contributes to high performance and reduce vibration.
•Classic V-twin Sound
Forged connecting rods ride a single crankpin for true V-twin sound and power.
•Yamaha Fuel Injection
Sophisticated twin bore fuel injection is used on the Stryker Bullet Cowl. Each cylinder is fed by its own injector spraying into twin 40mm throttle bodies, while the computer-controlled system provides a precise amount of fuel/air mixture to the engine for optimal performance in all conditions. The result is strong, smooth and seamless performance across the full range of engine rpm.
•Smooth Shifting Transmission
The 5-speed transmission has a smooth shifting feeling, and gear ratios spaced to let the rider take full advantage of the engine's torque characteristics and enjoy comfortable riding while cruising down the boulevard or at highway speeds.
•Low Maintenance Belt Final Drive
The belt drive transfers power from the transmission to the wheel with authority. The belt system is clean, quiet and virtually maintenance-free and delivers a quicker, more impressive throttle response feeling than a shaft drive.
•Throaty Exhaust
The exhaust system, designed specifically for Stryker, adds to the awesome look of this bike while also optimizing its engine performance—and it has a magnificent exhaust note.
•Cleanly Styled Motor
The classic cylinder fin styling of an air-cooled engine with a sly cooling system that routes liquid through hidden hoses and internal engine passages for air-cooled looks and liquid-cooled performance. Oil filter is easy to get to but also tucked nearly out of sight for clean looks.



CHASSIS / SUSPENSION
Balanced Chassis
The open neck double cradle steel frame has four solid engine mounts, including one atop the front cylinder head giving the bike a rigid base for precise handling not normally found on a raked out custom.
•Kicked-out Front Fork
The 6° yoke and raked triple clamps combine to provide a total of 40° of fork rake. This achieves the aggressive raked out styling image and solid straight-line performance you'd expect, while at the same time providing light, nimble handling characteristics, even at low speeds.
•Rear Suspension
The rear suspension is a bottom-link-type Monocross system with a gas charged single shock with adjustable spring preload. Settings are calibrated to deliver a plush ride that is increasingly firm as the suspension is compressed for good handling and comfort over bigger bumps in the road.
•Low Seat Height
Seat height is low, just 26.4 inches, letting the rider feel in rather than on the bike when riding, and enjoy having both feet planted firmly on the ground when stopped.
•Real Steel Fenders
Steel fenders—rather than cheap plastic fenders found on some competitors—are one of this bike's authentic cruiser features. Steel fenders are ideal for customizers who want to cut, chop or modify their bikes.
•Stylish Custom Wheels and Tires
Aluminum wheels have low profile tires. A wide 210-series rear tire and 21-inch front wheel add to the aggressive attitude of the bike.
•Pure Cruiser Attitude
The relaxed riding position is complemented by the carefully chosen handlebar position, which puts the rider's arms comfortably level with the horizon, for a "fists-punching-the-wind" attitude.
•Stand Out Fit-and-Finish
When Stryker Bullet Cowl is parked, it's sure to draw attention. The richly sculpted rear fender over the wide rear tire, the low sculpted seat, the forward mounted foot controls and blacked out components make the Stryker Bullet Cowl stand out from the competition. With a fit and finish that's usually reserved for hand-made customs, it's clear this is no run-of-the-mill cruiser.
•Powerful Brakes
Large 320mm front and 310mm rear discs provide serious stopping power.



ADDITIONAL FEATURES
Clean Detailing
Aggressive, tough custom styling theme sets Stryker Bullet Cowl apart, with sharp detailing like the beefy 1" handlebars that connect right to the upper triple clamp for exceptionally clean looks.
•Excellent Lighting
Bright multi-reflector headlight, LED taillight, and custom amber LED turn signals behind clear lenses give a custom look.
•Detailed Instruments
Stylish instrumentation includes an analog speedometer along with LCD display with twin trip meters a fuel trip meter and a clock; indicator lights for high beam, turn signal, low oil level, low fuel, coolant temperature, neutral and engine diagnostic functions.



---
2016 Yamaha Stryker Bullet Cowl – www.Totalmotorcycle.com USA Specifications/Technical Details
US MSRP Price: $12,090 – Matte Gray – Available from November 2015

Engine Type 80-cubic-inch (1304cc) liquid-cooled SOHC Vtwin; 8 valves
Bore x Stroke 100.0mm x 83.0mm
Compression Ratio 9.5:1
Fuel Delivery Electronic fuel injection
Ignition TCI: Transistor Controlled Ignition
Transmission 5-speed; multiplate wet clutch
Final Drive Belt
Suspension / Front Telescopic fork; 5.3-in travel
Suspension / Rear Single shock; 3.9-in travel
Brakes / Front Hydraulic disc, 320mm
Brakes / Rear Hydraulic disc, 310mm
Tires / Front 120/70-21
Tires / Rear 210/40R18
L x W x H 99.6 in x 33.9 in x 44.5 in
Seat Height 26.4 in
Wheelbase 68.9 in
Rake (Caster Angle) n/a
Trail n/a
Ground Clearance n/a
Fuel Capacity 4.0 gal
Fuel Economy 41 mpg
Wet Weight 650 lb
Warranty 1 Year (Limited Factory Warranty)
Color Matte Gray

** Fuel economy estimates are based on US EPA exhaust emission certification data obtained by Yamaha.
Your actual mileage will vary depending on road conditions, how you ride and maintain your vehicle,
accessories, cargo and operator/passenger weight.
*** Wet weight includes the vehicle with all standard equipment and all fluids, including oil, coolant (as
applicable) and a full tank of fuel. It does not include the weight of options or accessories. Wet weight is
useful in making real-world comparisons with other models.



---
2016 Yamaha Stryker Bullet Cowl – www.Totalmotorcycle.com Canadian Specifications/Technical Details
Canada MSRP Price: $NA CAD
See 2016 Yamaha Stryker SE
Specifications, appearance, and price of product are subject to change without notice.
* MSRP does not include freight, PDI (Pre Delivery Inspection), pre-rigging (boats), or taxes. Dealer may sell for less. See your local dealer for out the door pricing.
± Fuel economy estimates are based on US EPA exhaust emission certification data obtained by Yamaha and converted into Canadian measurements. Your actual mileage will vary depending on road condition, how you ride, maintain your vehicle, accessories, cargo and operator/passenger weight.
---
2016 Yamaha Stryker Bullet Cowl – www.Totalmotorcycle.com European Specifications/Technical Details
Europe/UK MSRP Price: See Dealer for pricing in GBP (On The Road inc 20% Vat)
Model Not Available


*Starting at MSRP is the manufactured suggested price and excludes delivery, setup, tax, title, license, and additional fees and expenses. Bikes may be shown with optional accessories. Final sale price determined by an authorized dealer. Specifications and MSRP are subject to change.
Manufacturer Specifications and appearance are subject to change without prior notice on Total Motorcycle (TMW).