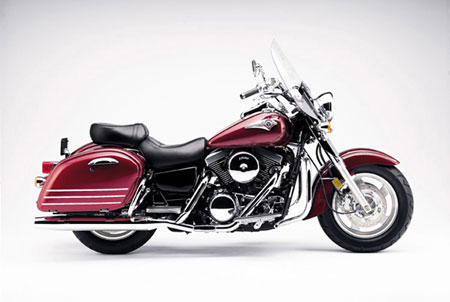 Back to 2001 Kawasaki Motorcycle Index Page
Click photo to enlarge.
It makes a great desktop image.


2001 Kawasaki Vulcan 1500 Nomad


2001 Kawasaki Vulcan 1500 Nomad


2001 Kawasaki Vulcan 1500 Nomad

 
– 2001 Kawasaki Vulcan 1500 Nomad
.
Kawasaki conquers highway cruising with the Vulcan™ 1500 Nomad™, a tour-ready V-twin featuring the unmistakable sound, feel and look of the classic motorcycle cruiser. In fact this model is based on the Vulcan 1500 Classic, which took the cruiser market by storm with its big 1470cc V-twin engine, classic good looks and reasonable price. The Nomad adds touring amenities to make it ready to cruise down the boulevard, out of town and into adventure on the open highway.


2001 KAWASAKI VULCAN™ 1500 NOMAD™
Classic Tour-Cruiser
The Kawasaki Vulcan 1500 Nomad is a tour-ready V-twin featuring the unmistakable sound, feel and look of the classic motorcycle cruiser. Based on the Vulcan 1500 Classic, which took the cruiser market by storm with its big 1470cc V-twin engine, classic good looks and reasonable price, the Nomad motorcycle adds touring amenities to make it ready for cruising down the boulevard, out of town and into the adventures of the open highway.
Besides the highly stylized hard saddlebags, the Nomad is ready to go the distance with a comfortable upright seating position and ergonomic floorboard location, an adjustable windshield, rear passenger floorboards, wide control levers, reinforced chassis, wide tubeless tires mounted on alloy wheels and dual front disc brakes.
The Vulcan 1500 Nomad retains a classic look centered on its big 1470cc liquid-cooled V-twin engine. The carburetor features the Kawasaki Throttle Responsive Ignition Control (K-TRIC) system that adjusts ignition timing for all throttle settings for excellent engine response. The combination of large airbox connecting ducts and K-TRIC system helps enhance mid-range power and provides better fuel efficiency.
There is also a carburetor heating system for improved cold-weather throttle response. Heated engine coolant is routed through the carburetor when the temperature sensor opens the coolant passage.
Overall engine performance is enhanced by a five speed transmission with gears precisely spaced to intensify acceleration and power is delivered to the rear wheel through reliable, quiet shaft drive.
The engine is rubber mounted in the frame and has a gear-driven balancer to smooth out handlebar and floorboard vibration while retaining that distinctive V-twin rumble. There are also hydraulic valve lash adjusters and automatic cam chain tensioners that increase reliability and greatly reduce engine
maintenance. The exhaust system uses a muffler on each side of the rear wheel for added style and performance.
To increase touring load capacity, the Vulcan 1500 Nomad has large-diameter frame tubing. A large-diameter steering head tube and gusseting in the steering head area offer exceptional rigidity and stability. A wide front tire gives the front end a secure, planted feel, and both tires are tubeless and mounted on five-spoke, cast alloy wheels.
At the rear, the shock absorbers are air and rebound damping adjustable for plush action even with the extra loads of touring. Large dual front disc brakes and a single rear disc brake provide excellent stopping power and feel.
The Vulcan 1500 Nomad provides plenty of comfort for both the rider and passenger with wide, well-placed floorboards and wide seats with thick, soft foam. A clear windshield helps deflect the wind and its two-inch range of adjustment allows it to be raised or lowered. Wide clutch and brake levers give riders a good feeling of the controls, while the self-canceling turn signals add convenience.
The removable hard luggage flows with the classic lines of the Vulcan Nomad. Available removable inner saddlebag liners make packing and unpacking quick and convenient.
Cruiser enthusiasts can add their own personal touch to their Vulcan motorcycle with genuine Kawasaki Fire & Steel™ accessories that are available at Kawasaki dealerships or online at buykawasaki.com.
Kawasaki backs the Vulcan 1500 Nomad with a 24-month limited warranty that can be extended up to three additional years with the Good Times™ Protection Plan, the best warranty in the class.
From the city streets to the open highway, the Kawasaki Vulcan 1500 Nomad was made to wander in style.
2001 VULCAN™ 1500 NOMAD™ FEATURES
1,470cc OHC V-Twin
The "classic" motorcycle engine design borrowed from the Vulcan 1500 Classic
To allow more clearance for saddlebags, the exhaust system has dual mufflers
Liquid Cooling
More even running temperatures mean no "power fade" on hot days and longer engine life
Includes warning light
Auxiliary fan keeps things cool, even in traffic
Four Valves per Cylinder
Boosts low end torque
Hydraulic Valve Lash Adjusters
Keep valves quiet with no maintenance, no adjustment required
Kawasaki Throttle Responsive Ignition Control (K-TRIC)
K-TRIC has a throttle position sensor to monitor engine load and control ignition advance for best power, fuel economy and detonation resistance
Single 40mm CVK Side-Draft Carburetor
Equipped with an accelerator pump for quick throttle response
Engine coolant circulates to the carburetor to warm it to optimum temperature in cooler weather
Two stage air intake with paper air filter element
High Output Charging System
Specially designed to support lots of electrical accessories; a few extra lights won't bog this one down
Gear-Driven Engine Balancer
Counter-rotates at engine speed to cancel vibration
Allows use of single-pin crankshaft without the heavy vibration
Rubber-Mounted Engine
All but eliminates engine vibration at all speeds
Five-Speed Transmission
Five-speed transmission combines great around-town acceleration with relaxed highway cruising
Positive Neutral Finder
A Kawasaki exclusive, just lift the shift pedal from first at a stop to find neutral easily, every time
Large, Adjustable Windshield
Gives excellent rider and passenger weather protection
Windshield is adjustable up and down two inches
Heavy-duty chromed support hardware holds the windshield rock steady
Hard Saddlebags
Designed for easy packing, these saddlebags will carry an amazing amount of gear
Side-open design for smooth looks and quick access
Passenger Footboards
For maximum comfort on long rides
Disc Brakes
Dual 280mm discs up front for maximum stopping power fully loaded
A large, 320mm single rear disc because touring bikes carry so much of the load on the rear wheel
Shaft Drive
A reliable, clean and quiet, low-maintenance drive system
Hydraulic Clutch Release
Easy to operate and maintain
Kawasaki Vulcan™ Cruisers
By introducing the KZ900 LTD in 1976, Kawasaki was an early leader in what has become today's cruiser movement. Ten years later, when the Vulcan™ 750 cruiser debuted, it was one of Kawasaki's first V-twin-powered cruisers and featured high-tech items such as dual disc brakes up front and mag wheels. In 1995, Kawasaki unveiled the Vulcan 800, which was one of the first V-twin metric cruiser models to feature American styling.
And now Kawasaki features one of the fullest and most diverse lines of cruiser motorcycles in the industry. From our top selling Vulcan 1500 Classic and the bikes it has spawned like the 1500 Nomad™ and Drifter™, Kawasaki has a cruiser to suit your style. And whatever you choose, you will invariably be happy with the styling, quality engineering and performance of a Kawasaki Vulcan cruiser.
A key element to the cruiser lifestyle is customizing to fit individual design tastes and performance needs. Fortunately, Kawasaki offers its own extensive line of genuine Fire & Steel™ accessories. Motorcyclists can choose from literally hundreds of parts to customize their Kawasaki cruiser motorcycles, and doing so, make their own bold statement. Customers can find Fire & Steel accessories at their local Kawasaki dealer or shop online at buykawasaki.com.
2001 Vulcan 1500 Nomad FEATURES
Parallel-Twin 676cc Engine with Balancer
Broad torque at low- and mid-range
Smooth and reliable
Balancer smoothes vibration
Engine rubber-mounted in chassis for greater rider comfort
Durable bevel cam drive
Four Valves Per Cylinder
Better breathing for more power and low end torque
Single overhead cam design is simple, lightweight, and practical
Five-Speed Transmission
Ratios designed for great acceleration and relaxed highway cruising
Exclusive Positive Neutral Finder
34mm CVK Carburetors With Kawasaki Throttle Responsive Ignition Control (K-TRIC)
A position sensor monitors throttle position so that its micro-computer can determine the best ignition timing for more power and better fuel economy
Double Cradle Frame with Square Section Backbone
Compact and stable
Riding Comfort
Long seat for two-up riding
Traditional styling offers upright seating position
Kawasaki Clean Air (KCA) Exhaust System
Feeds air into exhaust port to reduce emissions
Front Disc Brake
300mm front disc brake with dual piston caliper provides sure stops
Centerstand
Simplifies servicing, cleaning or parking
Maintenance-free Battery
Longer lifespan, hassle free
Spin-on Oil Filter
Automotive spin-on style simplifies oil changes

New for 2001:
Luminous Vintage Red
Specifications:

Model
VN1500-G3

Engine Type
4-stroke V-Twin

Displacement
1470cc
Bore x Stroke
102 x 90 mm.

Compression Ratio
8.6:1

Valve System
SOHC, 8 valves

Fuel System
Digital Fuel Injection

Ignition
Digital

Starting
Electric

Transmission
5-speed

Rake
32 degrees

Wheelbase
65.6″

Suspension, Front
41 mm.

Suspension, Rear
air-assisted shocks with 4-way rebound damping

Tire Front
150/80-16

Tire Rear
150/80-16

Brakes, Front
Dual discs

Brakes, Rear
single disc

Seat Height
28.3″

Fuel Capacity
4.2 gallons

Dry Weight 732 pounds


Specifications are subject to change without notice, in accordance with national regulation and legislations.