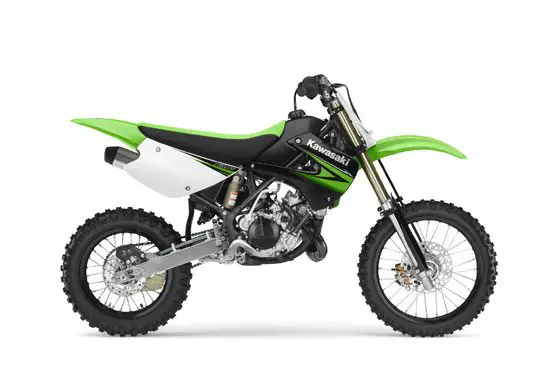 Back to 2010 Kawasaki Motorcycle Index Page
Click photos to enlarge.
They make great desktop images.
– 2010 Kawasaki KX85

2010 Kawasaki KX85
Tomorrow's champions start here
For the growing, young rider ready to step it up to the next level or slightly older beginners looking to start racing, the Kawasaki KX™85 is a youth racer's dream. Powered by a liquid-cooled, two-stroke, single-cylinder 84cc engine that generates race-winning power, the KX85 is packed with high-tech features such as an electrofusion-coated cylinder with a narrow squish band and large-volume combustion chamber to boost top-end power.
Its 28mm Keihin carburetor features a crescent-shaped slide, which permits positioning the needle closer to the intake ports, optimum fuel atomization and smoother fuel delivery throughout the powerband. Further enhancing the KX85's tractable power delivery are the Kawasaki Integrated Power-valve System (KIPS®) and tuned exhaust pipe that provides better drive out of the corners and a linear power delivery for young riders of varying skill levels.
The KX85's six-speed transmission delivers smooth and positive shifting along with enhanced durability thanks to hard chrome-finished shift fork ends, a thick base on the clutch basket housing and an additional bushing on the input shaft.
A high-tensile steel perimeter frame, with a specially designed gas tank that sits inside the frame, keeps the fuel load and center of gravity low for improved handling – yet another beneficial feature borrowed from KX85's larger siblings.
Long-travel suspension at both ends helps to smooth out the roughest course for riders of every size and skill level. The 36mm inverted cartridge fork features 18-way compression damping adjustability, while out back, spring preload, compression and rebound damping are all adjustable on the proven UNI-TRAK? rear suspension system.
The KX85 sports a black frame that is wrapped in lime green body panels, black shrouds, new lightweight black aluminum wheels, and aggressive graphics. The end result is a factory-look racer with factory-like performance.
Those who race their KX85 at designated events are eligible to receive support from Team Green™, Kawasaki's amateur racing support program. Each year, Team Green provides regional support vehicles and highly trained technicians at more than 100 events throughout the United States, offering technical information and assistance to those who race Kawasaki products. Kawasaki also offers a comprehensive contingency program for amateur and professional riders who place well at designated events.
Boasting a high tensile perimeter frame, aluminum rims, stiff inverted forks, fully adjustable suspension, and a faster revving flywheel, these KX's are serious competitors
Authentic Kawasaki Accessories are available through Kawasaki dealers.
Features and Benefits:

Liquid-cooled, two-stroke, single-cylinder 84cc Engine
– Lightweight Electrofusion-coated cylinder improves heat transfer while resisting abrasion and seizure
– Bridges between intake and exhaust ports are machine finished for less wear and improved reliability
– Liquid-cooling means even-running temperatures and consistent power output
– Rotor comes with rare-earth magnets -the unitized piece is small, light and more efficient with low inertial moment improves low-rpm response
– Connecting rod big-end bearing has more rigid cage for improved durability
– Intake port shape and cylinder skirt allow cooling air into the crankcase chamber
– Primary gear is secured using a lock-nut to help reduce mechanical noise
– Metafoam gaskets for the generator and water pump covers improve sealing
Kawasaki Integrated Power Valve System (KIPS®)
– KIPS system varies exhaust-port height for increased horsepower and torque at all rpm
– Produces a broad powerband with more low-end torque and mid-range, while retaining excellent top-end power
– Breather in KIPS cover improves high-rpm and overrun performance
Clutch
– Thick base clutch hub rides on needle bearings for smooth action
– Large clutch plates are 119mm in diameter for durability and control
– Clutch-release lever ratio is designed for light clutch lever action
– Clutch plate service cover simplifies maintenance and utilizes a metal-carbon composite gasket
28mm Keihin PWK carburetor
– Large crescent slide carburetor positions the needle closer to intake ports for excellent throttle response and improves power
– Adjustable for various conditions
Airbox
– Large right-side cutout improves airflow for increased power
– Reusable foam air filter
Exhaust System
– Features large-diameter O-ring and groove on exhaust pipe for improved durability and easy installation
– Aluminum silencer is re-packable like larger KX models
Six-speed Transmission
– Positive shifting action and rugged durability
– Fifth and sixth gears on the input shaft ride on bushings for added reliability
– Shift forks are hard chrome finished to resist wear and seizing
– Convenient oil level window
– Bushings on the second, third and fourth gears on the output shaft increase durability
High-tensile Steel Perimeter Frame
– Wide footpegs for better control, made of cast steel for strength
– Thick footpeg mounting brackets withstand today's rigorous tracks
– Engine and chassis bolts have rust-resistant coating
Fuel Tank
– Gas tank design lowers center of gravity for improved handling
UNI-TRAK® Rear Suspension
– The swingarm uses large cross-section beams for improved rigidity and control
– Cast-aluminum drive chain adjuster sections for easy chain adjustments
– Shock is fully adjustable for compression and rebound damping and spring preload
36mm Inverted Cartridge Fork
– Inverted forks are rigid, providing better steering response and control
– Compression damping is 18-way adjustable
– Aluminum upper fork tubes measure 49.5mm in diameter for flex-free performance
Front and Rear Disc Brakes
– Front brake lever shape offers better feel
– Forged-aluminum rear brake pedal is strong, lightweight and features two seals at the pivot for smooth operation and increased durability
– Strong braking power is achieved with minimal effort
Front and Rear Wheels
– Rear hub features two wheel bearings on the drive side of the hub for durability
– Rear-axle diameter is large for more rigidity
Graphics
– Aggressive Kawasaki Lime Green and Black graphics just like larger KX models

2010 Kawasaki KX85 Technology
Overview

Engine

Quick revving, liquid cooled engine.
Kawasaki Integrated Power Valve System (KIPS) varies exhaust port height for increased horsepower and torque throughout the rev range.
Breather added to KIPS cover relieves exhaust pressure for more precise KIPS valve action contributing to improved high-rpm and overrun performance.
Electrofusion coating on the aluminum cylinder provides rapid heat transfer, superb wear resistance and optimum lubrication retention for increased performance and durability.
Keihin PWK28 carburetor features a crescent shaped slide that enables the needle to sit closer to the intake ports for quick throttle response.
Carbon fibre reeds aid throttle response. The carbon fiber weave of the reed valves is 45 degrees to the intake tract so that the reed is more flexible and correspondingly more responsive at lower rpm.
The right side of the airbox is cut back to increase airflow and draw air from behind the number plate as well as below the seat.
Digital Capacitor Discharge Ignition (CDI) precisely controls timing, no matter how fast the rpm changes.
Lighter magneto rotor uses powerful neodium (rare-earth) magnets to lower inertial moment from 6.3 kg/cm2 to 4.0 kg/cm2 which improves low-rpm response.
Tough 6-speed transmission has bushings added to 2nd, 3rd, and 4th gears on the output shaft for increased durability. Fifth and 6th gears on the transmission input shaft also ride on bushings.
The ends of the shift forks are hard-chrome finished for durability.
Thick base at the clutch housing fingers for increased durability.
The right hand engine cover provides a separate clutch cover for quick servicing at the track without removing the water pump.
Single radiator mounted on the right side keeps the engine cool during long motos.

Chassis

High Tensile Steel Perimeter Frame combines narrow dimensions, steep rake angle and high rigidity for quick handling without sacrificing straight-line ability.
Bolt on tail section eases repairs and maintenance.
36mm inverted cartridge fork provides a progressive ride to better resist bottoming and fit larger and more aggressive riders.
Inverted forks are more rigid to provide better steering response and control.
Fork compression damping is 18-click adjustable and the cartridge design means better action.
The aluminum upper fork tubes measure 49.5mm in diameter for flex free performance.
Uni-Trak rear suspension settings provide a progressive ride to better resist bottoming and accommodate larger, more aggressive riders.
Fully adjustable rear shock spring preload, 4-click compression damping, and 16-click rebound damping allows the suspension to be tuned for specific conditions.
Mono-tone seat cover uses a high-grip top and smooth sides for good grip when sitting and high mobility when riding on the pegs.
Hydraulic front and rear disc brakes feature drilled discs for light weight.


Colours
Lime Green
2010 Kawasaki KX85 – USA Specifications
MSRP $3,849 USD

Engine: Two-stroke single with KIPS®
Displacement: 84cc
Bore x stroke: 48.5 x 45.8mm
Cooling: Liquid
Carburetion: Keihin PWK28
Induction: Crankcase reed valve
Compression ratio: 10.0:1 (low speed) – 9.2:1 (high speed)
Ignition: Digital CDI
Transmission: Six-speed
Final drive: Chain
Frame: High-tensile steel perimeter design with subframe member
Rake / trail: 27 degrees / 3.5 in.
Front suspension / wheel travel: 36mm inverted telescopic cartridge fork with 18-way compression damping / 10.8 in.
Rear suspension / wheel travel: UNI-TRAK® single-shock system with 4-way compression and 16-way rebound damping, plus adjustable spring preload / 10.8 in.
Front tire: 70/100×17
Rear tire: 90/100×14
Front brake / rear brake: Hydraulic disc / Disc
Overall length: 71.7 in.
Overall width: 28.9 in.
Overall height: 41.5 in.
Ground clearance: 13.4 in.
Seat height: 33.1 in.
Curb weight: 152.1 lbs.
Fuel capacity: 1.5 gal.
Wheelbase: 49.4 in.
Color: Lime Green/Ebony
MSRP: $3,849


*Note: Specifications and pricing are subject to change.





2010 Kawasaki KX85 – Canada Specifications
MSRP: $4,699 CDN
ENGINE
Type Liquid cooled, 2-stroke Single with KIPS
Displacement 84 cc
Bore and Stroke 48.5 x 45.8 mm
Compression Ratio 10.0:1 (low speed); 9.2:1 (high speed)
Carburetor Keihin PWK28
Induction 2-petal carbon-fibre piston reed valve
Ignition Digital CDI
Lubrication Pre-mix (32:1), 2-stroke racing oil

DRIVETRAIN
Transmission 6-speed, return
Primary Drive Gear
Final Drive Chain
Primary Reduction Ratio 3.400 (68/20)
Gear Ratios: 1st 2.538 (33/13)
2nd 1.875 (30/16)
3rd 1.500 (27/18)
4th 1.250 (25/20)
5th 1.090 (24/22)
6th 0.956 (22/23)
Final Reduction Ratio 3.571 (50/14)
Clutch Wet multi-disc, manual

FRAME
Type High-tensile steel perimeter with bolt-on steel rear section
Suspension: Front 36 mm inverted telescopic fork, 18-click compression
Rear Uni-Trak with fully adjustable preload, 4-click compression and 16-click rebound damping
Wheel Travel: (Front,Rear) 275 mm, 275 mm
Tires: (Front, Rear) 70/100-17 40M, 90/100-14 49M
Caster (Rake) 27°
Trail 89 mm

BRAKES
Front Single-piston caliper, 220 mm disc
Rear Single-piston caliper, 184 mm disc

DIMENSIONS
Overall Length 1,820 mm
Overall Width 735 mm
Overall Height 1,055 mm
Wheelbase 1,255 mm
Ground Clearance 340 mm
Seat Height 840 mm
Curb Mass 69 kg (152.1 lbs)
Fuel Capacity 5.5 litres

DETAILS
MSRP $4,699
Colour Lime Green
The specifications mentioned here apply to and have been achieved by production models under standard operating conditions. We intend only to give a fair description of the vehicle and its performance capabilities but these specifications may not apply to every machine supplied for sale. Kawasaki Heavy Industries, Ltd. reserves the right to alter specifications without prior notice. Equipment illustrated and specifications may vary to meet individual markets. Available colours may vary by market.