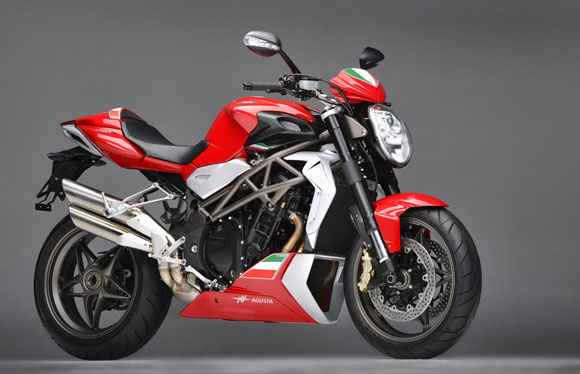 Back to 2011 MV Agusta Motorcycle Index Page
Click photos to enlarge.
They make great desktop images.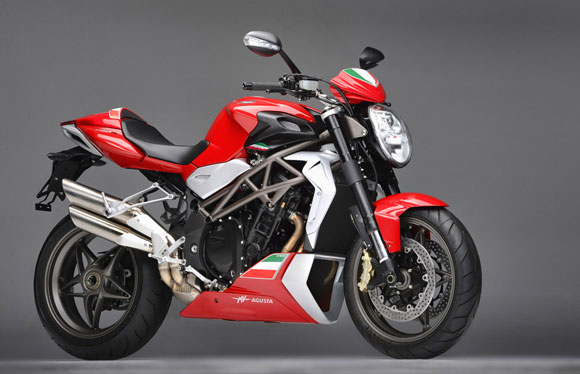 2011 MV Agusta Brutale 990R LE 150th Anniversary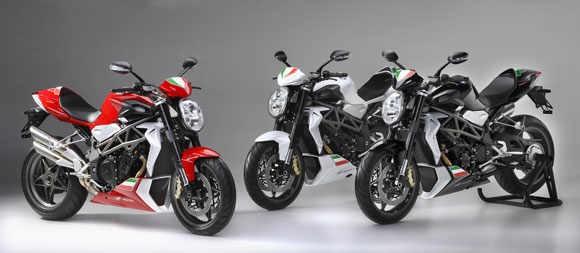 2011 MV Agusta Brutale 990R LE 150th Anniversary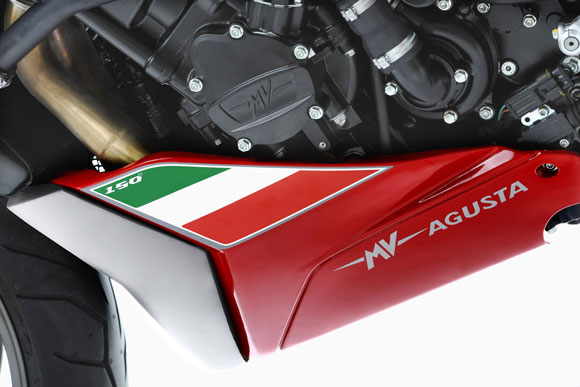 2011 MV Agusta Brutale 990R LE 150th Anniversary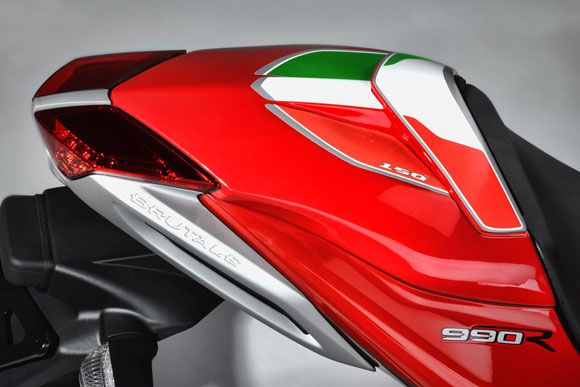 2011 MV Agusta Brutale 990R LE 150th Anniversary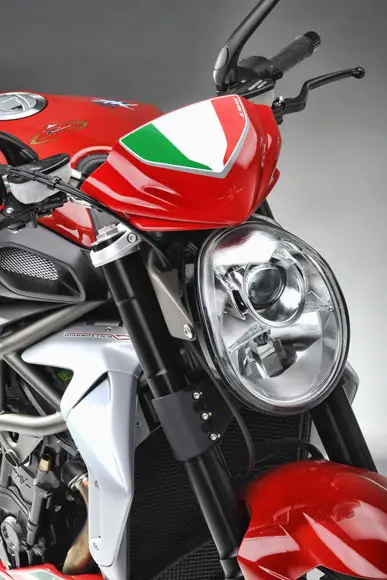 2011 MV Agusta Brutale 990R LE 150th Anniversary
– 2011 MV Agusta Brutale 990R LE 150th Anniversary

2011 MV Agusta Brutale 990R LE 150th Anniversary
A BRUTALE FOR ITALY'S 150TH ANNIVERSARY

A unique motorcycle for a unique event. MV Agusta celebrates Italy's 150th anniversary with a special series of BRUTALE 990R. Customized exclusively, limited to 150 customers only, which renders even more elite an Italian designed object of cult distinguished by a strong personality and perfect union of technology and style.
That which renders this motorcycle exclusive is the livery, highlighted by the dashboard cover which is of the same colour as the bodywork, the tail end which for the occasion has become single seater, and the spoiler: the Italian flag and the number 150 make this model immediately recognizable, also thanks to the motorcycle serial number which is inscribed on a plate located on the upper steering brace.
The motorcycles are offered in 3 colour schemes with base of white, red, and black.

MV Agusta takes a generational step forward with the creation of the new Brutale 990R LE 150th Anniversary. The new Brutale has preserved the significant style features of previous versions and is recognisable at a glance. However the Brutale is new in 85% of its components, improving its looks, its performance and its ease of use. Many of these parts have been designed and crafted by MV Agusta, rather than sourced from market suppliers, improving precision and functionality and highlighting the "Made in MV" concept.
The icon of beauty on two wheels is even more beautiful and refined.
A combination of design and performance, the Brutale 990R LE 150th Anniversary repres ents the evolution of the species. A dream come true. Its outline is unmistakable, its sound makes you dream, and its technological
soul sets new records. Let yourself be whisked away by its uniquely sleek lines.
Lose yourself in its technical details which make it truly unique. The 990R is a completely new motorcycle, but it is still undoubtedly… Brutale.

Perfection is The MV Brutale is a unique motorcycle with a unique "voice". An essential element of
the design and the character of the motorcycle is the exhaust system. Two "pipes" placed one above the other on the right play an unmistakable concerto that makes the Brutale 990R LE 150th Anniversary stand out from all the "normal" nakeds. The unmistakable esthetic appeal of the Brutale has been kept, while completely renewing the technology. The new exhaust system incorporates an electronic exhaust-valve and mufflers with no welds in sight.

Perfection has been raised to a new level. The headlamp is a genuine "trademark", it is what makes the Brutale's expression absolutely unmistakable. Form and function combine in a perfect mix of
design and efficiency. The outline is unmistakably that of every Brutale, but the expression is completely different.

The new, poly-ellipsoidal bulb integrates perfectly into the headlamp and improves efficiency in night riding; the new, 8-element LED position light gives the design an incredibly modern look.

The lines are even sleeker, now that the supports for the direction indicators have disappeared. A unique heart that is even lighter, offering even higher performance.

MV's four-cylinder engine, with its radial valves, has evolved and improved in every component, and has grown to an effective 998-cc capacity.

Less weight, more performance, a new balance shaft that keeps the vibrations under control, the latest generation electronics that handles the double EFI map and a sophisticated traction control that allows eight levels of adjustment.
The 990R Brutale is more technological than ever.
State of the art technology, maximum lightness for every component, renewed functionality, futuristic solutions. This is the new Brutale.

The Brutale is already unique, but it can be made even more so. Make the motorcycle of your dreams even more beautiful. You can customize your Brutale esthetically and technically, by selecting from an extremely large catalog of special parts.
2011 MV Agusta Brutale 990R LE 150th Anniversary Features
Aesthetics

The headlight retains the same drop profile and the same dimensions, but introduces a fresh design with the introduction of a new polyellipsoidal element and a system of 8 LEDs that create a "light strip" effect, like that found on cars. The direction indicators are now incorporated into the rear mirror assembly that is larger for greater visibility. The instrument cluster has been completely redesigned and now operates on a high speed CAN line with extra functions. There are indicators showing which gear is engaged, fuel level, speed, hazard button, water temperature, chronometer function and traction control settings. The handlebar and footrests have a flexible fitting to improve comfort and reduce vibration levels. The radiator protectors are no longer made of metal or integrated with the mechanical components, but are now part of the bodywork. In addition to streamlining the radiator and protecting it, they act as ducts to provide better cooling. The most evolved part of the motorcycle is the rear, thanks to a thinner, more modern tail, which makes sitting more comfortable. The LED taillight is integrated into the tail, which is no longer in plastic, but is pressure die-cast in aluminum, and is an entirely new design element. The two beautiful exhausts, which flow along the right side of the motorcycle, have been enhanced, eliminating the welding at the tips of the silencers and, above all, featuring an even more inclined and thinner cut that matches the lines of the bodywork.
Engine
The engine size has increased to 998 cc without any variation in layout. The cylinder bore and stroke have gone from 79 x 50.1 mm to 76 x 55 mm. The reconfiguration of the 4 cylinders, with 16 radial valves, seeks to make power delivery smoother, with a response that is more progressive, solid, and harmonious than before, especially when opening-closing and when accelerating. For this purpose, a new 46 mm Mikuni throttle body assembly, with the installation of a non-return feed that is 0.33 lbs lighter than the previous version. The new throttle body assembly is operated by Marelli 5SM electronics, which perform better than the previous, and which feature new software for such things as traction control (for which 8 adjustments can be made) and a double EFI map. The completely redesigned engine crank case is 1.32 lbs lighter than the previous one, and is fitted with a counter-rotating balancing shaft to resist high-frequency secondary vibrations, which has been placed at the front of the engine and is driven directly by the primary transmission gear. While the transmission ratios remain the same, the internal gearbox command mechanism is entirely new, redesigned to allow adopting a gear sensor, and to provide a smoother and more comfortable shift of the lever. Using this new sensor, the engine control unit is able to optimize the injection and ignition calibrations and the position of the exhaust valve according to the demands of the individual gears. There is also a new Mitsubishi, Neodymium-Iron-Boron generator, cooled by a high pressure internal oil jet, which contributes to saving a full 3.52 lbs. The lubrication circuit has also been entirely renewed, with a double rotor pump which is smaller and lighter (by 0.75 lb), but more efficient than the previous version. The circuit is no longer divided, as it was before, and the pump serves the radiator and the engine which are placed in series. The water pump, too, has been completely redesigned, and although it is 0.13 lb lighter than the previous one, its cooling capacity is up to 65% greater at low revs.

Rolling chassis

The cage of pipes in chromium molybdenum steel, which constitutes the frame, retains the TIG welded trellis structure, but with a taller, lighter, and more rigid design.The longer rear swingarm (which has been entirely redesigned and is 2.2 lb lighter) lengthens the wheelbase for greater riding characteristics and precision, increasing torsional rigidity and decreasing weight. The new wheelbase also reinforces the Brutale's signature stability. The weight reduction in the wheels and swingarm provides improved suspension operation. The rear wheel features a cush-drive, plus a new hub and bearing, the purpose of which is to make the engine more resistant to stress and to improve comfort. With an innovative design, the rims are even lighter than those on the 989R; they are gravity die-cast, with a weight that is 1.5 lb less on the rear rim, and 0.77 lb less on the front. The front forks have had their internals and oil dynamics completely designed by CRC, and are produced by Marzocchi exclusively for MV Agusta.
The stems are 50 mm, and the compression, extension, and spring preload may be adjusted. The internal components and the calibration have been modified, with the range dropping from 130 mm (5.12 in) to 125 mm (4.92 in). The front wheel trail has been increased from 3.99 in (101.5 mm) to 4.07 in (103.5 mm), the wheelbase extended from 55.51 in (1410 mm) to 56.61 in (1438 mm), the height of the seat from 31.69 in (805 mm) to 32.68 in (830 mm), and the angle of the steering tube increased from 24.5 to 25°. The rear shock absorber covers the oil dynamics and the internal components. It offers a single adjustment of the extension, without a separate reservoir. The braking system includes 12.2 in (310 mm) NHK disks, a steel flange and Brembo 1.26 in (32 mm) radial mount 4-piston calipers.

Riding Impressions

The riding position is the first tangible improvement. The long and spacious seat allows even riders of above average stature to sit comfortably and to grasp a more ergonomically placed handlebar. The sensation is that of riding a motorcycle that has grown a couple of sizes, one that is more inviting. The sensitivity of an MV at low revs has been transformed into a strength. Riding a figure eight at a speed of little more than 1 mph, with two fingers on the handlebar, has become as easy as hurtling at 167 mph (270 km) per hour along a straight line. The notoriously fierce Brutale now demonstrates a new subtlety in its power. The 990 has become a useable everyday bike that can be appreciated with a soft approach, thanks to its enjoyable characteristics it entices you to wear the tyres. And there are no vibrations when you enter the highway at a steady speed for long journeys. The mirrors, the indicators, the throttle, the brakes, the clutch and the shifter respond with smooth coordination; everything is more spontaneous and functional, simple to operate and precise in action. The new calibration of the suspension is sensational for a silent, progressive absorption of even the worst patches of asphalt. It's a bit like floating on a cushion of air that is entirely under your control; no nervous reactions, only a perfect line that the Brutale holds, even under extreme conditions.
---
2011 MV Agusta Brutale 990R LE 150th Anniversary – International Specifications
MSRP – 15.890,00€
ENGINE
Type Four cylinder, 4 stroke, 16 valve
Timing system "D.O.H.C", radial valve;
Total displacement 998 cm3 (60.9 cu. in.)
Compression ratio 13:1
Starting Electric
Bore x stroke 76,0 mm x 55,0 mm (2.99 in. x 2.17 in.)
Max. horse power – r.p.m. (at the crankshaft) 102 kW (139 HP) at 10600 r.p.m.
Lim. 11600 r.p.m.
Max. torque – r.p.m. 106 Nm (10.6 kgm) at 8000 r.p.m.
Cooling system Cooling with separated liquid and oil radiators
Engine management system Magneti Marelli 5SM ignition – injection integrated system with Mikuni throttle body; induction discharge electronic ignition; sequential timed "Multipoint" electronic injection
Clutch Wet, multi – disc
Gear Box Cassette gearbox; six speed, constant mesh
Primary drive 50/79
Gear ratio
First gear: Speed* 13/38 109.7 km/h (68.1 mph) at 11600 r.p.m.
Second gear: Speed* 16/34 150.8 km/h (93.6 mph) at 11600 r.p.m.
Third gear: Speed* 18/32 180.3 km/h (111.9 mph) at 11600 r.p.m.
Fourth gear: Speed* 20/30 213.7 km/h (132.7 mph) at 11600 r.p.m.
Fifth gear: Speed* 22/29 243.2 km/h (151.0 mph) at 11600 r.p.m.
Sixth gear: Speed* 19/23 265.0 km/h (164.5 mph) at 11600 r.p.m.
Final velocity ratio 15×41

ELECTRICAL EQUIPMENT
Voltage 12 V
Alternator 350 W at 5000 r.p.m.
Battery 12 V – 8.6 Ah

DIMENSIONS AND WEIGHT
Wheelbase 1438 mm (56.61 in.)
Overall lenght 2093 mm (82.36 in.)
Overall width 760 mm (29.92 in.)
Saddle height 830 mm (32.68 in.)
Min. ground clearance 150 mm (5.91 in.)
Trail 103,5 mm (4.07 in.)
Dry weight 190 Kg (418.9 lbs)
Fuel tank capacity 23 l (6.07 U.S. gal.)

PERFORMANCE
Maximum speed* 265 km/h (164.5 mph) )

FRAME
Type CrMo Steel tubular trellis (TIG welded)
Rear swing arm pivot plates: material Aluminium alloy

FRONT SUSPENSION
Type "UPSIDE – DOWN" telescopic hydraulic fork with external and separated adjustment of rebound and compression damping and of spring preload
Rod dia. 50 mm (1.97 in.)
Travel on leg axis 130 mm (5.11 in.)

REAR SUSPENSION
Type Progressive, single shock absorber with rebound damping and spring preload adjustment
Single sided swing arm: material Aluminium alloy
Wheel travel 120 mm (4.72 in.)

BRAKES
Front brake Double floating disc with Ø 310 mm (Ø 12.2 in.) diameter, with steel braking band and steel flange
Front brake caliper Radial with 4 pistons – Ø 32 mm (Ø 1.26 in.)
Rear brake Single steel disc with Ø 210 mm (Ø 8.27 in.) diameter
Rear brake caliper With 4 pistons – Ø 25,4 mm (Ø 1.00 in.)

WHEELS
Front: Material / size Aluminium alloy 3.50 " x 17 "
Rear: Material / size Aluminium alloy 6.00 " x 17 "

TYRES
Front 120/70 – ZR 17 M/C (58 W)
Rear 190/55 – ZR 17 M/C (75 W)

FAIRING
Material Thermoplastic
All specifications are subject to change without notice. The above price is the Manufacturer's Suggested Retail Price. Price excludes any applicable freight, dealer setup, tax, title, or licensing fees and is subject to change. Actual dealer prices may vary.