You are here: Home — Tire/Tyre Guide — Pirelli — Pirelli GTS24
Pirelli GTS24
Back to Total Motorcycle Pirelli Tire/Tyre Guide
Click photos to enlarge.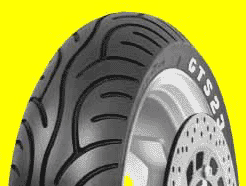 Pirelli GTS24 Front
– Pirelli GTS24
FEATURES

NEW SPORT-TOURING TYRE for scooters from 125 cc

– Optimized wet performance, increased contact area between ground and tyre and special contour derived from motorcycle sport-touring tyre to provide high-speed stability, outstanding cornering behaviour and excellent handling.
– Higher mileage, even wear, excellent riding comfort and rolling noise reduction thanks to the new compound and tread pattern design.
– Two sizes with 0° steel radial technology to improve the high-speed stability, handling and steering precision.
– The first choice of many maxi-scooter manufacturers.

Alternative tyres
– DIABLO SCOOTER
– EVO 22
– ST66
Sizes
Front: GTS23
110/70-16M/CTL 52P GTS23
110/70-16M/CTL 52S GTS23
120/70-12TL 51P GTS23
120/70-13M/CTL 53P GTS23
120/70-14M/CTL 55P GTS23
120/70-14M/CTL 55S GTS23
120/70-15M/CTL 56L GTS23
130/70-12TL 56P GTS23
120/80-14M/CTL 58S GTS23
110/90-12TL 64P GTS23
110/90-13M/CTL 56P GTS23

Rear: GTS24
140/60-13M/C REINFTL 63P GTS24
140/60-14M/C REINFTL 64P GTS24
130/70-12REINFTL 62P GTS24
130/70-13M/C REINFTL 63P GTS24
140/70-12REINFTL 65P GTS24
140/70-14M/CTL 62L GTS24
140/70-16TL 65P GTS24
150/70-13M/CTL 64S GTS24
150/70-14M/CTL 66S GTS24