You are here: Home — Tire/Tyre Guide — Pirelli — Pirelli MT75
Pirelli MT75
Back to Total Motorcycle Pirelli Tire/Tyre Guide
Click photos to enlarge.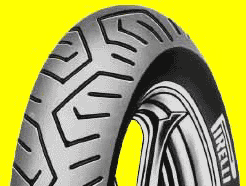 Pirelli MT75 Front
– Pirelli MT75
FEATURES

Perfect conventional tyre FOR SPORTY USAGE OF SMALL AND MEDIUM DISPLACEMENT BIKES IN ALL WEATHER CONDITION.

– P/T/H speed range.
– SPECIAL COMPOUNDS for dry and wet grip performance, keeping mileage level.
– OPTIMISED CONTACT AREA with force oriented grooves for water drainage and stable grip performances.



Alternative tyres
– CITY DEMON
Sizes
Front: MT75 FRONT
110/70-17M/CTL 54H MT75F
100/80-16M/CTL 50TFRONT MT75F
100/80-17M/CTL 52HFRONT MT75F
100/80-17M/CTL 52PFRONT MT75F
100/80-17M/CTL 52SFRONT MT75F
110/80-17M/CTL 57HFRONT MT75F
90/80-17M/CTL 46PFRONT MT75F
90/80-17M/CTL 46SFRONT MT75F
90/90-16M/CTL 48PFRONT MT75F
90/90-18M/CTL 51HFRONT MT75F
90/90-21M/CTL 54HFRONT MT75F

Rear: MT75
130/70-17M/CTL 62H MT75
130/70-17M/CTL 62S MT75
130/70-18M/CTL 63H MT75
140/70-17M/CTL 66H MT75
150/70-17TLM/C 69H MT75
100/80-17M/CTL 52P MT75
110/80-17M/CTL 57P MT75
110/80-17M/CTL 57S MT75
110/80-18M/CTL 58H MT75
120/80-16M/CTL 60T MT75
130/80-17M/CTL 65H MT75