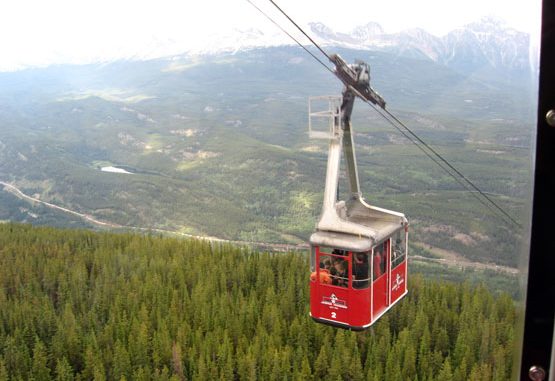 Back to Motorcycle Review Page

A Day in Jasper
Page 4 of 12
<< Page Back – Page Forward >>
Up, up, up… and more up.
Jasper, Alberta. July 2010. Cloudy.
Jasper, Alberta
Jasper is a quiet place in the heart of the Canadian Rockies. The resort town of Jasper is an excellent place to make your base for exploring the Canadian Rockies and Jasper National Park. Mountains are Jasper's calling card. Deep in the Alberta Rockies, peaks crown the horizon in every direction. The vast majority are pristine and will remain that way, preserved under the aegis of Canada's national parks system. Mountain sheep, bears, wolves, elk and mountain goats have a secure home here, and can often be seen when simply driving down the road.
Our arrival into Jasper meant a break from riding by taking a tourist diversion. With little time to spare we headed up to the Jasper Tramway. It is the longest and highest guided aerial tramway in Canada and the only guided aerial ropeway in the Canadian Rockies.
 
 

..

..
 

Jasper Tramway Car
Up, up, up and more up.

 
 
The Tramway transports visitors into Jasper National Park's alpine tundra up the side of a mountain for fantastic views of six mountain ranges, glacial fed lakes, the Athabasca river (Alberta's longest) and the scenic mountain town-site of Jasper. Starting at 1304 meters (4279 ft) above sea level in the safety of an enclosed Tram cabin the seven minute trip to the Upper Station located at 2277 meters (7472 ft) above sea level.
 
 

..

..
 

Jasper Tramway on top of the mountain
1304 meters (4279 ft) above sea level

 
 
 
 

..

..
 

The town of Jasper and the Athabasca river
1304 meters (4279 ft) above sea level

 
 
Taking the Tramway was an adventure in itself, ending up at the top of mountain was an unbelievable picture taking experience. FYI – Make sure you wear something warm when you go up to the top of the mountain the temperature was a lot colder than at the base.
We also took this time to share our ride stories so far and to compare notes about the different H-D models we were riding. It was an exciting first day of riding topped off with a beautiful tram ride. Life is good!
 
 

..

..
 

1983 Harley Owners Group
A local H.O.G. Chapter is a family. A collection of diverse individuals united by a common passion.

 
 
Checking into the Best Western Jasper Inn & Suites using the Best Western's Ride Reward program (BW Rider) provided us with close to the door parking, a good quality shammy and a wash station. The room at the Best Western Jasper Inn & Suites was slightly dated but was a very comfortable chalet loft style room with a soft bed. Nothing to complain about after a long day of riding!
---

Harley-Davidson
If you would like Total Motorcycle, North America's leading motorcycle information website to do a test ride and ride review of your motorcycle or scooter models just contact us for information or to book a date, location and time. It is a great way to promote your model and your company to over half a million visitors worldwide each month for no cost! Contact us today to inquire.
---